As a community leader at the Udi's Gluten Free Community I'm always on the lookout for terrific gluten free recipes to share with our members. One of the biggest challenges people with celiacs or gluten food sensitivities have is finding delicious treats and desserts. Sure Udi's Gluten Free has wonderful cookies (my favorites are the Snicker Doodles), muffins and even cinnamon roles, but sometimes you want something different. That's where macaroons fit the bill.
Homemade macaroons are naturally gluten free and were the first GF dessert I ever made for my mother-in-law who has celiacs. This recipe from the National Mango Board is a fun twist on the classic coconut treat.  A batch of these would also make a wonderful homemade holiday gift for anyone!
Note: double check to make sure the sweetened flaked coconut you're baking with doesn't contain any flour. According to this post Kraft's Baker's Coconut – Angel Flake Sweetened does not contain gluten. You also may prefer using a "natural" unsweetened flaked coconut product, like the kind made by Bob's Red Mill.
How to pick and prepare a mango
Great tips on how to shop for and cut up your mango:
Ingredients
For Mango Coconut Macaroons
1 (14-ounce) bag

sweetened flaked coconut

1

large mango, peeled, seeded and diced

1 cup

mango jam (see recipe below)

2 tablespoons

corn syrup

1 teaspoon

vanilla extract (gluten free)

2 teaspoons

ground ginger

2

eggs, separated

1/4 teaspoon

salt
For the Mango Jam
2

large mangoes, peeled, pitted and roughly chopped

1 cup

mango nectar

1/4 cup

granulated sugar

2 teaspoons

ground ginger

1 teaspoon

vanilla extract (gluten free)
Directions
For Mango Coconut Macaroons
Preheat oven to 325 degrees. Line two baking sheets with parchment paper, set aside.
In a large bowl, combine coconut, diced mango, mango jam, corn syrup, vanilla and ginger, egg whites and salt, until fully incorporated.
Drop heaping tablespoonful of batter onto prepared baking sheets.
Bake for 30 to 35 minutes until golden brown. Transfer to wire rack to cool.
For the Mango Jam
In medium saucepan, combine all ingredients. Bring to a boil then reduce heat to medium-low.
Gently mash mango mixture with back of wooden spoon or potato masher to create smooth jam.
Simmer for 15 minutes until thickened.
Servings
:
Makes 30 macaroons
Serving size:

1 macaroon

Calories:

90

Total Fat:

5g

Saturated fat:

4g

Unsaturated fat:

1g

Sodium:

59mg

Total Carbohydrates:

12g

Fiber:

1g

Cholesterol:

0mg
More quick & easy macaroon recipes
If you like these Gluten Free Mango Coconut Macaroons, you'll also like these quick & easy macaroon cookie recipes: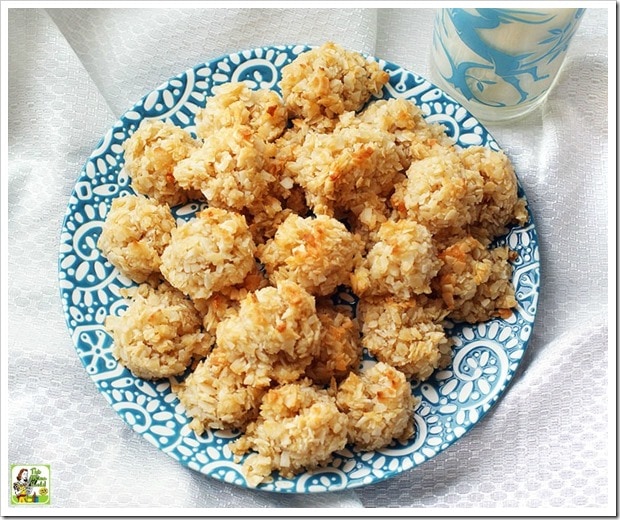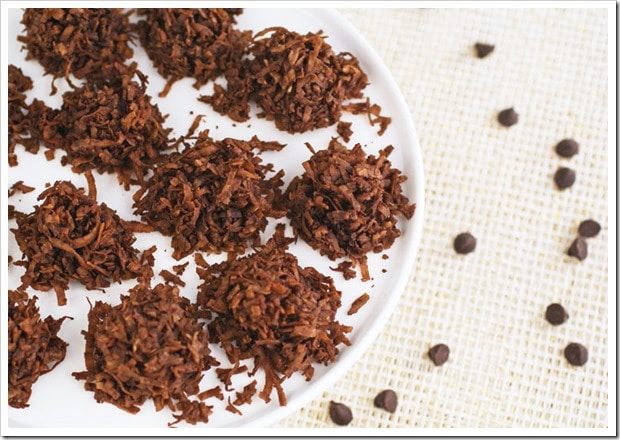 Recipe and Mango Macaroons picture courtesy of the National Mango Board.
Disclosure: As an Udi's Gluten Free Community Leader I'm compensated for my time and efforts on their behalf.