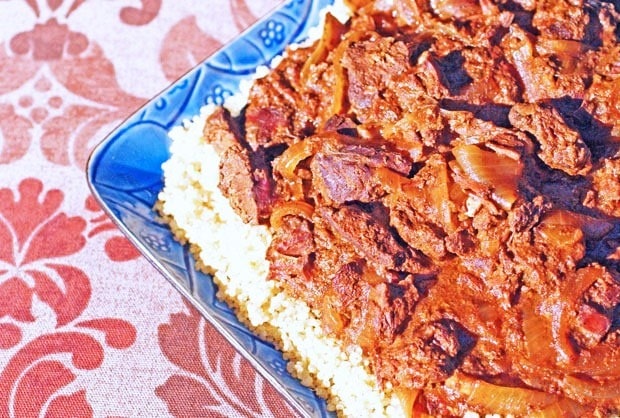 I cannot believe we're moving to Athens, Georgia in less than two weeks! We're trying to cut down on the amount of stuff to pack, so the kids and I are in the process of consuming all the foodstuffs we can. That's why I discovered one last package of venison in the freezer. Surprisingly it was stew meat, which was perfect to make Crock-Pot Hungarian Goulash from Heather of Hezzi-D's Books and Cooks blog for this month's Secret Recipe Club assignment!
Yes, another slow cooker recipe for the Secret Recipe Club post. This is the third in a row after last month's Healthy Slow Cooker Hoppin' John and March's Healthy Slow Cooker Pumpkin and Bean Chili. Hope you don't mind, but when you have a small kitchen like I do in my temporary Boulder apartment, a slow cooker comes in handy!
I only made a few changes to Heather's recipe. To make it gluten free, I used starch instead of flour and served it on quinoa instead of egg noodles. I also used coconut palm sugar instead of brown sugar, sea salt instead of regular table salt, and smoked paprika instead of regular paprika. Feel free to use whatever substitutes you wish depending on your food sensitivities and what you have on hand.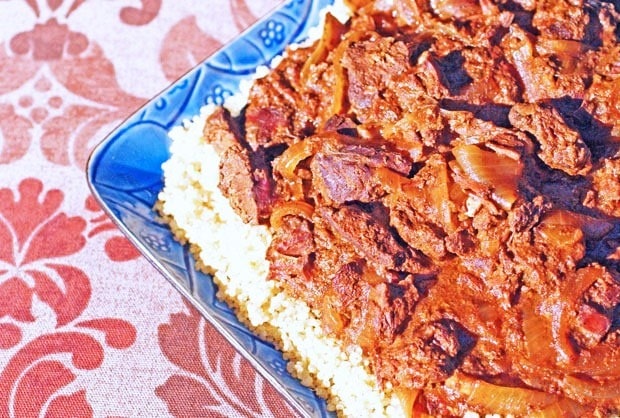 Gluten Free Slow Cooker Hungarian Goulash with Quinoa
Ingredients
2 pounds

lean stew meat (beef or venison), cut into 1 inch cubes

1

onion, sliced

2

cloves garlic, minced

1/2 cup

ketchup

2 tablespoons

Worcestershire sauce

1 tablespoon

coconut palm sugar

1 teaspoon

sea salt

1 teaspoon

black pepper

2 teaspoons

smoked paprika

1 teaspoon

dry mustard

1 1/2 cups

water

1 tablespoon

corn or rice starch

2 cups

cooked quinoa
Directions
Place the meat in a 5 quart slow cooker and cover with the sliced onion.
Combine the garlic, ketchup, Worcestershire sauce, coconut palm sugar, salt, pepper, smoked paprika, and dry mustard. Stir in the water and mix well. Then pour mixture over the meat in the slow cooker.
Cover and cook on low for 6 to 8 hours. If mixture gets dry, add more water (1/2 cup at a time).
Just before serving, remove a couple of tablespoons of liquid from the slow cooker and put into a small bowl. Add corn or rice starch and stir until dissolved. Pour starch mixture into the slow cooker and stir until goulash thickens.
Spoon goulash over quinoa and serve.
Total Time:
6 Hours 15 Minutes
Calories:

412

Calories from Fat:

46

Total Fat:

5.1g

Saturated fat:

5g

Unsaturated fat:

.1g

Sodium:

681mg

Total Carbohydrates:

46.7g

Sugar:

8.5g

Fiber:

4.5g

Protein:

41.7g
More from the Secret Recipe Club!