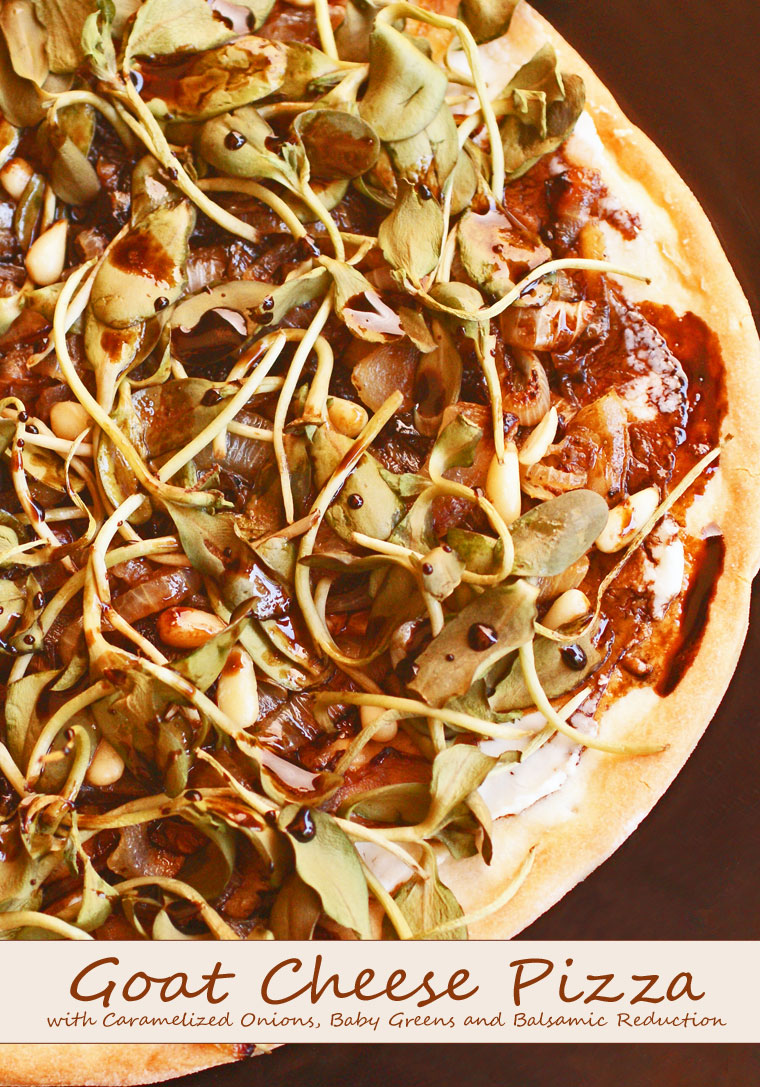 I'm crazy about balsamic vinegar reduction as a sauce on anything from roasted vegetables to fish. Drizzling it on food makes an ordinary dish burst with flavor and adds a little elegance to boot. Plus, it's so easy to make. In this recipe, I used balsamic vinegar, brought it to a boil on the stove top, and then simmered it until it was reduced by half. Easy!
This pizza recipe is inspired by a gluten free pizza I had at Udi's PIzza Café Bar in Arvada, Colorado and a Caramelized Onion & Fig Mini Pizza I had when I visited the I Can't Believe It's Not Butter test kitchen back in 2010.
I made this gluten free using Udi's Gluten Free pizza crusts. If you're not gluten free, feel free to use whatever pizza crusts you wish. Or you can make your own using my healthy whole wheat pizza dough recipe.
Leftover balsamic vinegar can be stored in the fridge for a couple of weeks and reheated slightly to drizzle on vegetables, fish, chicken, beef and even strawberries!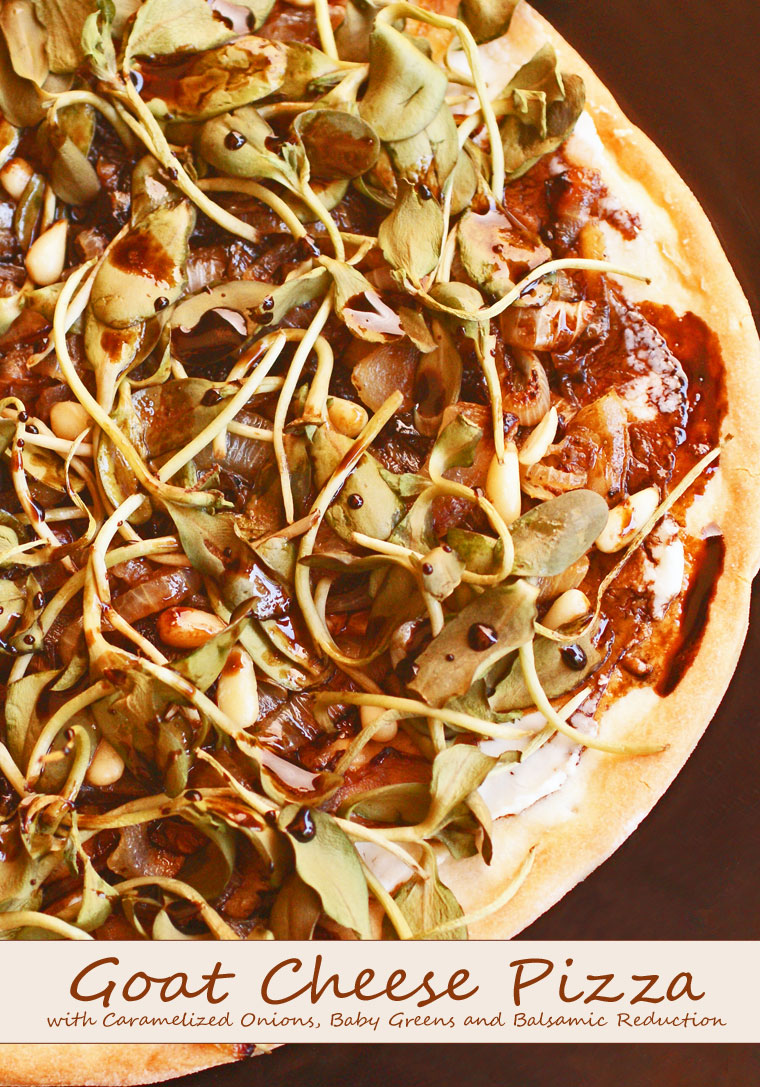 Goat Cheese Pizza with Caramelized Onions, Baby Greens and Balsamic Reduction
Ingredients
2 cups

balsamic vinegar

1

large onion, sliced thin

2 tablespoons

low saturated fat, buttery spread

1

premade pizza crust

2 ounces

goat cheese

12 ounces

baby greens

2 teaspoons

pine nuts
Directions
Pour balsamic vinegar into a small saucepan and bring to a boil over high heat. (Make sure to watch carefully to avoid a messy boil over.)
Quickly reduce heat to medium low and simmer uncovered until vinegar is reduced by half and thickens slightly.
While your balsamic vinegar is reducing, heat a large skillet over medium high heat. Add buttery spread to skillet to melt.
Add onions and reduce heat to medium. Slowly sauté onions until they turn slightly brown and are caramelized. Be careful not to burn onions. Reduce heat and add more buttery spread if needed. When onions are done, remove skillet from stove top and set aside.
Set oven to 425 degrees F.
Place pizza crust on a cookie sheet or pizza pan.
Using a spreader or offset spatula, spread a thin, even layer of goat cheese on pizza crust. If goat cheese is too hard to spread, put it in the microwave on high for 10 seconds to soften.
Add an even layer of baby greens on top of the goat cheese layer.
Carefully sprinkle pine nuts evenly over pizza.
Cook for 10-12 minutes until greens start to wilt and pizza crust and cheese are heated through.
Remove pizza from oven and drizzle balsamic vinegar over it. Apply a light or heavy drizzle depending on your individual taste.
Slice pizza and serve.
Total Time:
1 Hour 15 Minutes
Servings
:
Makes 1 personal sized pizza.
Serving size:

Serves 2 as an appetizer or 1 as an entrée.