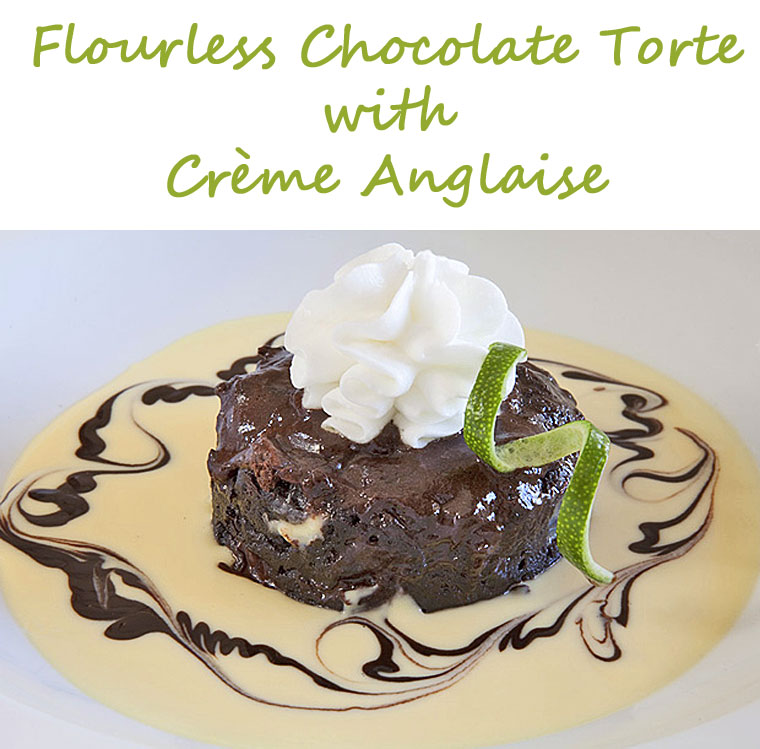 Just because you eat gluten free, doesn't mean you can't enjoy a Valentine's Day dessert. This decadent treat comes from the cookbook, Straight from the Heart, by Taos chef and owner of Graham's Grille, Lesley B. Fay. Her 224-page cookbook includes recipes for appetizers, soups, salads and dressings, sandwiches, entrees and desserts, butters and spices and resources, shortcuts and tips.
Lesley's flourless cake stands out due to its unique combination of espresso and merlot wine. Make sure to double check that ingredients like baking powder and vanilla are gluten free. The cake is best if it's made the day before.
Since it makes 16 small cakes, you may want to halve the recipe. Or you can put a few aside for midnight munchies after the fun on Valentine's Day (hint, hint) or for the kids the next day.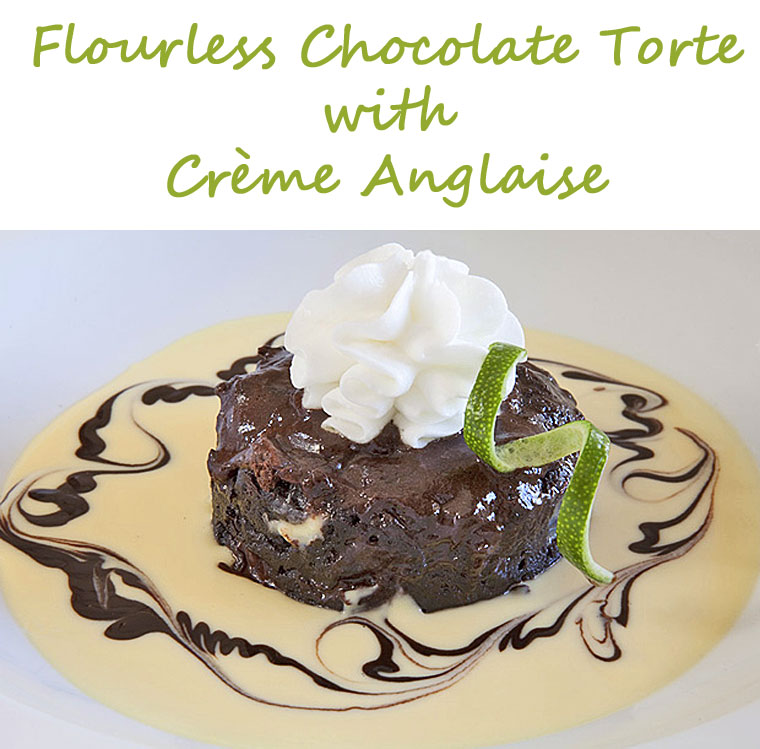 Flourless Chocolate Torte with Crème Anglaise
Ingredients
For the cake:
2 cups

semisweet chocolate, chopped

3/4 pound

butter, softened and divided in half

1 tablespoon

vanilla

1/2 cup

espresso or strong coffee

1/2 cup

merlot wine

1 cup

sugar

1 cup

cocoa powder

1 cup

cornstarch

1/2 teaspoon

baking powder

1/2 tablespoon

xanthan gum

pinch

salt

3

eggs

1 cup

semisweet chocolate chips (or coarsely chopped bar) sugar and cocoa powder for sprinkling
For the crème anglaise:
5

egg yolks

1/4 cup

sugar

1 tablespoon

cornstarch

pinch

nutmeg

1 1/2 cup

milk

1/2 cup

heavy cream

2 teaspoons

vanilla extract
Directions
For the cake:
Preheat oven to 350°F.
Melt the semisweet chocolate with half the butter, and mix in the vanilla, espresso and merlot. In a separate bowl, cream the rest of butter until fluffy. Add sugar and beat until light yellow and smooth (about 5 minutes on high speed).
Mix together the cocoa, cornstarch, baking powder, xanthan gum and salt. Add these dry ingredients and the chocolate mixture to butter and sugar, alternating, and mixing well after each addition.
Add eggs one at a time, beating well after each egg, about 1 minute. Add semisweet chocolate chips. Pour into buttered cupcake tins or paper holders that have been sprinkled with sugar and cocoa powder.
Place a large open container of bowling water on the bottom rack of the oven. The stream helps cook the cakes and keeps them moist. Bake cakes on rack above the boiling water for 15 minutes. Turn off heat, open oven door and let rest for another 8 to 10 minutes. They should rise and be medium-soft to the touch. The trick here is to cook them long enough so they don't fall, but not so long that they are dry.
Serve each cake in a puddle of Crème Anglaise. Garnish with fresh raspberries or a ribbon of lime (optional).
For the crème anglaise:
In a heat-resistant mixing bowl, stir together the egg yolks, sugar, cornstarch and nutmeg with a wooden spoon until well combined. The sugar should be somewhat dissolved in the yolks. Combine the milk and cream in a medium saucepan over medium heat and warm the milk just below the boiling point (the milk will start to form bubbles on the edges of the pan and it will become steamy just before it boils).
Remove the pan from the heat and stir just a couple of tablespoons of the hot milk into the eggs and sugar, mixing well the whole time. Gradually add the rest of the milk, stirring constantly. Return the mixture to the saucepan over low to medium heat. Heat the sauce until it thickens, but do not boil or the yolks will curdle. The sauce is done when it stays on the wooden spoon without dripping (this takes about five minutes but will depend on your pan and your burner). As soon as the sauce is thickened, immediately remove it from the heat.
Pour the sauce into a heat-resistant bowl (you can pour the sauce through a strainer to remove any lumps).
Stir the vanilla extract and cover the sauce with plastic wrap, pressing the wrap down on top of the sauce, and refrigerate until ready to serve.
Total Time:
1 Hour 30 Minutes
Servings
:
Makes 16 individual cakes and 2 cups crème anglaise.
Picture and recipe courtesy of Lesley B. Fay.
_______________
Disclosure: Amazon links are affiliate links. A commission may be earned from a referred sale to their website.