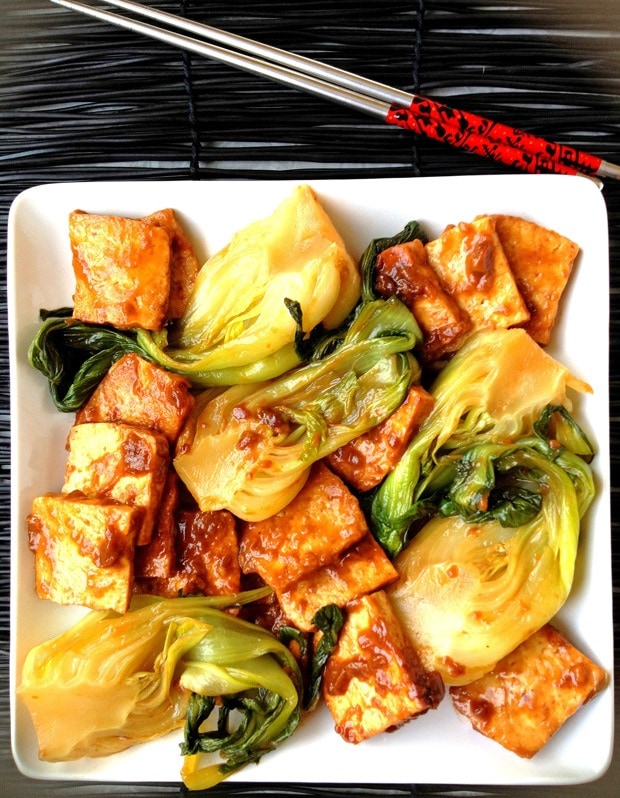 It's been awhile since I've done a Meatless Monday post. Frankly, they're a bit of a challenge since I usually cook around some sort of animal protein I can find in my freezer like venison or fish. Even so, it's not much of a challenge for anyone to substitute slices of firm tofu instead of chicken, especially since tofu's perfect for soaking up the flavors of anything you cook it in like Sun-Bird's Bourbon Chicken Seasoning Mix.
Add some baby bok choy and you have a quick, Asian inspired Meatless Monday dish. You can serve this alone or add some brown rice or quinoa for a heartier dish!
Please note that Sun-Bird's Boubon Chicken Seasoning Mix does contain wheat, so isn't gluten free. It also contains soy and milk. Sun-Bird has many seasonings that may work better for your food sensitivities or allergies. Check the ingredient label to make sure!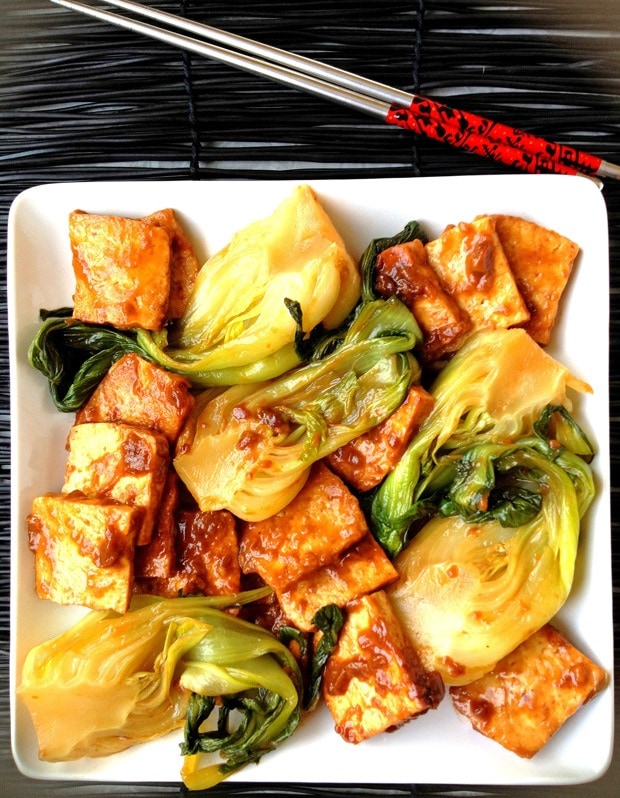 Baby Bok Choy and Tofu in Bourbon Sauce
To reduce sodium use a low sodium soy sauce.
Ingredients
1 19-20 ounce block

extra firm or firm tofu, cut into 1/2 inch thick squares.

2 tablespoons

canola oil, divided

6

baby bok choy

1 packet

Sun-Bird Bourbon Chicken Seasoning Mix

1 1/2 tablespoons

soy sauce

3 1/2 tablespoons

powdered stevia, like Stevia in the Raw

1 cup

water
Directions
Prepare the baby bok choy by filling your clean sink with cold water.
Slice the baby bok choy lengthwise in half keeping the leaves attached.
Soak the cut bok choy in the cold water to remove any trapped dirt.
Combine seasoning from the Sun-Bird packet, soy sauce, stevia and water in a bowl and set aside.
Heat a large frying pan over medium high heat. Add 1 tablespoon of canola oil.
Lift the bok choy out of the soaking water and lay it, still wet, into the frying pan in an even layer. Cook each side until the leaves have wilted, but the core and stems remain slightly firm.
Remove from pan and place in an oven safe dish. Keep cooked bok choy in a warm oven.
Heat frying pan over medium high heat. Add 1 tablespoon of canola oil.
Add tofu squares and gently saute until slightly golden brown.
Stir in seasoning mixture and bring to a boil.
Reduce heat and simmer for 2 minutes until sauce has thickened.
Add in cooked baby bok choy and gently stir to combine. Serve.
Calories:

353

Calories from Fat:

136

Total Fat:

15.1g

Saturated fat:

2.0g

Unsaturated fat:

13.1g

Sodium:

1353mg

Total Carbohydrates:

37.2g

Sugar:

15.8g

Fiber:

13.9g

Protein:

30.3g

Cholesterol:

0mg