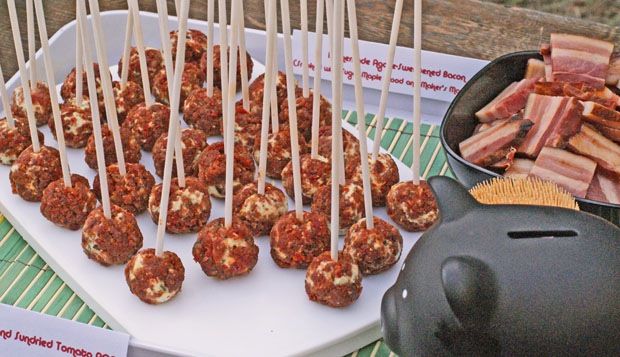 Last month, a friend held his annual bacon party. It's a baconpolooza of a baconfest where each guest brings a bacon-themed dish to share. Dishes are sampled, everyone votes on their favorite bacon dishes, and we all limp home clutching our tummies at the end of the night.
One couple brought vegan Bacon Caramel Popcorn. Another guest brought bacon wrapped Tater Tots. (He told me he went to college with the son of the man who invented them!) My husband made bacon flavored beer. And there were a lot of bacon desserts – combinations of bacon, chocolate, cream and caramel, which the kids loved.
Needless to say, this wasn't a healthy food party. The next day, the kids and I had bacon hangovers and felt lethargic. I don't mind occasionally indulging even though I'm devoted to healthy eating and staying away from food that triggers my food sensitivities. It's all about moderation, so I'm glad the party only happens once I year.
Frankly, I enjoyed the challenge of coming up with a unique bacon dish. I even made my own bacon, which I'll post about soon. I'll also be sharing some pictures from the event in next week's Wordless Wednesday post.
So, what does bacon have to do with goaterie?
My entry into this year's bacon party contest won a trophy, complete with brass pig on top, for the most original dish. It's one of my proudest culinary achievements, so much so that my trophy is proudly displayed in the kitchen next to my cookbooks.
So what does my award winning bacon recipe have to do with Goaterie?  Well, it's my submission to the Goaterie Contest since it uses Haystack Mountain Applewood Smoked Chèvre made here in Colorado. Maybe I'll get lucky twice, who knows?
For the bacon party, I wanted to bring a dish on a stick – thus the idea for pops. And who can turn down the creaminess of goat cheese combined with the salty crunch of pine nuts and bacon? I also wanted an excuse to indulge in some Haystack Mountain cheese. Their chèvres are divine!
Due to the weather, it was a challenging recipe to make. It was so hot and humid that day that the goat cheese and mascarpone kept melting as I was trying to form it into balls. So I emptied the freezer and cooled down a metal cookie sheet. I also used the insert from a Pampered Chef Cool & Serve Square Tray to keep the goat cheese and bacon lollipops cool, both at home and at the party.
Goat Cheese and Bacon Pops
Based on a recipe by the kitchn
Makes 35 lollipops
Ingredients:
8 slices bacon
8 ounces goat cheese (chèvre)
8 ounces mascarpone cheese
1/4 cup fresh basil
1/2 cup pine nuts
1/2 cup sundried tomatoes (used the dried tomatoes sold in bags, not the kind stored in oil in jars)
Directions:
Cook bacon until crispy. Drain on a paper-towel lined cutting board until room temperature. Remove from paper towels and cut into small pieces.
While bacon is cooking and cooling, combine goat cheese, mascarpone cheese and basil in a food processor. Mix until creamy.
Using a small ice cream scoop (1 tablespoon size), scoop cheese into balls.
Place balls on a pre-chilled metal tray or cookie sheet and place in freezer 10 to 20 minutes to firm up.
While they're firming up, combine cooled bacon pieces, pine nuts and sundried tomatoes in a food processor. Process until mixture is fine and crumbly.
Spread bacon/nut/tomato crumble mixture on to a flat tray or large dish.
Remove tray of cheese balls from the freezer and divide each ball in half with a knife or small offset spatula. (The balls shouldn't be frozen, just firm. If you left them in the freezer too long, you'll need to thaw them out a bit.)
Using the palms of your hands, reform the cheese halves into small balls. Then roll them into the bacon/nut/tomato crumbles. (It's OK if some of the cheese mixture peaks through the crumble coating.)
Insert lollipop sticks and place back on metal tray or cookie sheet, stick up. Place in the freezer for 20 minutes to firm up again.
If you're transporting your Goat Cheese and Bacon Pops to a party, you may want to freeze them solid. They'll defrost by the time you reach the party, especially if it's hot outside.