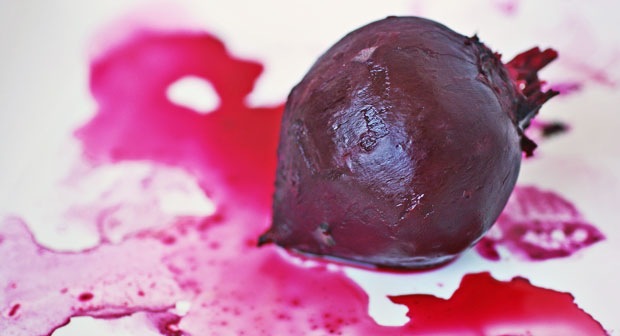 Yes, that's right. Cook then peel a beet. For years I've cooked beets like a carrot or potato, painstakingly peeling the darn things and then roasting them with other vegetables in the oven. However, when I came across Francis Lam's recipe for roasted beets at Salon.com, I finally saw the light. Now I can easily prepare beets for salads or side dishes with a minimum of frustration.
This recipe is based on Francis's but with a few variations. First, do a big batch of beets – at least six or seven large ones. Firing up the oven for an hour to cook less than that seems wasteful. If you have too many beets for a recipe, use the leftovers as a dinner side or chop and add them to a salad.
Also, Francis likes to use spices when cooking his beets. I'm not sure if they add anything to the flavor, but boy they make the house smell nice. If you don't have any cinnamon sticks, allspice berries and whole cloves in the house, just season with salt and pepper.
How to cook beets
Ingredients:
2 pounds of beets, around same size (3 large beets usually weighs around one pound)
2 cinnamon sticks
10 allspice berries
6 whole cloves
Directions:
Preheat your oven to 400 degrees.
If this wasn't already done at the store, cut the tops off the beets, leaving about 1 inch off their stems. Put the greens aside for beet green salad. (See recipe below.)
Wash the beets in cold running water to remove any dirt.
Place the beets in a shallow roasting pan big enough for all the beets with a little room in between each one.
Scatter the spices around the beets.
Add 1/4 inch of water to create steam and keep the beets from burning.
Wrap the top of the pan tightly in foil and place in the oven.
Cook for 45 minutes to an hour.
Check on them at 45 minutes. They are done when a paring knife can cut through the beets easily. If they're not done, recover tightly and keep cooking.
When they're done, remove the beets from the oven and uncover to cool.
When the beets are cool enough to handle, the skins should slip and peel off rather easily by rubbing off the outer skin. You can wear gloves if you're worried about getting your hands stained. (The stain wears off pretty quickly, so I just use my bare hands). If the skins are stubborn you can remove them by rubbing them in a paper towel or using the dull side of a pairing knife to scrape the skin off.
The beets are now ready to use in your favorite recipe. Or just cut them up and eat them plain.
Simple beet green salad
Directions:
Wash the beet greens and pat dry or spin in a salad spinner.
Add 1 tablespoon olive oil to a heated saute pan.
Cook greens on medium low heat until the thickest part of the beet green is tender.
Season to taste with salt and pepper.
Serve with vinegar - this is how my husband likes to eat them – or a squeeze of fresh lemon juice.
More beet green salad recipes