Everyone has a recipe they make in a pinch out of what's in the cupboard. Mine is spaghetti and meat sauce, since we always have ground venison in the freezer and healthy, whole wheat pasta and canned tomato sauce on hand.
It took awhile to get the family used to whole wheat noodles. (Our two favorite brands are Barilla and Pasta Garofalo.) But now I rarely hear a complaint, especially when I make venison meat sauce from scratch. As my 10-year-old son, Nathan likes to say, "Mom, my compliments to the chef!"
Healthy meat sauce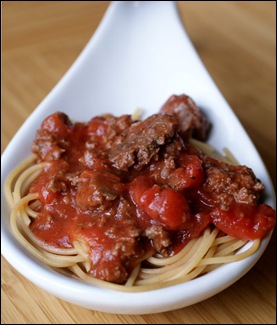 This recipe is loosely based on the homemade sauce my husband made for me on our first date.
Ingredients:
1 tablespoon olive oil
2 to 3 large cloves of garlic, minced
1 to 1 1/2 pounds ground lean meat such as venison, buffalo or turkey
3-15 ounce jars of canned tomato sauce, such as Muir Glen Organic's No Salt Added Tomato Sauce, 15 oz.
3 cans of Muir Glen Organic's Diced Tomatoes No Salt Added, 14.5 oz
1/4 to 1/2 cup of a hearty, red wine (Cabernet, Shiraz or Merlot)
2 teaspoons of dried basil
3 teaspoons of dried oregano
salt and pepper to taste
Directions:
Heat oil in a large sauce pan over medium to medium high heat.
Add minced garlic and cook for a minute.
Add ground meat and cook until meat has browned. Break up any large pieces with a spoon as it cooks.
Add tomato sauce, diced tomatoes, wine, basil, and oregano. Salt and pepper to taste.
Bring to a boil. Lower heat, cover and simmer while you cook the pasta and set the table.
Variations:
This Mama's tips
The sauce tastes better the longer you simmer it. It also tastes better the next day.