I recently attended an event at the I Can't Believe It's Not Butter test kitchens, which you can read about at Mom Central Food. While I was there, I learned about cooking and baking with soft spreads, something I had never considered since I swore by olive oil and organic butter, and even made my favorite cake frosting recipe with Spectrum Organic Shortening.
However, if you're looking to lower the saturated fat in your diet, you should consider cooking with a soft or buttery spread. Some things to look when shopping for buttery spreads are hydrogenated oils and the amount of saturated fats and Omega-3s it contains.
If you don't want artificial ingredients or milk products (some spreads may have a bit of buttermilk) try Earth Balance or another natural spread like Organic Smart Balance.
On the suggestion of some of the bloggers who were at the food event, I bought a tub of Earth Balance's original flavor at my local King Soopers. I tried it yesterday and was very disappointed. I love that it has nothing artificial in it and is made from certified non-GMO ingredients. However, it tasted like flaxseed oil to me, which was odd since there is no flaxseed in it. I thought maybe it had gone rancid, but the date says it's good until January 2011.
Also, it was not very spreadable straight out of the refrigerator, which would make it hard to measure for cooking and baking without setting it out to warm up for a while. Too bad!
Caramelizing onions using a buttery spread instead of butter
Earlier this week I made caramelized onions to serve with some very special Usinger's brats my husband got from a friend in exchange for lift tickets. (The tickets were about to expire, but yes, the brats were worth it.) I used a light soft spread and the onions turned out perfectly. I'm sure you'd have similar results with any other kind of healthy soft spread you chose.
Did you know that you can cook up a big batch of caramelized onions and freeze them for later use? The onions will stay good for three months in the freezer. Just defrost and heat them up like when making this pizza recipe. I sampled it at the food event and it was delicious!
Tips:
To lower the fat and calorie content, use a light soft spread.
To make this even healthier use a whole wheat pizza crust or make your own. I like using Barbara Kingsolver's Friday Night Pizza recipe, which uses half white flour and half whole wheat flour.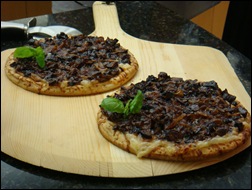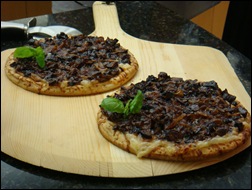 Caramelized Onion & Fig Mini Pizzas
From
this recipe
by I Can't Believe It's Not Butter
Ingredients
2 tablespoons

buttery spread

1

medium onion, thinly sliced

1 cup

dried mission figs, chopped (about 5 ounces)

1 tablespoon

port wine (optional)

6 slices

low fat Swiss cheese (about 4 ounces)

2 (8-inch)

prebaked pizza crusts
Directions
Preheat oven to 450 degrees F.
Melt soft spread in 12-inch nonstick skillet over medium heat and cook onion, stirring occasionally, 15 minutes or until golden brown.
Stir in figs and port and cook until liquid is absorbed.
Arrange 3 slices cheese, torn to fit, on each pizza crust, then evenly top with onion mixture; press gently.
Arrange pizzas on baking sheet and bake 12 minutes or until cheese is melted and crust is crisp.
Garnish, if desired, with thinly sliced fresh basil leaves.
Cut each to pizza into 8 wedges.
Servings
:
Makes: 4 main-dish or 8 appetizer servings
Serving size:

1 appetizer slice (1/8 of pizza)

Calories:

390

Calories from Fat:

100

Total Fat:

11g

Saturated fat:

7g

Unsaturated fat:

4g

Sodium:

530mg

Total Carbohydrates:

59g

Sugar:

20g

Fiber:

5g

Protein:

17g

Cholesterol:

10mg
Weight Watchers POINTS = 8 per main-dish serving or 4 per appetizer serving
_____________________
Disclosure: ICBINB covered the cost of my trip to the test kitchen for the tour.