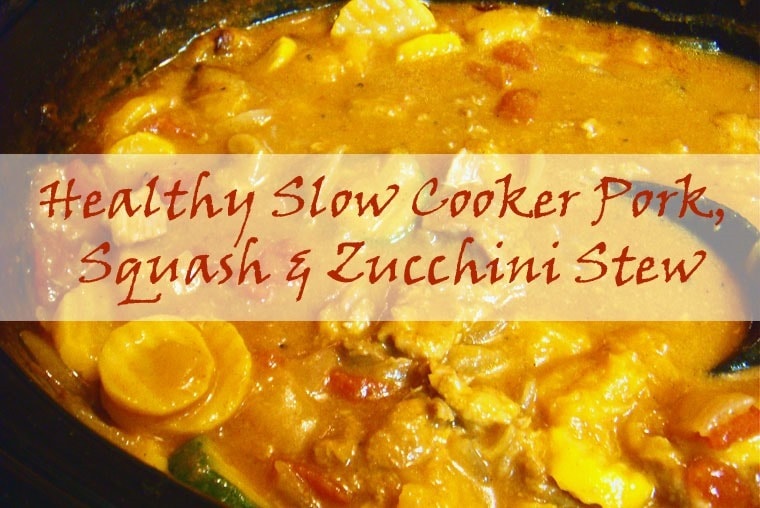 With the Big Game coming up, preparing a healthy slow cooker dish ahead of time is a great way to keep your family and party guests fed while you watch the game. This recipe is based on Pork and Butternut Squash Stew found in the February 2010 issue of Ladies Home Journal. The original recipe used frozen corn and lima beans. I've substituted a bag of frozen yellow (summer) squash and zucchini. I also used frozen butternut squash, since it's already peeled and cut.
I made this last weekend during the playoffs. The pork was tender and the stew was full of flavor. It was a hit both with the adults and the kids, and will be something I'll make again when pork shoulder is on sale or I have an abundance of squash and zucchini.
This Mama's tips
You can use an all purpose gluten free flour or a combination of white and whole grain brown rice flours. If you're not gluten free, regular whole wheat or white flour is fine.
Frozen vegetables cook up very quickly. If you are using raw squash and/or zucchini, make sure to adjust the cooking time.
Serve this over rice if you wish!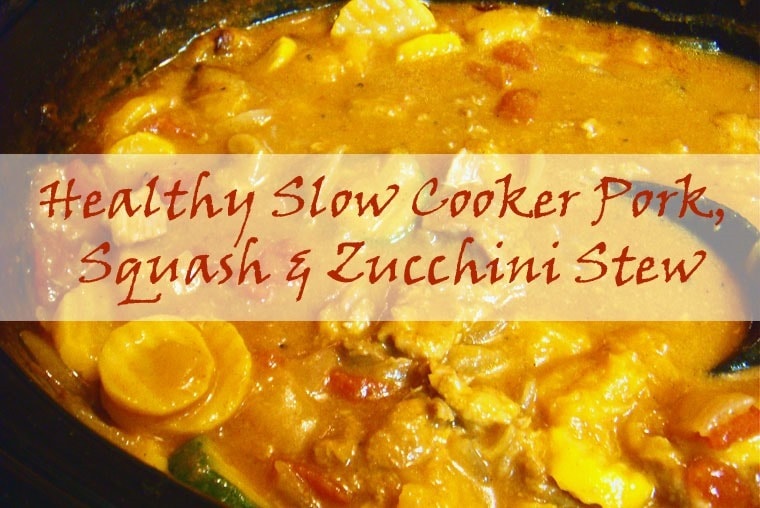 Healthy Slow Cooker Pork, Squash and Zucchini Stew
Ingredients
1/3 cup

all-purpose gluten free flour

1 tablespoon

smoked paprika

1 teaspoon

ground coriander

1 teaspoon

kosher salt

1 1/2 pounds

pork shoulder, trimmed of excess fat

1 tablespoon

olive oil

1 (14.5-ounce) can

diced tomatoes

1 1/2 cups

low-sodium chicken or vegetable broth

1

medium yellow onion, roughly chopped

1

bay leaf

2 tablespoons

apple cider vinegar

1 (16-ounce bag)

frozen butternut squash

1 (16-ounce bag)

frozen yellow (summer) squash and zucchini
Directions
Stir together flour, paprika, coriander and salt in a large bowl.
Cut pork into 1-inch cubes. Make sure you trim as much fat off as possible.
Toss pork in flour mixture with your hands to coat the meat.
Heat oil in a large nonstick skillet, Dutch oven or pot over medium-high heat. Add pork and reserve any excess flour mixture. Reduce heat to medium and cook until browned on all sides, about 10 minutes.
Transfer to a your slow cooker.
Add remaining flour mixture to slow cooker along with 1 cup water, tomatoes with juice, broth, onion, bay leaf and vinegar.
Cook for 7 hours on low.
After 7 hours, add the frozen vegetables.
Continue to cook until vegetables are heated through, about 30 minutes. Serve!
Cook Time:
7 Hours 30 Minutes
Total Time:
7 Hours 50 Minutes
Serving size:

1/8 of recipe