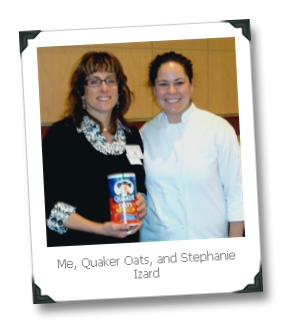 I'm back from the Quaker Oats Living Proof blogger event. It was wonderful! I met some terrific bloggers, and learned an incredible amount about heart health.
One of the highlights was meeting Stephanie Izard, the winner of season four of Bravo's Top Chef. She gave us a short cooking demo of her oatmeal pancake recipe. I liked how she ground down some oatmeal and kept some plain for texture. Loved that she used whipped egg whites instead of whole eggs, too.
Stephanie used juice to make a light pancake syrup – a healthier alternative to pancake syrup. She used pomegranate, but you can use other juices like orange, blueberry, or cranberry. These would be great for Thanksgiving or Christmas morning!
Oatmeal Pancakes
Ingredients:
3 ripe bananas (the riper the better)
1/2 cups milk (skim, 1%, 2% – all will work)
1/2 teaspoon vanilla
1/2 cup ground Quaker Oatmeal (use a food processor to grind them up)
3/4 cup Quaker Oatmeal (instant, quick, steel cut, etc. up to you)
1/2 cup whole wheat flour (for gluten free people, substitute your favorite GF flour)
1/4 teaspoon salt
2 teaspoon baking powder
2 egg whites, whipped to soft peaks
sliced banana for garnish
Directions:
Blend bananas and milk together in blender.
Transfer to bowl and stir in vanilla, oats, flour, baking powder and salt.
Fold in egg whites. 
Spray nonstick griddle with pan spray and heat over medium heat.
Add in a few spoonfuls of batter, leaving room for when they expand.
Cook on each side until lightly browned. 
To serve, top with banana slices and drizzle with pomegranate syrup.
Stephanie says you can combine all the ingredients the night before and add the egg whites just before cooking to save time.
Pomegranate Syrup
Ingredients:
1 cup 100% pomegranate juice
2 tablespoon honey
Directions:
In non-reactive sauce pan, reduce liquid over medium high heat until thickened. The sauce will still be thin, but delicious!