I wanted to post a still from Ratatouille of Thomas Keller's gorgeous Confit Byaldi that Rémy makes in the movie. But alas I couldn't find one. However, I did find a photo at the Huffington Post of Keller and Ratatouille Producer Brad Lewis making one. If you look hard – and have a big magnifying glass – you can see it.
Luckily, it's easier to find the recipe. Jeanne Brophy of Food on a Plate posts Keller's ratatouille/confit byaldi recipe along with her review of the movie.
But for all this fuss over Rémy's..I mean Keller's confit, remember it's restaurant critic Anton Ego's memory of his mother's traditional ratatouille that changes his mind about Gusteau's restaurant. (If you don't know what I'm talking about, go see the movie!)
There are many recipes for ratatouille, but basically it's onions, garlic, zucchini, bell peppers, tomatoes, and eggplant sautéed in olive oil and seasoned with herbes de Provence.
Here's a simple ratatoille that kids can make. And here's the Extreme Fat Smash version. Since I ate all the yellow summer squash and didn't have a zucchini, I doubled up on the eggplant and added a little more onion and tomato.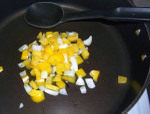 Ratatouille
Preparation time: 40 mins
Makes 1 serving
Ingredients:
1 cup Fresh Eggplant-Cubes
1 Tbsp. Extra Virgin Olive Oil
2 Tbsp. Chopped Yellow Onion
1/2 cup Chopped Yellow Bell Peppers
1 Garlic Clove
1 cup Fresh Chopped Zucchini Squash with Skin
3 Fresh Italian/Plum Tomatoes
1 dash Ground Basil
1 dash Ground Black Pepper
1 dash Ground Parsley
1 dash Ground Oregano
1 dash Salt
Directions:
Gently saute the onions and peppers in olive oil in a large pan for 5 mins, or so.
Add the other vegetables except the tomatoes.
Stir, cover, and cook on a low heat for about ½ an hour until the vegetables are tender.
Add the tomatoes, herbs, and black pepper, and cook for a further 5 minutes.
Forgetting to turn the burner down resulted in roasted, carmelized eggplant, peppers and onions. I love roasted veggies, so no biggie.
Here's the final results: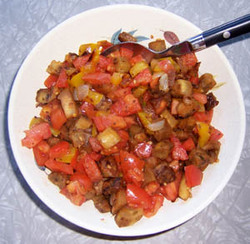 It was so good that I've put it on the menu for next week! (That's the nice thing about doing an online diet is that it's easy to change around your menu with a few mouse clicks.)
Nutritional Information:
Calories 233
Total Fat 15g (doesn't this seem high for a dish full of veggies and a little olive oil?)
Sodium 174mg
Total Carbohydrate 24.1g
Fiber 7.5g
Protein 5.1g
Weight Watcher POINTS = 4