Day three and I'm doing pretty well on the Celebrity Fit Club plan. I'm doing Dr. Ian K. Smith's Extreme Fat Smash Diet.
I'm not feeling deprived at all because I'm eating every three hours or so and the first week's diet is a good mix of veggies, fruits, and low fat protein. I'm enjoying the recipes, even the chicken ones which I thought would be boring. But it's surprising how good a grilled or baked chicken breast is with just a few simple seasonings.
Either recipe would be great when you want to make something easy and healthy just for youself - and you have a bunch of frozen chicken breasts on hand. Serve with steamed veggies - asparagus was especially good with the grilled chicken breast since the lemon juice and garlic worked well with it, too.
Grilled Chicken Breast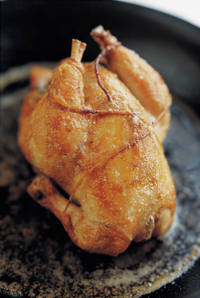 Ingredients:
1 8 oz. skinless chicken breast
1/2 garlic clove
a couple of pinches of salt and pepper
2 Tbsp. lemon juice.
Instructions:
Clean and trim chicken. Finely chop garlic. Salt and pepper each chicken breast.
Grill chicken breast for 12 to 15 minutes or until done.
Combine lemon juice and garlic. Pour over cooked chicken.
Nutritional Information:
Calories 130
Fat 1.5g
Sodium 372mg
Carbohydrates 1.4g
Fiber 0.1g
Protein 26.3g
Weight Watchers POINTS = 3
Baked Herbed Chicken
Ingredients:
5 oz. skinless chicken breast
1/4 cup chicken broth
1/4 tsp. rosemary
1/4 tsp. tyme
1/4 tsp. poulty seasoning (optional)
2 Tbsp. white cooking or regular dry white wine
Directions:
Preheat oven to 350°F.
Clean and trim fat from chicken breast.
In a small bowl, wisk chicken broth, wine and herbs together.
Place chicken in shallow baking dish and pour wine mixture over. Do not cover.
Bake for 15 minutes or until meat is no longer pink.
Nutritional Information:
Calories 119
Total Fat 1.4g
Sodium 468mg
Carbohydrates 3.9g
Fiber 0.3g
Protein 19.9g
Weight Watchers POINTS = 3