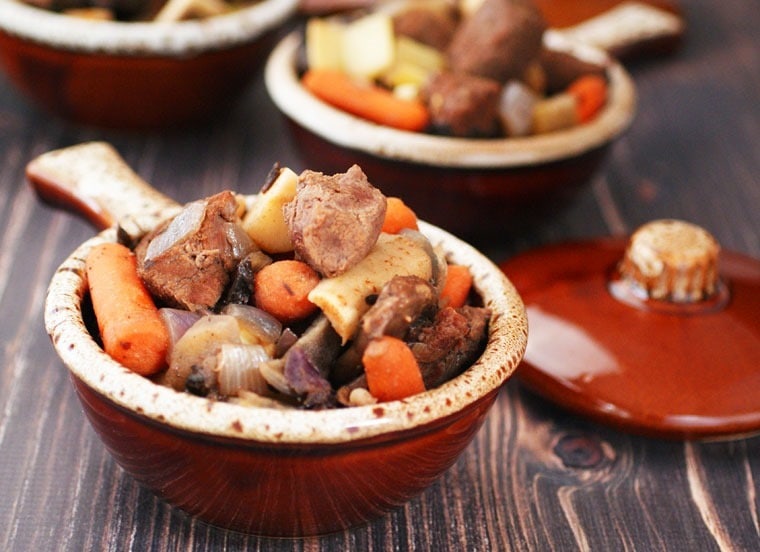 For this month's Secret Recipe Club, I was partnered with Corina at Searching for Spice. A UK based blogger, she explores the use of spices in some of her favorite cuisines such as Mexican, Indian, North African, Thai and Chinese. For this month's choice, I decided to try a slow cooker recipe and wanted to use up some of the venison we had in the freezer. Corina's recipe for Slow Cooked Juniper Beef Stew looked easily adaptable. Since she wrote that juniper berries were used in Scandinavian and Central European stews with venison, I knew it would be perfect!
Using spices like juniper berries, along with cloves, allspice, cloves and nutmeg also sounded like something served in medieval times. They often used spices like cinnamon, mace, and cloves in their stews back then – probably to mask the taste of rotting meat, since meat preservation was primitive at best.
Changing up the slow cooker stew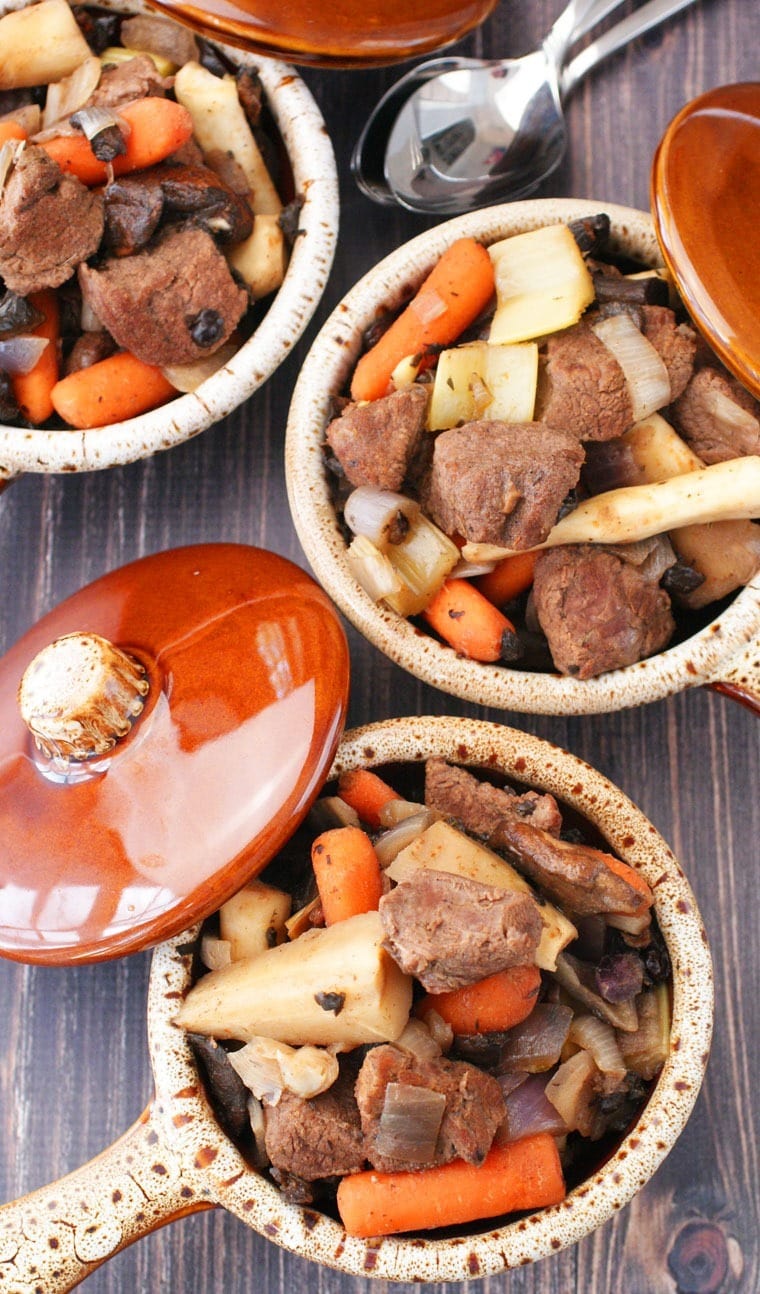 I doubled Corina's slow cooker beef stew recipe since it serves two and we have four people in our family. I added a pound of parsnips and lots more carrots and celery, since you can never have too many vegetables, It's a lot of food, so you'll need a six quart slow cooker [affiliate link] to cook this stew up!
I decided to dredge the venison in gluten free teff flour and brown it. Yes, it adds an extra step, which means more cooking and cleanup time. However, browning venison does add a nice flavor to the stew. I had teff flour leftover from another recipe, wanted to use it up, and thought its nutty taste would go well with the venison stew. Feel free to use any gluten free flour you like! As for the additional time, prep the meal the night before and place the crock in your refrigerator. Then get your venison stew going in your slow cooker first thing in the morning, so it's ready when you get home from work.
For the broth, I used Massel beef flavored bouillon cubes, since they're gluten free and I already had them in the pantry. You can use beef or vegetable broth. Just make sure to read the label carefully for any hidden sources of gluten.
While the combination of juniper berries, cloves, allspice and nutmeg was not what my family was used to in a stew, it was a deliciously wonderful change from the Herbes de Provence type blend that I usually add to my venison stews. Plus, it was a great way to use up that bottle of juniper berries that's been sitting on my spice rack for eons!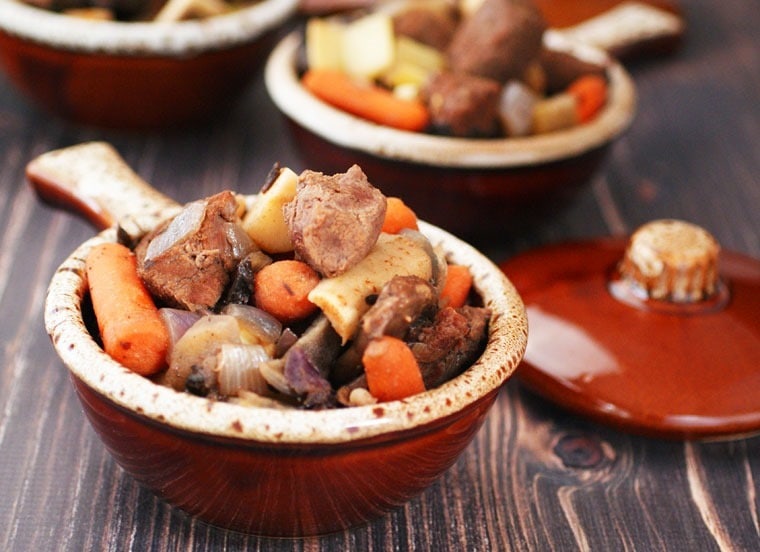 Slow Cooker Juniper Venison Stew
Ingredients
2 pounds

venison, cut into 1-2 inch cubes

1/4 teaspoon

pepper

1/2 teaspoon

salt

2 tablespoons

gluten free flour

2 tablespoons

olive oil

3 cups

gluten free beef or vegetable stock or 3 cups water and 3 Massel beef flavored bouillon cubes

2 tablespoons

tomato paste

2

cloves garlic, crushed

2 teaspoons

juniper berries, gently crushed

8

whole cloves

1 teaspoon

allspice berries

1/2 teaspoon

ground nutmeg

1 teaspoon

dried thyme

2

bay leaves

1 pound

baby carrots

1 pound

parsnips, peeled and cut into 1 inch pieces

1 pound

baby bella mushrooms, thickly sliced

2

red onions, sliced
Directions
Place venison stew meat in a bowl and sprinkle pepper, salt and gluten free flour over meat. Toss to evenly coat.
Heat olive oil in a large sauté pan over medium high heat. Place venison in pan and cook until evenly browned on all sides. Remove meat from pan and place into slow cooker crock.
Add 3 cups of broth or water to pan. Bring to boil, lower heat and keep at a low simmer. If using bouillon cubes, add to the pan, and break up cubes with back of a spoon or spatula. Add tomato paste to pan and stir to combine.
Scrape off bits of meat and cooked on flour with spoon or spatula to deglaze pan thoroughly. Pour contents of pan over meat in slow cooker. Liquid should completely cover venison. If not, add more stock or a little water.
Sprinkle spices and herbs on top of meat. Add vegetables.
Cover and set the slow cooker to the low setting. Cook for 8-10 hours until the venison is tender.
Total Time:
8 Hours 30 Minutes
Serving size:

1 large bowl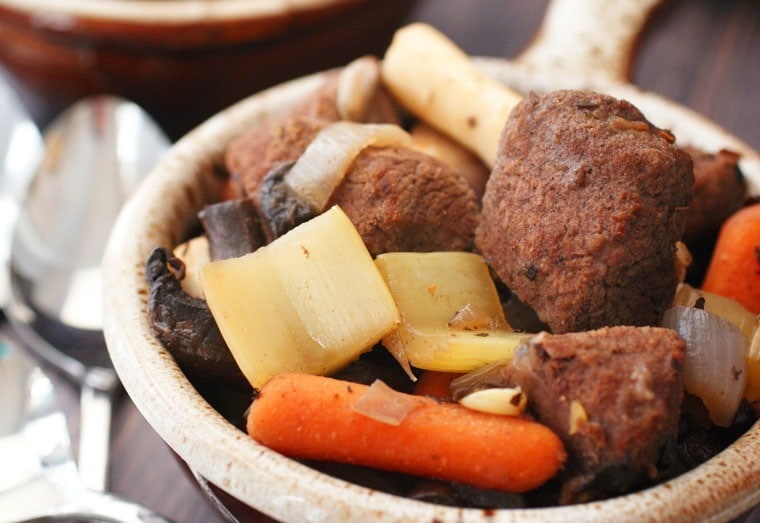 More from the Secret Recipe Club!
Want to join the Secret Recipe Club? You can sign up here.