Have you seen the April 2014 issue of Martha Stewart Living yet? You can get it on newsstands or on your iPad. I think it's my favorite issue EVER! The photography is gorgeous and the recipes are oh-so-inspiring.
Luckily, the folks at MSL have allowed me to share a few of my favorite dishes from April's issue here at This Mama Cooks! On a Diet in the upcoming weeks for Easter, Passover, and for anytime you want to make a delicious and healthy dinner for your family.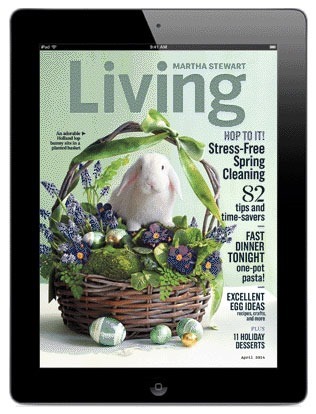 In praise of collard greens
When I moved to Georgia from Colorado, I was so excited to see how easy it was to buy collard greens. You could get them prewashed, shredded and bagged at the grocery store. No more special trips to the farmer's market or Whole Foods!
Collards are cruciferous vegetables like kale and spinach and have similar antioxidant and nutritional values. My favorite way to cook them up is using Hugh Acheson's recipe - Sweetened Collard Greens. He uses maple syrup (Hugh's Canadian after all) but I use sorghum to take away some of the collard greens' bitterness.  Another way I like cooking collard greens is with rice vinegar in my Tangy Collard Greens recipe.
However, I usually cook greens as a side dish. The recipe featured in the current issue of Martha Stewart Living is a perfect dinner dish for Meatless Monday – Stuffed Collard Greens. It's reminiscent of stuffed cabbage leaves, and uses spelt, which is a whole grain rich in nutrients. (However, it is not gluten free.)
Collard greens get their signature richness from being cooked with ham hocks or bacon. ( I make my greens with country ham, which I call the "poor man's prosciutto.") For a vegetarian version that achieves the same depth of flavor, trying use Parmesan rind instead. It contains umami, the savory taste found in cured meat and soy sauce. The rind will hold its shape as the greens simmer. Just remove it from the pot when you're done cooking.
Stuffed Collard Greens
For quicker assembly, cook the tomato sauce and spelt up to two days ahead. Let cool, then store them separately in covered containers.
Ingredients
1 can (28 ounces)

whole peeled tomatoes with their juices

1/4 cup

extra-virgin olive oil

1/2

small onion, finely chopped

Pinch

red-pepper flakes

Coarse salt and freshly ground pepper

Freshly ground pepper

1 cup

spelt

1 pound

collard greens

1 1/2 cups

cooked white beans, or 1 can (15 ounces) low-sodium white beans, drained and rinsed

2 tablespoons

finely grated Parmigiano-Reggiano

2 teaspoons

chopped fresh sage leaves
Directions
Pulse tomatoes with juices in a food processor until chopped. Heat 2 tablespoons oil in a saucepan over medium heat. Add onion and pepper flakes; cook, stirring occasionally, until onion is tender, about 6 minutes. Add tomatoes; bring to a boil. Reduce to a simmer; cook, stirring occasionally, until slightly thickened, about 20 minutes. Season with 3/4 teaspoon salt. Let cool.
Stir spelt into a saucepan of salted boiling water. Reduce to a steady simmer; cook, uncovered, until tender, about 40 minutes. Drain and let cool.
Meanwhile, add collard greens in batches to a pot of salted boiling water and cook until bright green and tender, about 3 minutes. Remove with tongs and let cool. Trim off stems and thick ribs. Reserve 12 large leaves; chop any remaining leaves.
Preheat oven to 375 degrees F. Coarsely mash beans in a bowl. Add cooked spelt, remaining 2 tablespoons oil, cheese, sage, and any chopped collards. Stir to combine. Season with 1/2 teaspoon salt and pepper to taste.
Working with one collard leaf at a time, arrange 1/4 cup filling in center. Fold stem end over filling. Fold in sides. Roll collard over to form a bundle, overlapping ends to seal. Transfer, seam-side down, to a 9-by-13-inch baking dish.
Spread sauce evenly over stuffed collards. Cover with parchment, then foil; bake until sauce is bubbling and collards are tender, about 30 minutes. Serve immediately.
Total Time:
1 Hour 10 Minutes
Serving size:

1 stuffed collard green

Calories:

305

Total Fat:

12g

Saturated fat:

2g

Unsaturated fat:

10g

Sodium:

635mg

Total Carbohydrates:

43g

Fiber:

9g

Protein:

11g

Cholesterol:

3mg
Photography by David Malosh. Recipe and photograph used with permission.