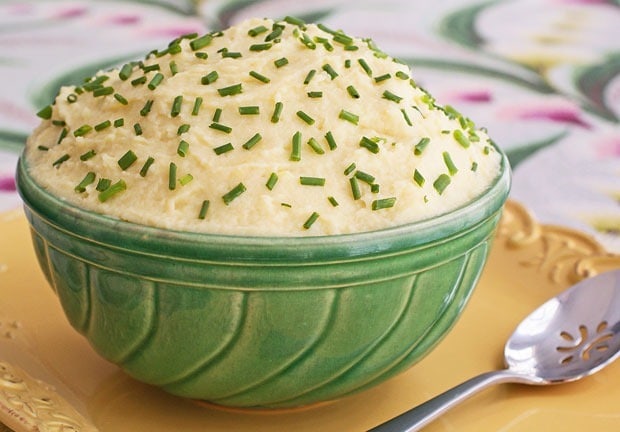 Even though my mom's an incredible cook, she rarely made homemade mashed potatoes since my dad was a baked potato sort of guy. Instead, it was my husband who showed me how to make homemade mashed potatoes, since we both loved having bangers and mash at home. Over time I've developed a few time saving, simplifying techniques when making mashed potatoes, such as:
Use red potatoes instead of russets – you don't have to peel them!
Cut the cleaned or peeled potatoes into 1 to 2 inch pieces before boiling – they cook up faster!
Salt the cooking water just like you would pasta – eliminates the need to add salt later!
Use an immersion blender to whip up the potatoes right in the cooking pot  (I have a KitchenAid 5 Speed Hand Blender) – creamiest potatoes ever!
Make a double batch of mashed potatoes – use the leftovers to make Shepard's Pie!
Unfortunately, I've developed a food sensitivity to potatoes, so I've been making alternative mashes like Marsala Whipped Sweet Potatoes. After making Sorghum Glazed Parsnips for Thanksgiving, and seeing how much my children loved parsnips, I thought I'd try making mashed parsnips using Land O Lakes® Butter with Canola Oil.
A healthier, more natural mash
If you're not familiar with parsnips, they taste like a cross between a potato and carrots, and are sweet enough to appeal to kids. Also, parsnips are an excellent source of soluble and insoluble dietary fiber, and contain many anti-oxidants. Parsnips are also a good source of vitamin C, folic acid, vitamin B-6 , thiamin, pantothenic acid, vitamin K and vitamin E. In addition, parsnips contain important minerals like iron, calcium, copper, potassium, manganese and phosphorus.
But what about butter! Shouldn't I be using a buttery spread instead? Maybe, but I like that Land O Lakes® Butter with Canola Oil is made with only three wholesome ingredients: sweet cream, canola oil, and salt. Nothing artificial about that! I also enjoy using it because it's spreadable right out of the refrigerator, making it super convenient to use, whether I'm making toast in the morning or putting it in a measuring cup or spoon when I'm cooking.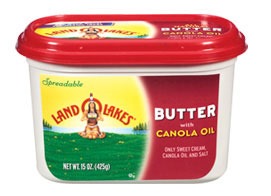 I've been eating Land O'Lakes butter since I was a kid and it's a brand I've always trusted. (I like their eggs, too!) Land O'Lakes is a farmer-owned cooperative that produces sweet cream that's churned into Land O Lakes® Butter. Also, Land O'Lakes' farm families take pride in the butter they help produce because you take pride in what you feed your family.
________________________________________________________________________________________________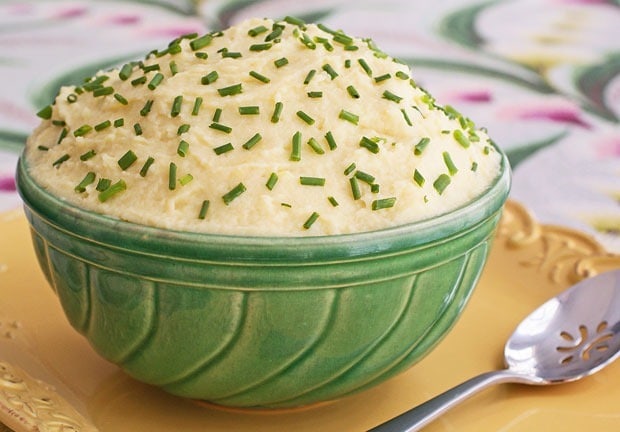 Easy Mashed Parsnips and Chives
Ingredients
2 pounds

parsnips, peeled and chopped into 1 to 2 inch chunks

Kosher or sea salt, to taste

1 cup

skim or low fat milk

1/4 cup

Land O Lakes® Butter with Canola Oil

1 bunch

Fresh chives, chopped into small pieces for garnish
Directions
Place the parsnips in a large saucepan. Cover parsnips with water and season with salt. Place lid on pot.
Over high heat, bring to a boil. Lower heat to medium low and simmer until the parsnips are fork-tender, about 15 to 20 minutes.
Drain the parsnips in a colander and return them to the saucepan.
Place pan on stove on low heat. Add milk and Land O Lakes® Butter with Canola Oil.
Using an immersion blender, blend parsnips until creamy. (If you don't have an immersion blender, you can put your potatoes in a food processor or blender. Then place the mashed parsnips back in the saucepan and warm them up on medium low on the stove top. Or avoid the mess and hand mash them right in the pot!)
Garnish with chives and serve immediately.
________________
Disclosure: The author was compensated by Land O'Lakes for this post. All opinions are my own.