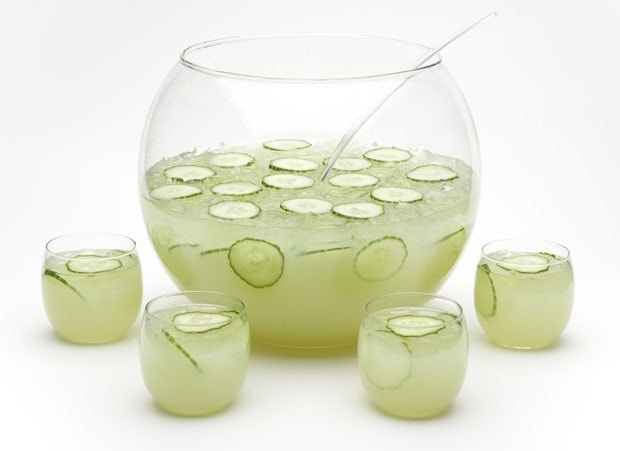 While having a pint of Guinness or some green beer is a must for many during St. Patrick's Day celebrations, for us gluten free folks it's a no-no. Instead, how about trying something a bit more sophisticated but without the gluten?
The folks at VOGA Italia Wine came up with a green sangria that's perfect for St. Patrick's Day parties, especially if it's warm where you live. (Nothing better than sangria when it's hot out!) I especially like this recipe because it's a fairly healthy as it features cucumbers, grapes, and apples. Also, the calories in the wine are reduced by adding club soda to the mix. It's almost like a spa drink, but with a little wine added.
VOGA Italia Wine retails anywhere from $10.99-$15.99 a bottle, which makes entertaining a large crowd affordable, too. Plus, now you finally have an excuse to get that cool punch bowl set you saw at Crate and Barrel!
VOGA's Sparkling Green Sangria
Recipe and picture courtesy of VOGA
Makes about 15 servings
Ingredients:
2 bottles of VOGA Italia Moscato Wine
3 oz. Triple Sec
2 sliced cucumbers
2 cups of seedless green grapes
1 sliced Granny Smith apple
1 sliced lemon
1 sliced lime
1/2 liter club soda
Directions:
Pour wine in a pitcher or bowl and add sliced cucumber, apple, lemon and lime.
Next add triple sec and stir gently.
Cover and chill from 2-24 hours. (The longer, the better!)
Before serving, top with club soda.
Stir gently and serve over ice.