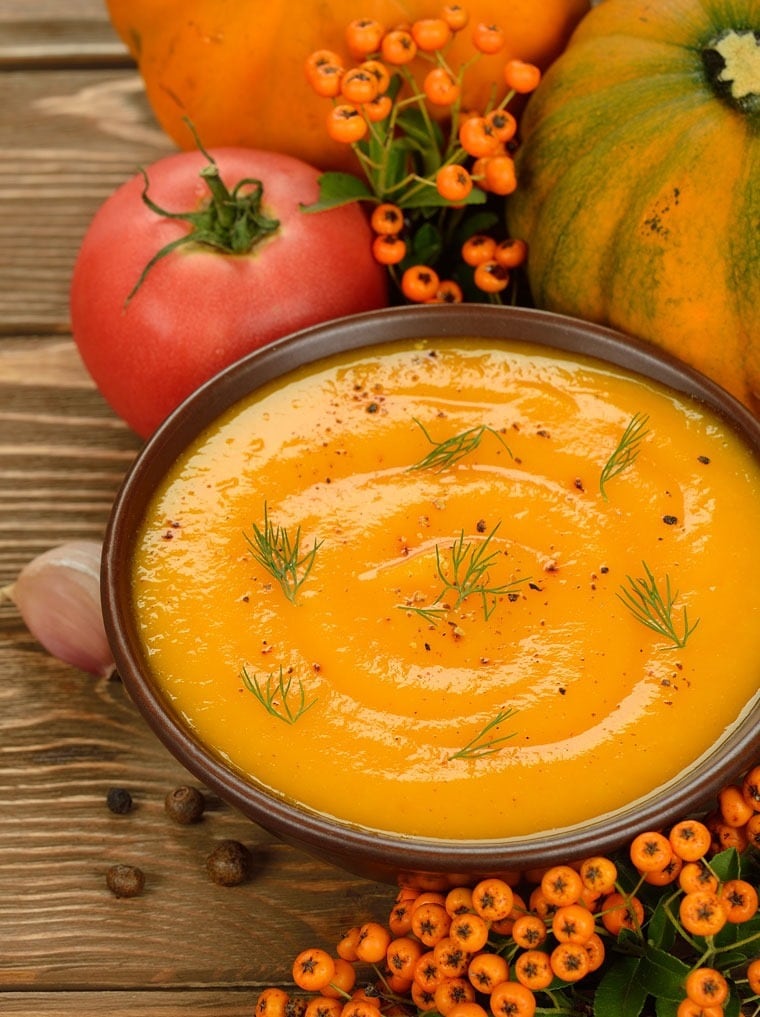 Get your big and little spooks and goblins warmed up after trick or treating with this healthy, vegetarian pumpkin soup from Golden Door Executive Chef Curtis Cooke.
Not only is this a perfect Meatless Monday dish, but it would also make a wonderful Thanksgiving meal starter.
See my Four ways to cook a fresh pumpkin post for tips on cooking pumpkins.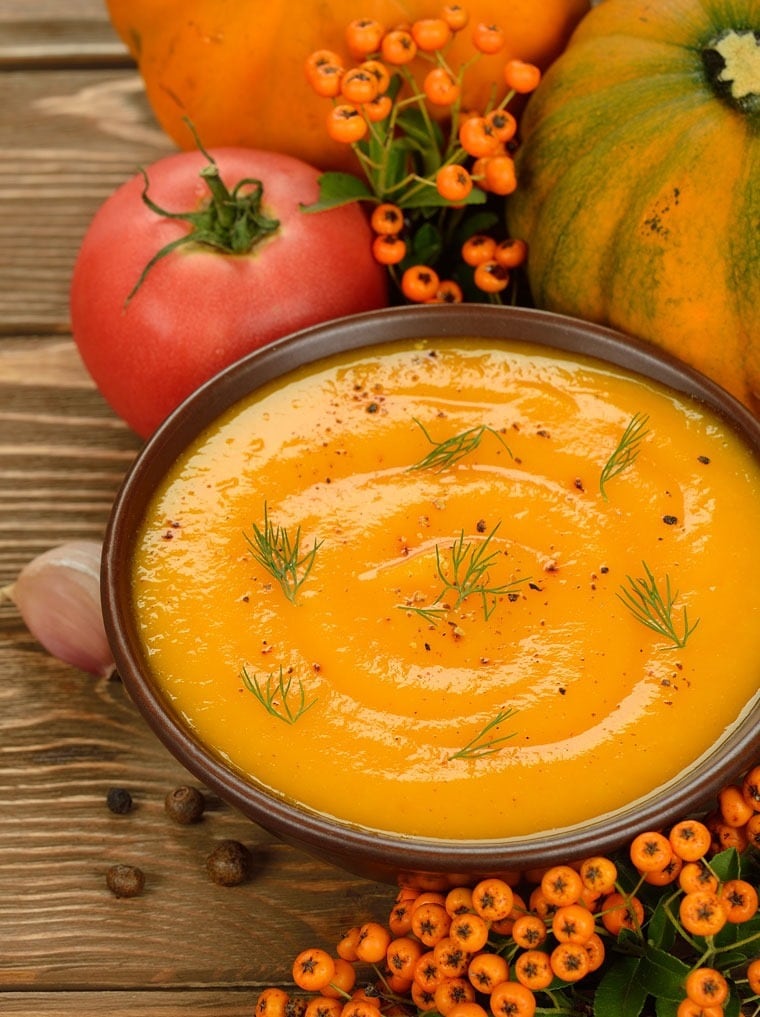 Healthy Vegetarian Pumpkin Soup
Courtesy of Golden Door Executive Chef Curtis Cooke
Ingredients
10 cups

pumpkin, peeled, seeded, cut into large pieces

1/4 cup

plus 1 tablespoon grape seed oil, divided

1 cup

shallots, minced

1/2 cup

celery, diced

1 tablespoon

garlic, minced

1 cup

white wine (substitute with vegetable stock, if you wish)

6 cups

vegetable stock

1

sachet of 6 sprigs thyme, 6 sprigs parsley, 1 bay leaf and 8 black peppercorns

Salt to taste
Directions
Preheat the oven to 350 degrees F.
In a large bowl, toss the large pumpkin pieces with just enough grape seed oil (approximately 1/4 cup) to coat and place on a baking sheet into the oven.
Roast the pumpkin until very tender, approximately 15-20 minutes. Cool and reserve.
In a large stock pot, sauté the shallots, celery, and garlic in a tablespoon of grape seed oil for 5 minutes.
Deglaze with the white wine (or vegetable stock) and reduce the liquid by half.
Add the roasted pumpkin, vegetable stock and sachet and bring to a boil. Reduce heat to a simmer and cook for 30 minutes.
Remove the sachet, and puree the soup in a blender, food processor or with an immersion (wand) blender.
Adjust the seasoning with salt and serve.
Total Time:
1 Hour 30 Minutes
Servings
:
Makes 8 to 10 cups
Serving size:

1 1/2 to 2 cups