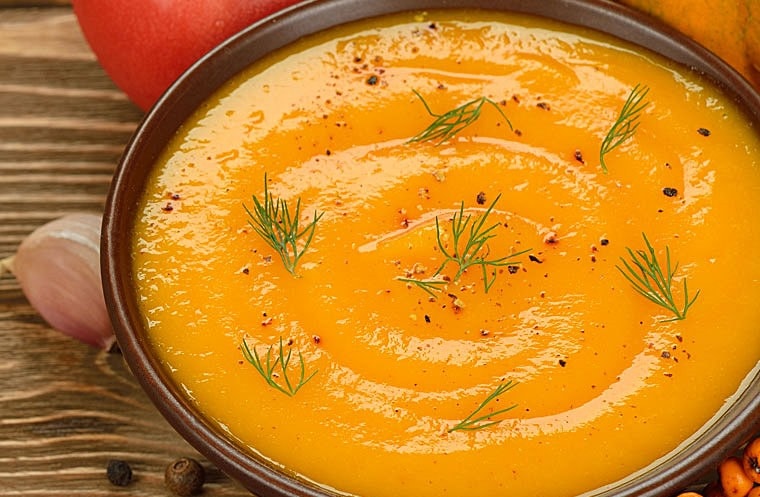 Get your big and little spooks and goblins warmed up after trick or treating with this healthy, Vegetarian Pumpkin Soup. Wouldn't it be fun to serve the pumpkin soup  in mugs and hand it to them as they walked in the door?
Not only is this a perfect vegetarian Meatless Monday dish – serve it with a big salad and some rustic bread or crackers – but it would also make a wonderful Thanksgiving meal starter, too.
Since this pumpkin soup recipe makes such a big portion, freeze half for later. Then you can defrost it on Thanksgiving morning so everyone can have pumpkin soup and easy to make sandwiches while they watch football and you cook up the Thanksgiving feast!

Pumpkin soup is good for you food!
I love cooking with pumpkin and making this pumpkin soup recipe, because it's so healthy for you. Did you know that pumpkin is a good source of fiber? That's why you feel so full after having a bowl of pumpkin soup!
Pumpkin is also an excellent source of vitamin A, which is important for vision health. Pumpkins get vitamin A from beta-carotene, one of the carotenoids compounds that give pumpkins their bright orange color. Beta carotene is also an antioxidant, which may prevent cancer, according to the National Cancer Institute.
Those same antioxidants found in pumpkins also prevent wrinkles, according to Health magazine. Maybe you should use my pumpkin soup as a face mask! Well, maybe not.
It's nice knowing that something that's so delicious is also good for you!
See my Four ways to cook a fresh pumpkin post for tips on cooking pumpkins.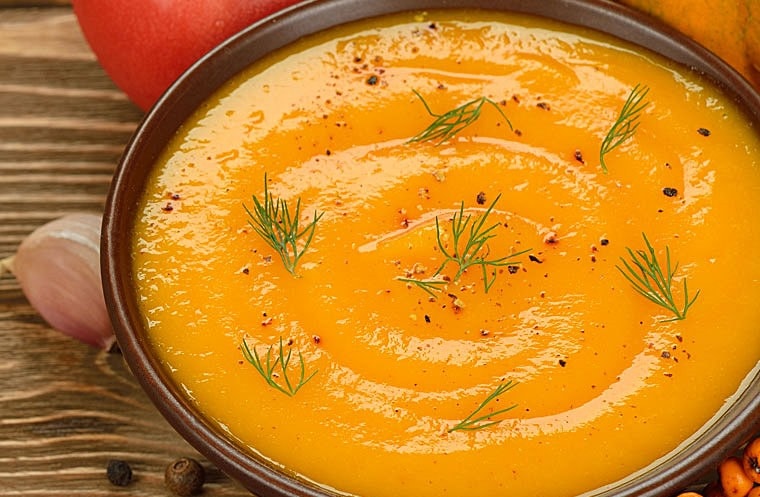 Healthy Vegetarian Pumpkin Soup
Courtesy of Golden Door Executive Chef Curtis Cooke
Ingredients
10 cups

pumpkin, peeled, seeded, cut into large pieces

1/4 cup

plus 1 tablespoon grape seed oil, divided

1 cup

shallots, minced

1/2 cup

celery, diced

1 tablespoon

garlic, minced

1 cup

white wine (substitute with vegetable stock, if you wish)

6 cups

vegetable stock

1

sachet of 6 sprigs thyme, 6 sprigs parsley, 1 bay leaf and 8 black peppercorns

Salt to taste
Directions
Preheat the oven to 350 degrees F.
In a large bowl, toss the large pumpkin pieces with just enough grape seed oil (approximately 1/4 cup) to coat and place on a baking sheet into the oven.
Roast the pumpkin until very tender, approximately 15-20 minutes. Cool and reserve.
In a large stock pot, sauté the shallots, celery, and garlic in a tablespoon of grape seed oil for 5 minutes.
Deglaze with the white wine (or vegetable stock) and reduce the liquid by half.
Add the roasted pumpkin, vegetable stock and sachet and bring to a boil. Reduce heat to a simmer and cook for 30 minutes.
Remove the sachet, and puree the soup in a blender, food processor or with an immersion (wand) blender.
Adjust the seasoning with salt and serve.
Total Time:
1 Hour 30 Minutes
Servings
:
Makes 8 to 10 cups
Serving size:

1 1/2 to 2 cups