This month's Secret Recipe Club recipe is shepherd's pie from Shelby at The Life & Loves of Grumpy's Honeybunch. Shepherd's pie is classic British pub food that's usually made with ground lamb. However, you can make it with other ground meats (Shelby and I used venison) or even make a vegetarian version, called a Shepherdess' Pie, with soy crumbles.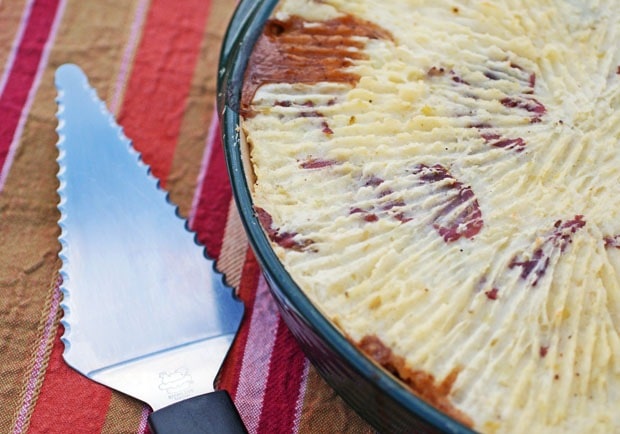 Shelby's version of shepherd's pie uses instant gravy mix. However, since I'm gluten free, I chose to make the gravy using the method found in The Joy of Cooking. However, instead of flour, I used rice starch to thicken the gravy.
Also, feel free to use fresh, frozen or canned vegetables in your shepherd's pie. I used canned since that's what I had on hand (and what I'm trying to get rid of before we move to Boston). I also eliminated any added salt as there was plenty of sodium in the beef broth and the steak and Worcestershire sauces.
Ingredients
2 pounds

red potatoes

3 tablespoons

buttery spread, divided

1 1/2 pounds

ground meat (lamb, venison, turkey or beef)

1/2 cup

onions

3 tablespoons

rice or corn starch

1 (14.5 ounce) can

beef stock, divided

2 tablespoons

Worcestershire sauce

1 1/2 tablespoons

steak sauce

1 (14.5 ounce) can

sliced carrots

1 (15 ounce) can

peas

2 cloves

garlic, minced
Directions
Wash potatoes and cut into large chunks. (If you're not using red potatoes, you'll need to peel them, too.) Place in a pot of water, bring to a boil and cook until tender.
Drain potatoes reserving 1/2 cup of cooking liquid. Mash potatoes with liquid and butter until fluffy. Set aside.
Preheat oven to 350 degrees F.
Brown ground meat with onions. Set aside.
In a small bowl, mix 3 tablespoons rice starch with 3 tablespoons of beef broth until thoroughly mixed.
In a skillet on medium high heat add garlic, beef stock, Worcestershire sauce, steak sauce, vegetables, and garlic. Bring to a simmer. Then add the rice starch and broth mixture. Stir until the broth thickens.
Add the browned ground meat and onion mixture to the pan. Mix and keep at a simmer. Add any beef broth you have leftover and cook until thickened. Remove from heat.
Pour vegetable and meat mixture into a baking dish. Carefully spoon mashed potato over mixture. Using the tines of a fork, score the mashed potatoes, if you like.
Place small chunks of the buttery spread on the mashed potatoes. Then place baking dish on a cookie sheet as the gravy may bubble over.
Bake 20 to 25 minutes at 350 degrees until mashed potatoes are golden.
Remove shepherd's pie from oven and let sit for 5 to 10 minutes before slicing and serving.
Total Time:
1 Hour 30 Minutes
Calories:

349

Calories from Fat:

85

Total Fat:

9.5g

Saturated fat:

4.1g

Unsaturated fat:

0g

Sodium:

362mg

Total Carbohydrates:

37.0g

Sugar:

7.6g

Fiber:

6.2g

Protein:

28.7g

Cholesterol:

83mg