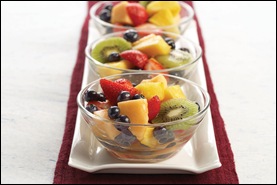 Just when you thought the eating holidays were over with the end of football season, here comes Valentine's Day! It's a challenging holiday because it's all about sharing sweets with your family or significant other. Unfortunately, all you end up sharing are expanding waistlines and having to deal with sugared out kids.
Instead, try this healthy alternative from the folks at McCormick, the spice folks. Only 1 Weight Watchers POINT for half a cup.
Very Vanilla Fruit
Makes 10 (1/2-cup) servings.
Prep Time: 15 minutes
Ingredients:
2 cups strawberries, halved
1 cup blueberries
1 cup fresh

or

canned pineapple chunks
1 cup cantaloupe chunks
2 kiwis, peeled and sliced
1/4 cup confectioners' sugar
2 teaspoons McCormick® Pure Vanilla Extract
Directions:
Mix fruit, confectioners' sugar and vanilla in large bowl. 
Refrigerate 1 hour or until ready to serve.
Tips:
You can use McCormick Raspberry Extract in place of the vanilla to make a raspberry salad.
If certain types of fresh fruit aren't available in your area, feel free to make substitutions or to use frozen fruit.
Nutritional information
Calories: 56
Fat: 0 g
Carbohydrates: 13 g
Cholesterol: 0 mg
Sodium: 4 mg
Fiber: 2 g
Protein: 1 g
Weight Watchers POINTS = 1
You may want to serve this in addition to another Valentine's Day dessert I featured a couple of years ago - Coeur à la Crème – which is 4 POINTS per serving.