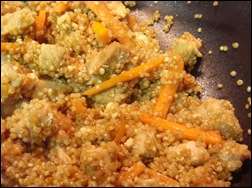 After Thanksgiving, I made Turkey Fried Rice based on a recipe on the Kikkoman website. (See my post Brining the turkey with Kikkoman soy sauce.) My family loved it, so faced with Christmas pork roast leftovers, I was going to make the same dish, but this time with pork instead of turkey and quinoa instead of rice.
If you want to serve this as a main dish, mix in some steamed veggies like broccoli, zucchini, squash, peppers, and cauliflower. It's already packed with protein – a whopping 18.4 grams per serving – so all it needs is some vegetables to make it a complete meal.
Quinoa "Fried Rice" with pork
Makes 4 servings
Ingredients:
1 tablespoon canola oil
3 green onions and tops, chopped
8 ounces diced cooked pork loin tenderloin
1 carrot, cut in julienne strips
3 egg whites slightly beaten
4 cups cooked quinoa
2 tablespoons soy sauce
Directions:
Prepare quinoa as directed on the package label.
Heat oil in large skillet.
Add next 3 ingredients and stir fry until carrots are tender, yet crisp.
Add egg and cook, stirring gently, until cooked.
Mix in cooked quinoa and soy sauce.
Cook until quinoa is thoroughly heated and ingredients are thoroughly mixed.
Nutritional information from Calorie Count per serving
Calories 455
Calories from Fat 83
Total Fat 9.3g
Sodium 342mg
Total Carbohydrates 74.8g
Dietary Fiber 8.4g
Sugars 0.9g
Protein 18.4g
Vitamin A 36%
Vitamin C 3%
Calcium 6%
Iron 30%
Nutrition Grade A-
Weight Watchers POINTS per serving = 9 (To reduce POINTS halve portion and add steamed veggies.)
Tips:
I used 1 cup of Bob's Red Mill Organic Grain Quinoa, which I cooked in 2 cups of beef broth for 12 minutes. Then I let it sit for an additional 15 minutes as per the directions. This made approximately 4 cups of cooked quinoa. You can use water or other types of broth to cook quinoa in as well.
If you're gluten free, use gluten free tamari sauce instead of soy sauce.
For those watching their salt intake, use a low sodium soy sauce.
More quinoa recipes: