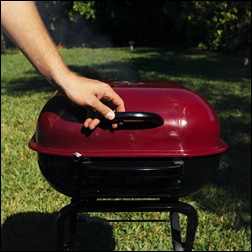 I've been trying to avoid foods with high fructose corn syrup (HFCS) for awhile now, and one of the biggest challenges is trying to find barbeque sauce without HFCS. I've found a few (a local steak house's BBQ sauce and a few by Tastefully Simple), but they're so darn expensive. An alternative is making your own sauce.
Here's a recipe I found on my colleague, Stacy DeBroff's blog The DeBroff DeBrief. It's make with Pepsi Natural soda, which doesn't have HFCS and is made with natural caramel, sugar, kola nut extract, and apple extract for color. The sauce stays good in the refrigerator for about two weeks.
Haven't tried Pepsi Natural? Well, I'm giving away a Pepsi Natural prize pack on my review blog, so that's one way to try it. Or you can head down to the grocery store, since Pepsi Natural is now available across the US.
Ingredients:
1 cup Pepsi Natural soda
1/4 cup lemon juice
1/4 cup orange juice
2 T Worcestershire sauce
1 cup ketchup
2 T dark brown sugar
2 T light molasses
1/2 t grated lemon peel
1/2 t ground ginger
1/2 t garlic powder
1/2 t onion powder
Salt and pepper to taste
Directions:
Combine all the above ingredients in heavy saucepan and bring to boil over medium heat, stirring occasionally.
Reduce heat and simmer until reduced to about 1 1/2 cups of sauce, about 20 minutes.
Cool and transfer to bowl. Cover and refrigerate. Can be made up to 2 weeks ahead.
Marinate pork, chicken or beef to be grilled overnight in the sauce. (Don't forget to reserve some sauce to serve at the table.)
Grill to taste and baste with extra sauce.
Tips:
To keep the recipe HFCS-free, make sure you check your ketchup label. Also, there are many organic ketchups now available including store labels. Heinz makes a good one as well.
Spices and sugars are going organic, too. As you run out of spices, replace them with organic versions. I've found reasonably priced ones at my local grocery store and at Super Target.
Don't forget to enter my Pepsi Natural "Au Natural" Giveaway!