After reading Anticancer: A New Way of Life
I knew green tea should be something I drank every day. But since it's summer, I hardly felt like having a hot cup of green tea and found it was too much of a hassle to brew a batch to cool for iced green tea.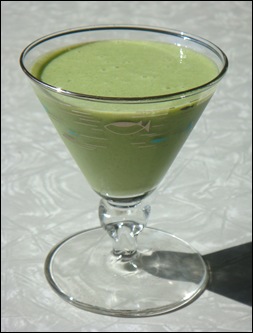 So when Matcha Source sent me an email about matcha powdered green tea  that can be added to smoothies, baked goods, and even pasta salad, fish and eggs, I asked to try a sample. After all, I had been having green tea powder put into the smoothies I ordered at Starbuck's, so why not try to make the same thing, just cheaper and healthier, at home?
Making a matcha smoothie
Matcha sent me two small packets of their Dakota and Gotcha Matcha teas to sample. Wanting to recreate the green tea smoothies I get at Starbucks, I used both the Dakota and Gotcha varieties. I couldn't determine any taste difference between the two, though the Dakota was a bit grittier.
I started with the smoothie recipe Matcha Source's PR firm sent me, and came up with this recipe that seems fairly close to what Starbuck's serves.
This Mama's Matcha Green Tea Smoothie
Ingredients:
1 cup no fat vanilla yogurt (I used Stonyfield Farm Organic French Vanilla fat free yogurt)
2 tsp ingredient grade matcha
1 banana
1 cup ice cubes
Directions:
Blend ingredients together in electric blender. 
Pour into a tall glass and serve
Weight Watchers POINTS = 5
Tips:
Add some flaxseed oil for additional Omega-3s
Add some protein powder to boost the protein content
I enjoyed used Matcha Sources tea and look forward to trying more of their recipes.
Matcha Source Teas
Gotcha Matcha is good for lattes, smoothies, pastries and recipes and contains 100% green tea from Japan. It's available in three sizes:
Gotcha Matcha Cafe Grade Matcha Tea 80g $28.00 (40 to 50 servings – perfect for the single drinker)
Gotcha Matcha Cafe Grade Matcha Tea 200g $55.00 (100-120 servings – good for a large household or office of serious matcha tea drinkers)
Gotcha Matcha Cafe Grade Matcha Tea 1 Kilo $225.00 (for cafe or restaurant use)
Dakota Matcha is only available in the a kilo size at $95. It's an economical choice for recipes, supplements and food applications.
Health benefits
If cooking with green tea appeals with you for health or taste reasons, give Matcha Source a try. According to Matcha Source, the health benefits of matcha exceed those of regular green tea because with matcha you ingest the whole leaf, not just the brewed water. One glass of matcha is the equivalent of 10 glasses of green tea in terms of its nutritional value and antioxidant content.
Matcha contains caffeine as well as amino acids, which Matcha Source claims relaxes the mind.  A serving provides 3 to 4 hours of mild steady energy.