On our date to Sugarbeet in Longmont, Colorado, I had the most marvelous ceviche. It was made with scallops, avocados, lime juice, red onions, red peppers, jalapeños (I think), and pineapple juice. It was served with a large sprig of basil for a garnish and thinly sliced, homemade potato strips (not chips). Some of the scallop slices were white and some were pink. I don't know if that meant that some were cooked and some were raw, or if the pink ones were marinaded in something different. Either way it was marvelous!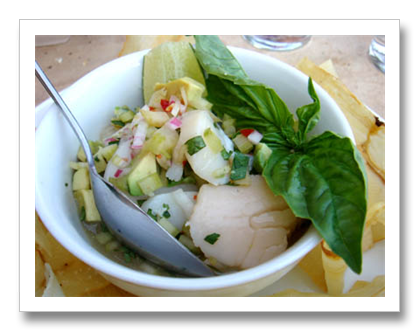 Just by looking at it, I know that ceviche must be a low calorie dish that's high in lean protein. And this recipe from Relishmag.com that uses red snapper instead of scallops proves it. Each serving is 4 Weight Watchers POINTS.
Red Snapper and Mango Ceviche
Serves 6
If you're worried about using raw fish, microwave it 1 minute before soaking in citrus juice.
Ingredients:
16 ounces red snapper filets, skinned, sliced thinly into 2-inch pieces (The ceviche I had at Sugarbeet used large scallops sliced into pieces 1/4 inch thick. You could try that or use baby scallops or cooked shrimp from your freezer section. If you use frozen scallops, I would cook them quickly and let cool – seems safer.)
1/2 cup freshly squeezed lemon juice
1/4 cup freshly squeezed lime juice
2 medium jalapeños, seeded and minced
1 large red bell pepper, finely chopped
2 large mangos, finely chopped (This recipe uses the mango to sweeten the dish. The ceviche at Sugarbeet used pineapple juice.)
1 medium red onion, finely chopped
1 teaspoon minced garlic
1 1/2 teaspoons kosher salt
Coarsely ground black pepper
2 tablespoons extra-virgin olive oil (This is a great recipe to get your daily olive oil requirement in if you're doing Weight Watchers.)
1/2 cup chopped fresh cilantro
Instructions:
Combine snapper, lemon and lime juice. Cover and refrigerate 1 hour.
Add remaining ingredients. Toss lightly. Serve within 1 hour.
Nutritional Information:
Per serving: 190 calories, 6g fat, 30mg chol., 16g prot., 18g carbs., 2g fiber, 530mg sodium. 4 Weight Watchers POINTS per serving.