You may want eat some sleep-inducing snacks before starting your night time routine. Here are some ideas.
Sleepy Time Foods
Foods containing tryptophan get the body to make serotonin, which slows nerve activity and encourages drowsiness. Milk, yogurt, soy, figs, almonds, bananas, and turkey are all good sources. Carbohydrates can increase the effect by stimulating insulin production to remove other amino acids, leaving tryptophan to do its work.
Wondertime magazine recommended these recipes as sleep inducing snacks for kids. I don't see why adults cannot try them out as well. If you're trying to lose weight, I recommend using non or low fat yogurt or cottage cheese and a multi-grain toast. And watch your intake of cookies! Just because you can't sleep doesn't mean you can overindulge in sweets.
Sleepy Sunflowers: Put a spoonful of cottage cheese on a round whole wheat cracker. Sprinkle with sunflower or sesame seeds.
Yogurt Drifts: Spoon a little vanilla or blueberry yogurt into a small paper cup, then sprinkle with wheat germ. Eat, or freeze for 1 to 1 1/2 hours for a frozen-pudding consistency.
Full Moon Cookies: Smoosh a slice or two of banana between 2 small oatmeal raisin cookies, and freeze for at least 1 hour. (Think ice cream sandwich.)
Midnight Figs: Purée 1 cup dried figs with 1/2 cup water and 1 teaspoon vanilla extract in a food processor. Spread on vanilla wafer cookies.
Twilight Toast Points: Spread blueberry preserves on whole wheat toast, then cut into bite-size pieces.
More Sleepy Time Snacks
According to Reader's Digest, Dr. Dean Ornish recommends warm milk with honey and a handful of almonds, which are full of tryptophan. Or try a cup of chamomile tea. But surprisingly, he recommends European hot chocolate! It contains tryptophan, flavonoids that fight free radicals, and serotonin that improves mood.
European Hot Chocolate
Serves: 1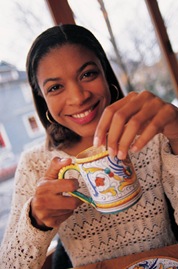 Ingredients:
3/4 cup nonfat milk or low-sugar soy milk
1/2 oz high quality dark chocolate, finely grated
Directions:
Warm milk in small saucepan or in microwave until hot; do not boil.
Whisk in chocolate until well blended.
Nutritional Information:
Calories: 140
Fat: 5g
Fiber: 1g
Protein: 7g
Weight Watcher POINTS: 3