Yes you can eat BBQ and lose weight – you just can't eat a lot of it, drink a six-pack of beer, and indulge in all those fattening sides like coleslaw, baked beans, potato salad and chips. It's all about portion control and eating your veggies. Everything in moderation, dear reader.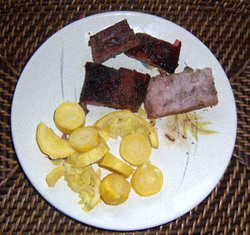 Here was my Fourth of July Extreme Fat Smash dinner of
3 oz. of barbequed pork ribs and a cup of steamed yellow summer squash.
I also had a 12 oz. glass of Sunshine Wheat beer. It was wonderful.
I recently purchased Legends of Texas Barbecue Cookbook: Recipes and Recollections from the Pit Bosses
upon the recommendation of a couple of friends from Texas. (Well, she's from Texas. He's an Englishman who went to college at University of Texas. Since he hunts, drinks Shiner beer, and cooks up a mean barbecue, he's Texas enough for us.)
Besides barbecue, Legends of Texas Barbecue features recipes for sides and sauces. It's a wonderful cookbook to read – lots of vintage pictures and Texas lore. Thus inspired, we cooked up a venison roast and a slab of pork ribs in our smoker.
Art Blondin's Chipotle-Marinated Ribs

Ingredients:
Art's marinade:
1/4 cup red wine
1/4 cup honey
1/4 cup chipotle sauce
1/4 cup canola oil
salt and pepper to taste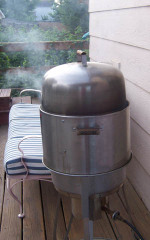 Directions:
Combine the marinade ingredients and mix well.
Cover ribs with marinade in a plastic bag or flat container. (Cut the rack in half if you need to.) Marinate for 1 to 2 hours at room temperature or overnight in the refrigerator.
Set up your smoker for indirect heat. Use wood chips, chunks or logs, and keep up a good level of smoke. Maintain a temperature between 200 and 225 degrees F. (Since we were also doing a shoulder roast, we cooked it at a higher temperature. After an hour, we covered the ribs with foil to keep the moisture in.
Place the ribs on the smoker, bone-side down and as far away from the flame as possible. Cook for 3 to 3 1/2 hours. (Since we were doing the roast at a highter temperature, we cooke both for about 2 hours.)
Ribs are ready when a toothpick goes through easily when inserted between the bones.
We also made a venison roast…
Rick Schmidt's Shoulder Roast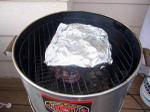 Ingredients:
Beef shoulder roast, about 3 pounds (we used a 2-3 pound venison roast
2 teaspoon salt
1 teaspoon cracked black pepper
1/4 teaspoon cayenne
3 slices of bacon
Directions:
Combine the seasonings and sprinkle the roast with the rub. Drape the roast with bacon.
Set up your smoker for indirect heat. Use wood chips, chunks or logs, and keep up a good level of smoke. Maintain a temperature between 300 and 350 degrees F.
Allow the roast to smoke for 2 hours, rotating to expose all sides to the heat. Reposition the bacon to keep it on top of the roast.
Continue cooking, checking and turning every half hour until the roast reaches an internal temperature of 140 degrees F.
Allow the roast to rest for 15 minutes before slicing.