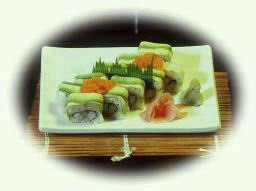 Did you know that 13 pieces of California Roll sushi have only 9.5 Weight Watchers Flex Plan Points? So not only is sushi low in points, fat, calories, and healthy for you but it's delicious as well. That's why I love it, and most folks agree.
In the October 4, 2006 Newsday story, Sushi swims into unlikely waters, by Joan Remick, sushi was hailed as a comfort food by Manhattan-based restaurant consultant Clark Wolfe, who after 9/11 noticed that while:
…some Americans turned to comfort foods such as macaroni and cheese and meat loaf, others were seeking culinary solace elsewhere.

"After 9/11, sushi really did enter the vernacular as a comforting food," Wolf said. "A lot of people who wanted something clean and pure perceived sushi as something nutritious that was fun to eat and that was happening all over the country."
In his book The Nasty Bits
, Anthony Bourdain mentioned that sushi is the favorite food of many chefs. He also has an interesting take on what he calls the sushi barrier. He believes once Americans accepted that sushi was normal culinary fare, it opened the door to all sorts of different and marvelous food.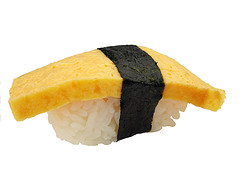 So with no further ado, I present this week's Food Blog of the Week, Make My Sushi by Osowakki. O.K. it isn't exactly a blog. It's more like a website. Never mind, it's got some really cool sushi guides using Flash animation, like this one for an inside out roll as well as recipes and tips.
Stop by Make My Sushi and tell Osowakki that This Mama Cooks! sent you.