Happy almost Thanksgiving! Thanks for joining me between brining the turkey and baking the pies.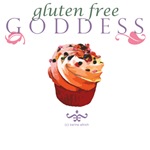 This week's Food Blog of the Week is the Gluten Free Goddess. I really appreciate her gluten free since my mother-in-law has celiac. Cooking for her isn't much of a challenge, now that I've discovered all the gluten free mixes, pastas, breads and cereals at the health food store.
Gluten Free Goddess is blogged by Karina, an artist who loves to cook - or is she a cook who likes to paint? - living in the high desert of northern New Mexico with no TV. 
Her blog rocks - great recipes, wonderful writing, terrific photography and a good source for all things gluten free (products, web links, etc.)
So with Hanukkah coming next month, I thought I'd share her recipe for latkes. I use a similar recipe out of The Joy of Cooking cookbook and substitute the flour with white rice flour. Now if I could only find a potato pancake recipe without eggs, sigh.
Ingredients
3 large starchy potatoes (Idaho work well), peeled
1/2 onion, minced
1/2 to 2/3 cup superfine brown rice flour, or all-purpose GF flour mix
2 to 3 eggs, beaten
1/4 tsp sea salt, to taste
fresh grated pepper, to taste
organic canola oil, for frying
applesauce for serving
Directions:
Grate the potatoes by hand or in a food processor (follow manufacturer's instructions for grating). Press the grated potatoes between clean paper towels, or tea towels, to extract moisture.
In a large bowl, combine the grated potatoes with the onions and GF flour, then add the beaten eggs, sea salt, pepper. Stir well. Start with 2 eggs, and a half cup of GF flour; add more of each if you need to.
Heat a good inch and a half of canola oil in a deep sided skillet over high heat. Carefully drop the batter with a large spoon, or fork, into the hot oil, and press down with a spatula. I like my latkes lacy and irregular, and this is the method I use to achieve this.
Cook the latkes until they are golden on each side - crispy on the outside, and tender in the middle. This takes maybe five minutes, depending upon the size of the latke.
Remove the latkes with a slotted spatula and place on paper towels, to drain.
We keep the drained latkes warm in a hot oven, at 400 degrees F., until all the latkes are ready to serve, and try to work fast, as latkes are best eaten hot from the pan. Serve the latkes immediately with homemade applesauce. Some people like sour cream stirred with a touch of horseradish on the side.
Serves about 4 - depending upon appetites. Enjoy! Shalom!