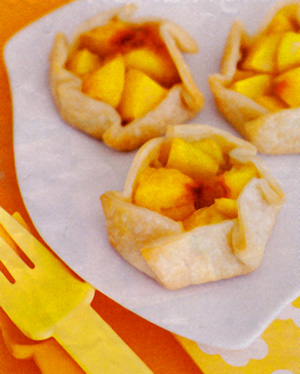 I'm always on the lookout for recipes that look fun for kids to make as well as eat. This one for pint-sized peach pies in the March 2006 issue of Parents magazine fits the bill. Since they're made with frozen fruit, you can make them year-round.
Mini Peach Pies
Ingredients:
1 1/2 cups frozen peaches
1 refrigerated piecrust
2 1/2 Tbsp. graham cracker crumbs
2 Tbsp. sugar
pinch of cinnamon
Directions:
Defrost peaches. Heat over to 400 degrees.
Using 4-inch bowl as a guide, cut 5 circles from piecrust. Roll out slightly, then place on a baking sheet.
Place 1/2 Tbsp. of graham cracker crumbs in center of each crust.
Using a plastic knife (for kids), cut thawed peaches into chunks. In medium bowl, mix peaches with sugar and cinnamon. Divide peaches among crusts.
Fold edge of each crust up and over peaches to form pies.
Bake 30 minutes until pies are golden brown. Let cool 5 minutes before serving.
Suggestions:
Try using berries or other kinds of fruit – fresh or frozen.
Serve with ice cream or whipped cream.
These would also make great party finger food.
Sprinkle with cinnamon sugar or powered sugar.