Leave it to the folks at Martha Stewart Living to come up with some different cookie recipes for Valentine's Day. Here are two I really liked.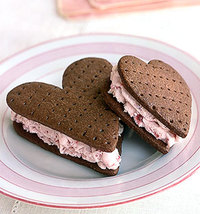 Chocolate Strawberry Heart-Shaped Ice Cream Sandwiches
Makes 24
Ingredients:
2 3/4 cups all-purpose flour, plus more for dusting
1/2 cup cocoa powder
2 1/2 teaspoons baking powder
1/4 teaspoon salt
12 tablespoons (1 1/2 sticks) unsalted butter, room temperature
1 1/2 teaspoons pure vanilla extract
1 1/2 cups sugar
2 large eggs
1 tablespoon milk
2 to 2 1/2 pints strawberry ice cream, slightly softened
Directions:
1. In a medium bowl, sift together flour, cocoa powder, baking powder, and salt; set aside. In the bowl of an electric mixer fitted with the paddle attachment, cream butter, vanilla, and sugar. Add eggs and milk, and mix until combined. Add reserved flour mixture, and mix on low speed until incorporated, scraping the sides of the bowl with a spatula at least once. Divide the dough in half, and shape each half into a flat disk. Wrap each disk in plastic wrap, and chill until firm, about 1 hour.
2. Preheat the oven to 350°. Roll dough out on a lightly floured surface; use an offset spatula to unstick the dough every few turns of the rolling pin. Roll dough to an 1/8-inch thickness. Cut dough using a variety of heart-shaped cookie cutters from 2 1/2 to 3 inches in diameter, making sure there is a top and bottom cookie for each sandwich. Place hearts on a parchment-lined baking sheet; chill until firm, about 30 minutes. Remove from refrigerator; use a fork to prick holes all over the surface of the cookies. Bake until firm, 12 to 15 minutes. Let cool slightly on baking sheet, then transfer to a wire rack to cool completely.
3. Using half the cookies, spoon softened strawberry ice cream about 1/2 inch thick on each underside. Place matching cookie on top of ice cream, top-side facing out. Transfer immediately to freezer to harden; repeat with remaining ingredients. Serve directly from the freezer. Sandwiches can be stored in an airtight container in the freezer for 3 to 4 days.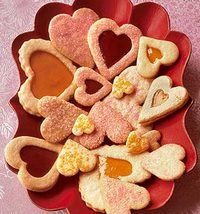 Valentine Cookies
Makes 22 dozen 1 1/2-inch cookies
This recipe makes a lot of cookies, but it can be halved, or you can freeze a portion of the dough for up to three weeks.
Ingredients:
1 cup (2 sticks) unsalted butter
2 cups sugar
2 large eggs
4 2/3 cups all-purpose flour, plus more for dusting
1 teaspoon baking soda
1/4 teaspoon salt
1/4 cup buttermilk
1/2 cup pale-pink or white sanding sugar(optional)
Petal dust in pink, orange, and violet tones(optional)
2/3 cup apricot or strawberry jam, slightly warmed (optional)
Directions:
1. In bowl of electric mixer fitted with the paddle attachment, cream butter and sugar until fluffy, about 4 minutes. Add eggs, one at a time, beating well after each. Sift flour, baking soda, and salt into large bowl. On low speed, gradually add flour mixture to mixer bowl, alternating with buttermilk, until combined. Wrap dough in plastic; chill until firm, 1 hour or overnight.
2. To color white sanding sugar, if using: Place a few tablespoons in a small bowl. Mix in petal dust with a toothpick, a bit at a time, until desired shade is reached. Colored sanding sugar will last indefinitely.
3. Heat oven with two racks centered to 350º. Line 2 baking sheets with parchment paper. On lightly floured surface, roll chilled dough 1/8 inch thick. Cut out hearts using any 1- to 3 1/2-inch heart cookie cutters. If desired, cut centers out of some hearts. Transfer with spatula to baking sheets. Chill for 30 minutes. Sprinkle with sanding sugar, if using. Bake until just golden but not too brown, about 10 minutes. Transfer cookies to rack. Continue with dough; reroll scraps.
4. To make sandwich hearts: Brush bottom heart lightly with jam; cover with a second heart with center cut out; jam will adhere hearts. Fill cut-out area with more jam. Cookies will keep, in an airtight container, at room temperature for 1 week.