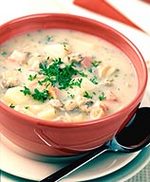 How dare you think I'd leave my fellow Weight Watchers in a lurch on Super Bowl Sunday! Below is a Weight Watchers recipe for New England clam chowder.
They managed to get the usual recipe down from 8 points to 5 per 1 1/2 cup serving by using no-fat milk instead of cream and turkey bacon instead of regular bacon.
However, I doubt it has the creaminess of the original. So you decide if 3 less points per serving is worth it.
Me, well I'm off the wagon on Super Bowl Sunday...and right back on it on Monday.
New England Clam Chowder
Serving size: 1 1/2 cups
POINTS: 5
Ingredients:
1 tsp vegetable oil
2 slice Louis Rich Turkey Bacon, diced
1 small onion(s), finely diced
3 Tbsp all-purpose flour
1 cup fat-free skim milk
3 1/2 cup canned clam juice
2 medium potato(es), peeled and diced
10 1/2 oz canned clams, and juice
1 tsp thyme, fresh, chopped
2 tsp parsley, chopped
1/8 tsp table salt, or to taste
1/8 tsp black pepper, or to taste
Instructions:
Heat oil in a nonstick pan over medium heat.
Sauté bacon and onion until onion is very soft.
Stir in flour and cook 1 minute.
Very gradually whisk in milk and clam juice.
Bring to a simmer, add potatoes.
Cover and cook until potatoes are tender.
Stir in clams, their juice, thyme and parsley. Bring to a simmer.
Season with salt and pepper; serve.