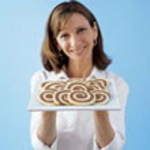 I just finished making the Pinwheel Cookies from Kraft's recipe for 4-in-1 cookie dough. The dough was easy to make and absolutely delicious.
Another benefit of this recipe (versus a traditional sugar cookie recipe) is that it's egg-free for those allergic to eggs, or people like me who like to nibble on raw cookie dough.
However, rolling out the dough was much harder than I thought, because it was too fragile to pick up once you rolled it out. The dough stretched out and ripped numerous times, and the rolls I made look pretty funky.
Then I remembered that Alton Brown's did a Good Eats show on making sugar cookies. Even though I only caught the last five minutes of the The Cookie Clause last night, I remembered there were some good tips so I looked 'em up.
Here are some Alton's tips that should be added to the 4-in-1 cookie dough recipe.
After dividing the dough in half, and adding the melted chocolate to one half, wrap both in waxed paper or plastic wrap, and refrigerate for 15-30 minutes.
Sprinkle surface where you will roll out dough with powdered sugar. (Too much flour added to the dough makes it separate.) Remove 1 wrapped pack of dough from refrigerator at a time, sprinkle rolling pin with powdered sugar, and roll out dough to 1/4-inch thick. Move the dough around and check underneath frequently to make sure it is not sticking. If dough has warmed during rolling, place cold cookie sheet on top for 10 minutes to chill.
Roll out doughs separately to approximately 1/4-inch thickness. Place white dough on top of chocolate and press together around the edges. Using waxed paper or a flexible cutting board underneath, roll dough into log. (Basically roll it up like a sushi roll.)
Wrap in wax paper or plastic wrap and refrigerate for 1 hour.Then unwrap, cut into individual cookies and bake per Kraft's instructions.
I'll follow these tips the next time I make the cookies. For this batch, it's too late. They're a bit goofy looking, are fragile and coming apart. However, they taste great!
Cook and learn, I guess.