We have a huge supply of venison thank to Big Bad Dad's hunting efforts. I cook it up like beef, except for extra seasoning and fat/oil, since the meat can be gamey and is very lean.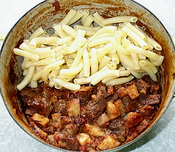 I saw this recipe by Lia Mack Huber in the November 2004 issue of Cooking Light. Beef Daube Provencal is a classic French braised beef, red wine and vegetable stew. When I made it a couple of weeks ago, I found it very simple to prepare and absolutely delicious.
You can either make it in your crockpot or a small Dutch oven, like my favorite, a Le Creuset 3-1/2-Quart Round French Oven. I have a very old one in yellow and another in classic flame.
I lucked out and found the pots at thift stores. Both were in terrific shape and cost me very little. All I had to do was buy new Le Creuset knobs for the lids, which I found at a local gourmet cooking shop. In fact, I think I paid more for the knobs than the pots.
Beef Daube Provencal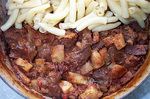 (Makes 6 servings of 1/4 cup stew and 1/2 cup noodles.)
Ingredients:
2 tsp. olive oil
12 garlic cloves, crushed
1 (2-lbs) bonelss chuck roast, timmed and cut into 2-inch cubes
1 1/2 tsp. salt, divided
1/2 tsp. freshly ground black pepper, divided
1 cup red wine
2 cups chopped carrots (I didn't have any carrots so I used potatoes. It wasn't bad though I think carrots would have been better.)
1 1/2 cups chopped onion
1/2 cup low-sodium beef broth
1 Tbsp. tomato paste
1 tsp. chopped fresh rosemary (or 1/2 tsp. dried)
1 tsp. chopped fresh thyme (or 1/2 tsp. dried)
dash of ground cloves
1 (14 1/2 oz.) can diced tomatoes
1 bay leaf
3 cups cooked medium egg noodles (about 4 cups uncooked noodles) (Since I didn't have egg noodles on hand, I used large macaroni noodles.)
1. Preheat oven to 300 degrees F.
2. Heat oil in a small Dutch oven over low heat. Add garlic and cook 5 minutes or until garlic is fragrant, stirring occasionally.
3. Remove garlic with a slotted spoon and set aside.
4. Increase heat to medium-high. Add beef to pan and sprinkle with 1/2 tsp. salt and 1/4 tsp. pepper.
5. Cook 5 minutes, browning meat on all sides.
6. Remove beef from pan.
7. Add wine to pan, bring to a boil, and scrape pan to loosen brown bits.
8. Add garlic, beef, 1 tsp. salt, 1/4 tsp. pepper, carrot, and next 8 ingredients (through bay leaf), and bring to a boil.
9. Cover and bake for 300 degrees for 2 1/2 hours or until beef is tender.
10. Discard bay leaf and serve over noodles.
Note: To make in a slow cooker, prepare through step 7. Place beef mixture in an electric slow cooker. Cover and cook on HIGH for 5 hours.