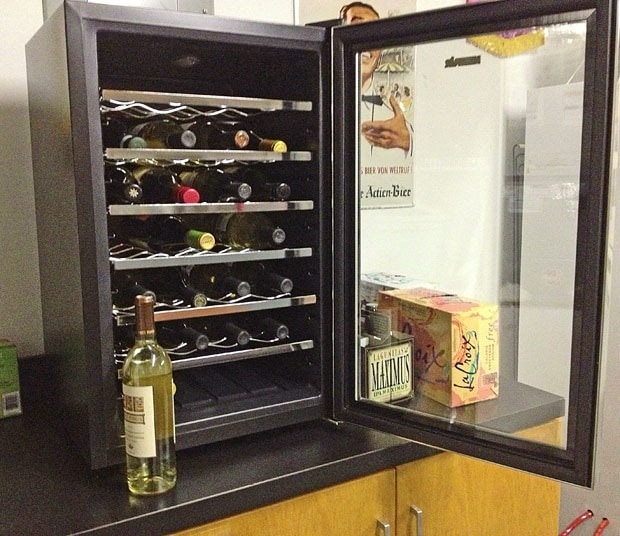 If you're looking for the best thermoelectric wine coolers, you should check out the NewAir AW-281E 28 Bottle Thermoelectric Wine Cooler. I was given this Newair thermoelectric wine cooler to review four years ago and it continues to work great!
When we were house shopping five years ago, I was enamored of the homes that had built-in wine coolers in their kitchens. We ended up buying a 20-year-old home with an outdated kitchen, so our house didn't come with a refrigerated wine cooler. Instead, I started looking around for a countertop wine refrigerator.
The benefits and drawbacks of a thermoelectric wine cooler
By chance, I was offered a thermoelectric wine cooler to review – the NewAir AW-281E 28 Bottle Thermoelectric Wine Cooler. I had the perfect place to put it, my husband's basement Man Cave. That's because this 28 bottle wine refrigerator is a thermoelectric wine cooler. And this type of freestanding wine cooler can only produce temperatures about 20 degrees lower than the temperature outside the unit. Wine coolers with compressors don't have this issue.
Also, thermoelectric wine coolers, since they don't have compressors like many freestanding wine coolers or under-counter wine coolers, produce fewer vibrations. This means the sediments in the wine aren't disturbed as much.
But that doesn't mean thermoelectric coolers are silent. They still have internal fans that distribute the cold air within the cooler. Even so, they're quieter than refrigerator wine coolers that have compressors.
A big plus is that this 28 bottle thermoelectric wine cooler consumes less energy and is cheaper to run than comparable wine coolers with compressors.
So, if you don't mind keeping your wine in a basement room – and not your warm kitchen or dining room – a thermoelectric wine cooler like the NewAir AW-281E - 28 Bottle Thermoelectric Wine Cooler is a good choice for you.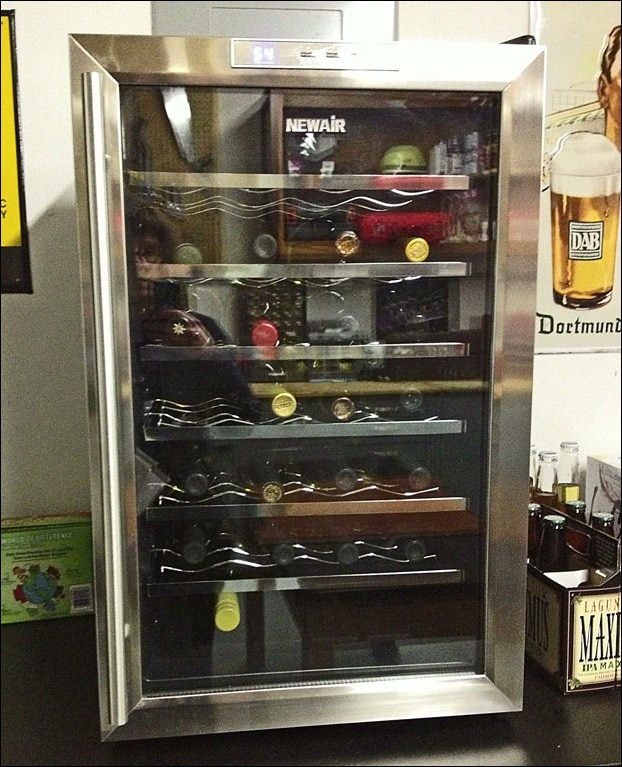 Using the NewAir AW-281E 28 Bottle Thermoelectric Wine Cooler is easy!
Very easy to set up. A large box was delivered by UPS to our garage door. It was easy for my husband, Paul, to move our Newair thermoelectric wine cooler inside and unpack it in the Man Cave. He only had to attach the handle, plug it in and adjust the temperature. Make sure that you're careful unpacking the 28 bottle wine refrigerator so you don't scratch up the digital display panel. (There's no protective plastic covering it.)
Large amount of storage. You can keep up to 28 bottles in the NewAir AW-281E - 28 Bottle Thermoelectric Wine Cooler assuming they'd all fit. Some of my wine bottles were fatter than others, so I had to adjust the shelves accordingly. I ended up losing four bottles worth of space, but then I really don't need to have the cooler filled to the max.
Easy to use. You adjust the digital display panel to your optimum temperature and then never touch it again. White wine should be kept at 50 to 55 degrees F.
Easy access. The six pull-out chrome racks provide easy access to the wine.
Provides protection. If you store your wine cooler near a window, the double-paned door protects wine from UV rays. Not an issue for us since our thermoelectric wine cooler is kept in a room with no windows.
Attractive. I love the chrome and black design. It's attractive enough to keep in the kitchen, wet bar or dining room. The NewAir AW-280E 28 Bottle Thermoelectric Wine Cooler in black is also available.
NewAir AW-280E 28 Bottle Thermoelectric Wine Cooler
Interior Lighting. The NewAir AW-281E - 28 Bottle Thermoelectric Wine Cooler has an internal LED lighting system that lets you review your collection without the extra heat created by an incandescent light.
The only minus I could see was that this freestanding wine cooler doesn't have a lock. Some other thermoelectric wine coolers on the market have this feature, so that may be of concern to you. However, it's not an issue for us because the Man Cave can be locked up from partying teenagers who should know better.
Originally published on February 20, 2013. Updated with new pictures and information.