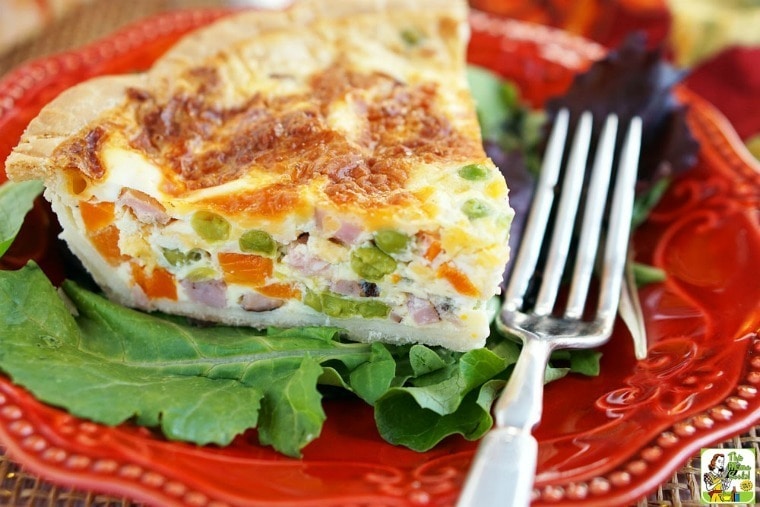 This Quick & Easy Quiche recipe is a must during the holidays! It's an ideal holiday recipe for entertaining. I serve it for breakfast, brunch parties, brinner (breakfast for dinner), and bring it to potluck parties, too. This basic quiche recipe can have variations, so you can make it gluten free, dairy free, vegetarian, or a meat lover's delight. It's easy and quick enough to make for weeknight dinners, too.
I also love this quick quiche recipe as a way to use up leftovers from holiday feasts and previous nights' dinners. Waste not, want not, right?
My Quick & Easy Quiche recipe is a dinnertime classic at my house. My kids always look forward to "quiche night" and ask for seconds. They'll even eat leftover Quick & Easy Quiche for breakfast and take it to school for lunch.
It's simply the best quiche recipe in the world!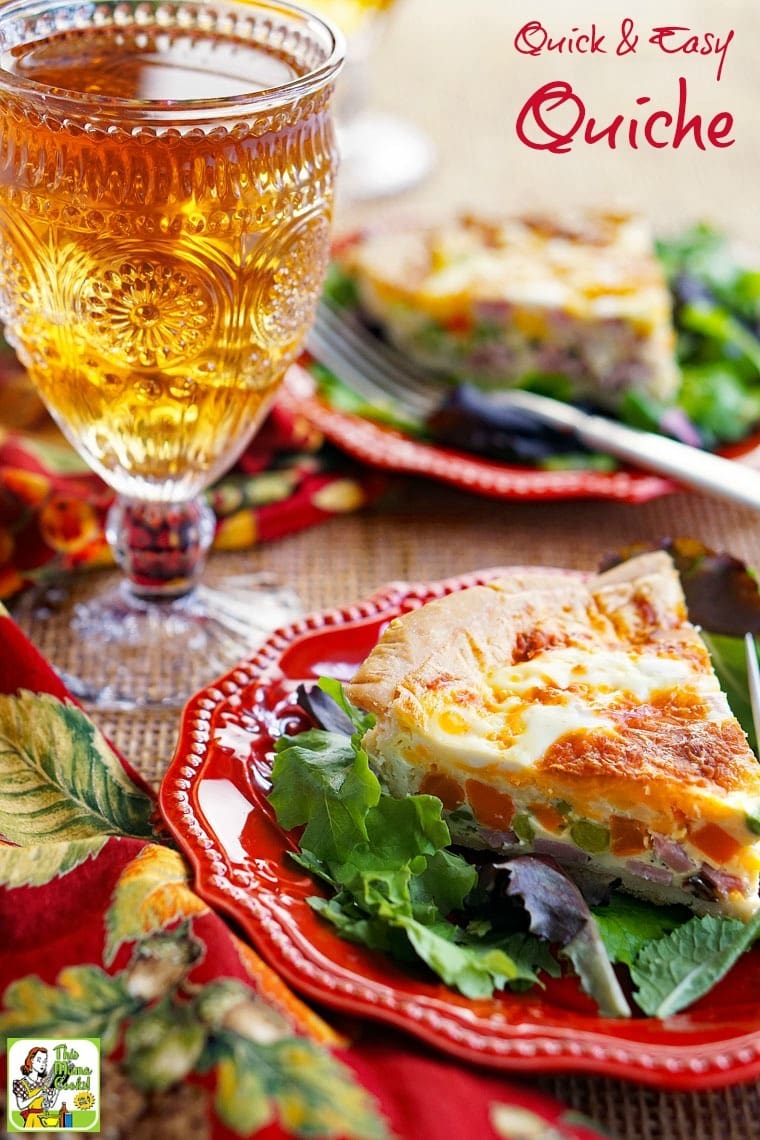 Making Quick & Easy Quiche a Lipton Meal
While this simple quiche recipe can stand on its own, I prefer rounding out family mealtimes with soup, salad, and a big pitcher of Lipton iced tea. I prefer making iced tea from scratch, since bottled ice teas are too sweet for my family.
It's easy to do now that I've found Lipton 24ct Regular Iced Black Tea – Family Sized tea bags at my local big box retailer. I love how I don't have to unwrap a bunch of tea bags to use in my iced tea brewing pitcher. Instead, I just use one large tea bag.
Lipton Gallon Sized Black Iced Tea Bags, Unsweetened, 48 Count
Having iced tea in a pitcher at the table makes mealtime more relaxing – no need to get up all the time. Instead, we can sit and enjoy each other's company during our meal.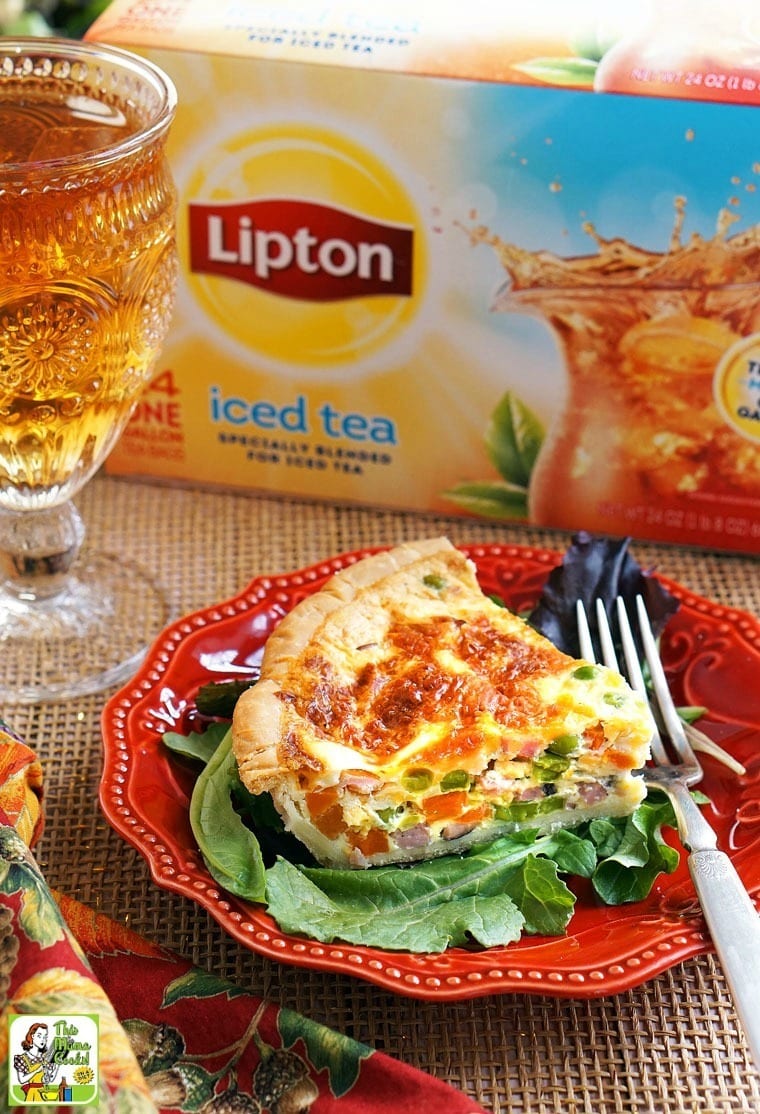 Tips for serving this easy make quiche recipe at your next party!
Quick & Easy Quiche is an ideal party appetizer or meal because you can make it in advance. Just refrigerate and reheat in the microwave before your party.
If you want to give the impression that you made the quiche from scratch, here's a quick and easy party hack. First, make sure your Quick & Easy Quiche has been refrigerated for several hours so it's really solid. Then carefully flip over the cold quiche on to your hand to remove the aluminum pie tin. Then flip the quiche back over into a ceramic pie plate. (See my pictures.) You can even precut the quiche into ideal serving sizes for your party before reheating it in your microwave.
I also like having a pitcher of Lipton iced tea when I'm entertaining. Not everyone wants to drink soda or a hard beverage. To add some festivity to your pitcher of ice tea, place some lemons and mint right in the pitcher. Or you may want to add some fun holiday flavors to your Lipton iced tea by adding a couple of cinnamon sticks and slices of orange rind when brewing.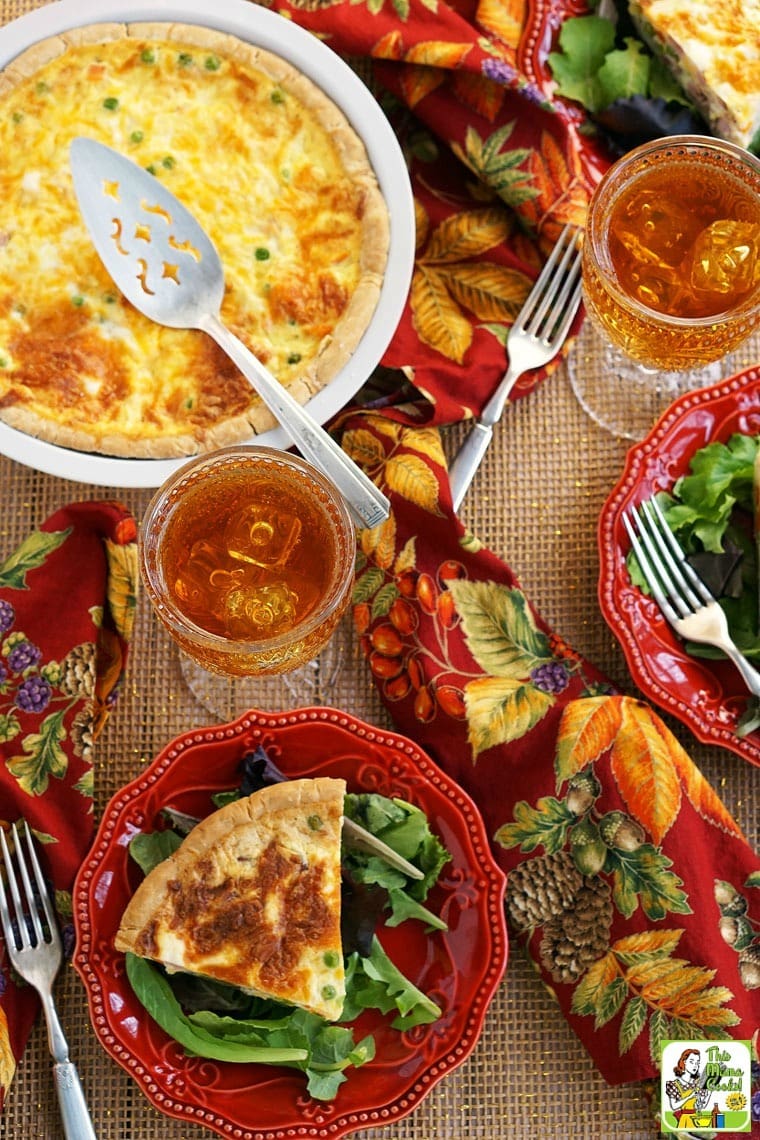 Quick & Easy Quiche recipe substitutions and time savers
CRUST
For the store bought crust, you can use pie shells found in the freezer section of your store. If you're gluten free, many grocery and health food stores now carry premade gluten free pie crusts. Look for them in the freezer section, too.
If you can't find gluten free premade pie crusts, try making a gluten free pie crust out of leftover rice. Here's how:
Take 1½ ounces of a grated hard cheese (like cheddar, Swiss or Monterey Jack), 1 egg, and 2 cups of just-cooked rice or reheated rice. (This works best if the rice is hot so the cheese melts somewhat.)
Mix ingredients together, pat into a 9-inch pie plate with a spatula or back of a soup spoon. (Don't use a non-stick spray on the pie plate since it makes it harder to form the crust.)
Prebake the rice crust at 425 degrees for 15 minutes.
EGGS
If you're trying to eat less fat, instead of three eggs, you can use one whole egg and four egg whites.
Time saver: use liquid egg whites – no need to crack open eggs and toss the yolk! Follow the package directions to determine amount equivalency. Usually 1/4 cup of liquid egg whites equals one full sized egg.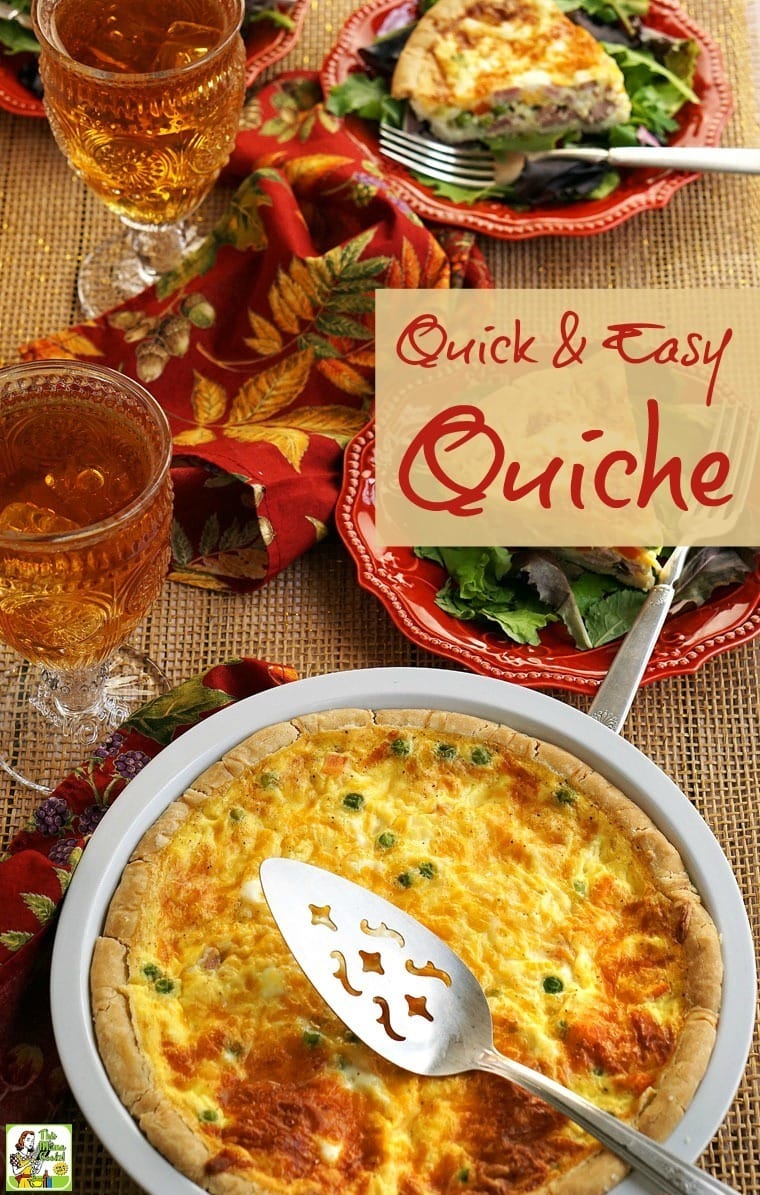 CHEESE
Cheddar, Swiss, Monterey Jack, Mexican three cheese blend, or any combination of hard cheeses works in this simple quiche recipe. Low-fat cheeses are OK to use. If you need to avoid dairy and can't eat cheese, you could try vegan shredded "cheese" as long as it melts well.
Time saver: buy your cheese already grated. If you're gluten free, make sure that the anti-caking agent used on shredded cheese (to prevent it from sticking) doesn't contain wheat. Check the label or the manufacturer's website to make sure your favorite shredded cheese brand doesn't contain gluten.
MILK
Any type of cow's milk will do – whole, 2%, 1% or skim. You can also use evaporated milk, half-and-half, cream, or even plain yogurt or plain Greek yogurt. Yogurt can be pretty thick, so you may want to add a little water or milk.
If you need to avoid dairy products, use unsweetened soy milk or coconut milk.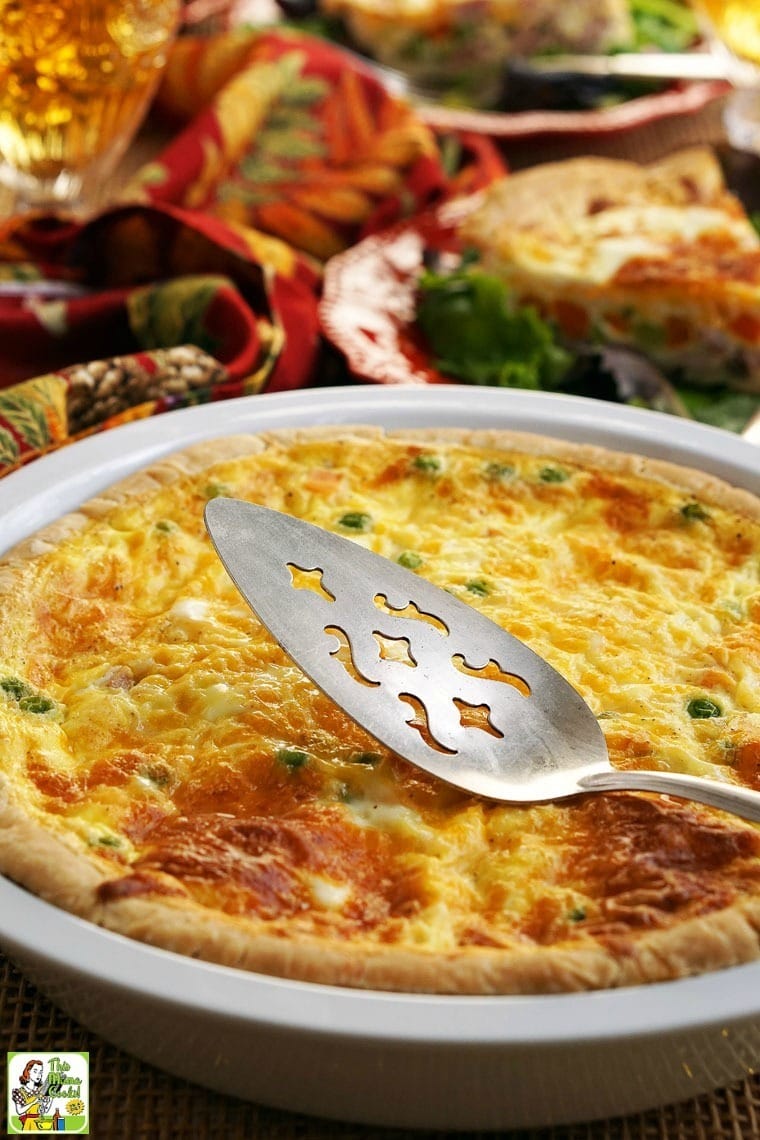 FILLINGS
What I love about my Quick & Easy Quiche recipe, is that it's so versatile. You can use leftovers from the previous week's dinner or new ingredients. Crunchy, fresh vegetables (like peppers, onions, etc.) and meats should be precooked. Softer vegetables like tomatoes and mushrooms don't need to be precooked.
Time saver: use frozen or canned vegetables. Make sure to defrost and drain veggies before adding them to this simple quiche recipe. You don't want your quiche to get soggy! No need to precook these vegetables as they're usual pretty soft.
Have fun and experiment with different food combinations when putting together this easy to make quiche recipe. Good combinations are ham and mushrooms, bacon with broccoli and mushrooms, turkey and tomatoes, imitation crab and onions, etc. Try going completely vegetarian or using seafood. If you and your spouse want a shrimp and onion cheese quiche for dinner, make a second quiche with ham plus frozen peas and carrots for the kids.
SEASONINGS
I don't add salt to the quiche if I'm using a salty meat such as bacon or ham. I suggest adding no more than 1/2 teaspoon salt and 1/4 teaspoon pepper if you're using turkey or chicken. Dill is wonderful in seafood quiches, so add a teaspoon or two!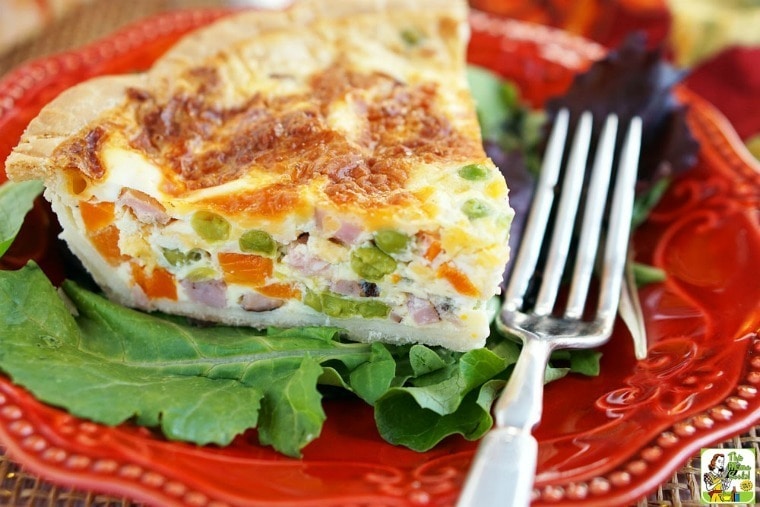 Ingredients
1

store bought crust

3

eggs

1

pinch nutmeg

Salt and pepper to taste

1 cup

milk

2 cups

filling ingredients

1 cup

grated cheese
Directions
Preheat oven to 425 degrees F.
Place the premade pie crust on a baking sheet as the quiche may leak during cooking.
Grate cheese, if necessary, and cut the filling ingredients into small pieces.
In a medium bowl, beat eggs, milk and seasonings together until just combined.
Spread filling ingredients in crust, top with grated cheese, and cover with egg and milk mixture.
Slide baking sheet into oven being careful not to spill. Bake for 10 minutes at 425 degrees F. Then turn down the oven to 350 and bake for 45 minutes or until golden brown.
Remove from oven and cool 15 minutes before slicing and serving.
Total Time:
1 Hour 5 Minutes
Serving size:

1/4 of recipe
This is a sponsored conversation written by me on behalf of Lipton. The opinions and text are all mine.