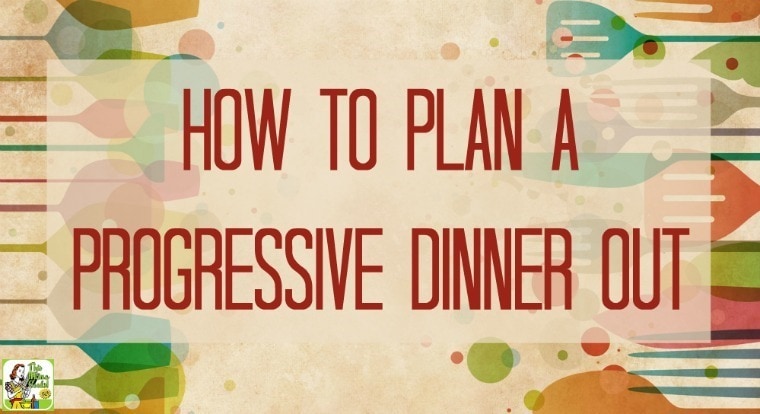 Have you ever participated in a progressive dinner? You know, where you go to one house for drinks and appetizers, another home for dinner, and finally a third home for dessert? They're loads of fun.
However, if you're one of the hosts, it's a big effort to prepare dishes, make sure everything is done on time, and then clean up afterwards. Instead, why not avoid the hosting part and go out for your progressive dinner? It's a terrific way to meet up with friends. Or it could be a fun date night idea for you and your significant other.
How to plan your progressive dinner
If it's with friends, you'll need to coordinate the progressive dinner and plan everything out. First, make restaurant reservations, especially if you're a large group. Then text or email everyone the times and locations of all the restaurants. Some friends may want to carpool, too.
If your progressive dinner plans are for just you and a date, one person may want to coordinate the details and surprise the other!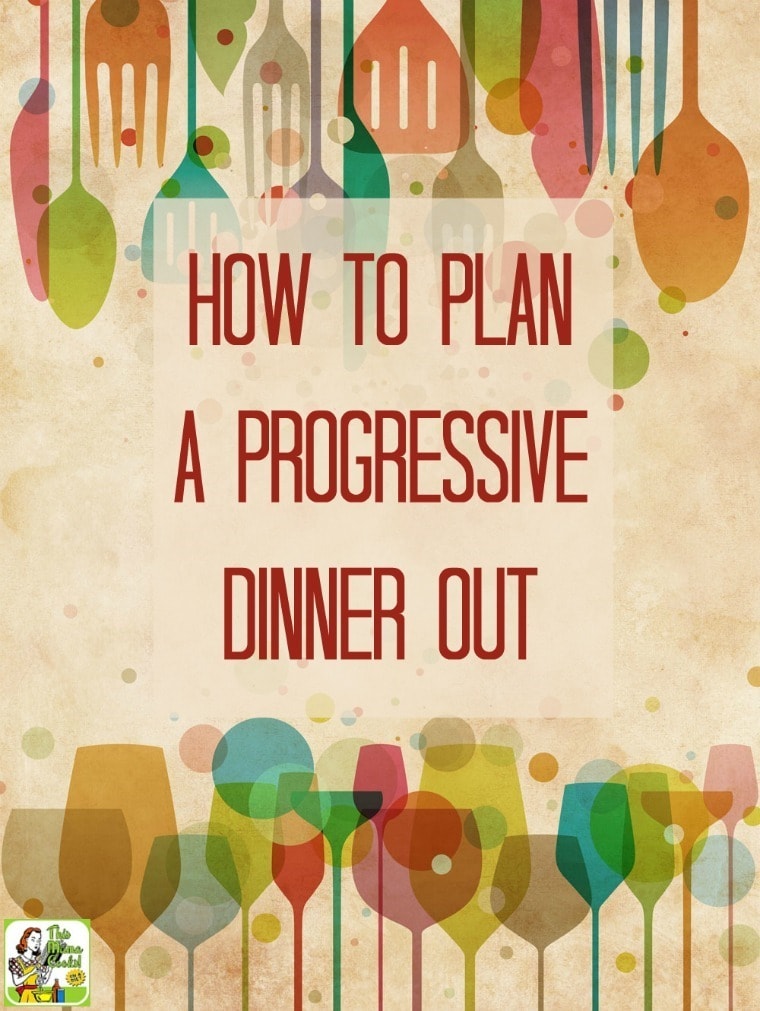 When picking the places you'll be dining at, you should consider some progressive dinner theme ideas, such as all Italian restaurants in your city's Little Italy section or picking restaurants in a few blocks radius from each other. That way you can walk from place to place – and work off some of those calories.
Think outside of the box for your progressive dinner themes. For drinks, you may want to start at a brew pub with a great appetizer menu. Or for dessert, visit an ice cream pallor or bakery. If it's nice weather, you could visit a food truck or order your meal to go, and eat at the picnic tables at a local park.
Also, you may be tempted to order more food than you can eat, especially if it's just you and your date. There's nothing wrong with sharing an appetizer or dessert, or splitting your dinner entrée. Don't be shy about asking for a to-go container for your leftovers, too.
Our progressive dinner through the Seoul of the South
Recently, my husband, Paul and I were invited on a culinary tour of Atlanta's "Seoul of the South" area to try out amazing Korean restaurants. It was done in the form of a progressive dinner.
Appetizer and drinks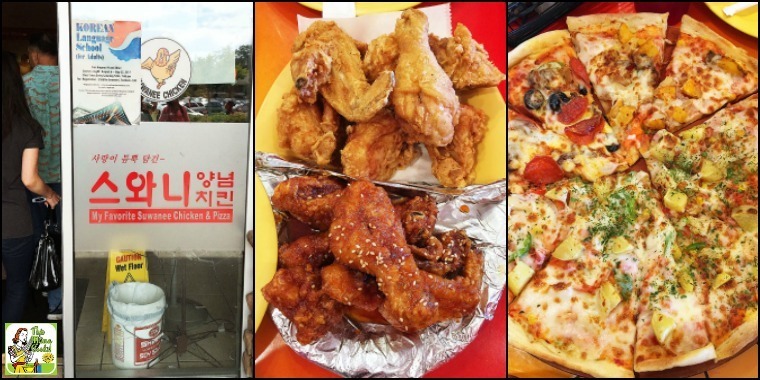 It's a Korean tradition to go out for KFC and beer after work with friends. No not the Colonel, but Korean Fried Chicken! Such a place would be perfect for the appetizer and drinks part of your progressive dinner. We visited Suwanee Chicken & Pizza. Yes, they also serve Korean style pizza and a variety of beers by the can and a few on tap.
Paul and I tried both the fried chicken and the various pizzas. Amazing! We can't wait to take our kids here because one child loves chicken wings and the other loves pizza. Be warned that this is a lot of food, so plant to bring most of it home.
Main meal times two!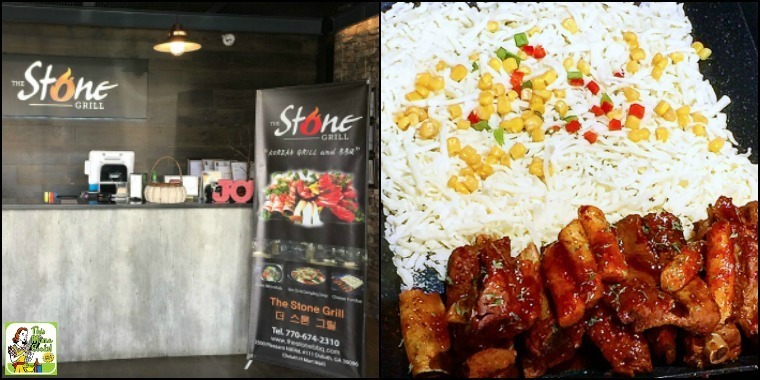 For our main meal, we went to two places. The first was The Stone Grill, a Korean barbecue restaurant. For a second appetizer or first dinner entrée, I would recommend the spicy ribs that you dip in melted cheese. It's a fusion sort of dish, since cheese fondue isn't a traditional Korean food. It's super spicy and amazingly delicious.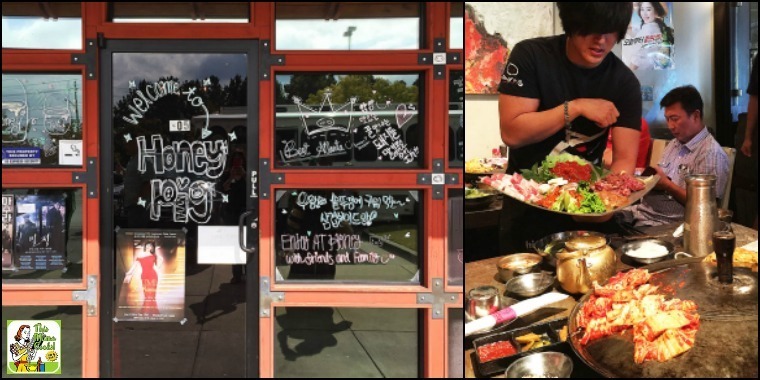 Afterwards, we went to the Honey Pig, another Korean BBQ restaurant. What makes the Honey Pig unique – besides the pig theme décor – is that they use iron-cast lid called "Ssot-Dduk-Kung" to grill meats, kimchee, and bean sprouts.
The lids are shaped like an upside-down wok with a cylindrical handle at the center, which is heated by a flame beneath. Since the grill exhaust hoods are above you, you may leave smelling a bit smoky. Your dog will love you when you get home!
At the Honey Pig, Paul and I enjoyed a variety of meats, seafood and vegetables. Incredibly delicious and of course, I ate too much!
Dessert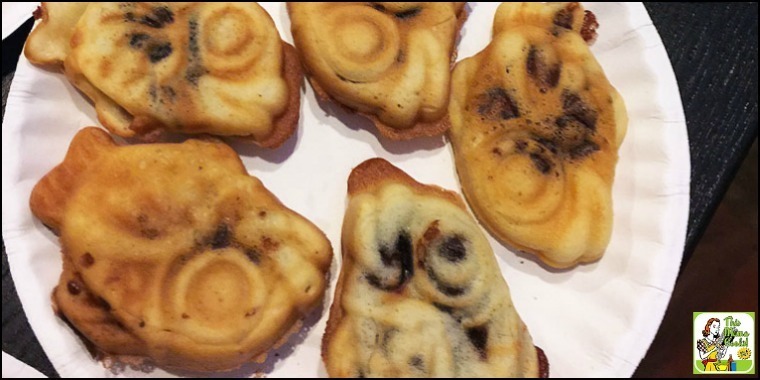 Finally, we stopped at Arte 3, a Korean style bakery. Again, I recommend sharing as there as so many things to choose like patbingsu, which are Korean style ices, or waffles with ice cream.
I loved the bungeoppang, which are little fish shaped pastries stuffed with red bean paste, custard, or sweet potato. You may want to share a few drinks, too. Paul and I tried the misutgaru frappuccino, a Korean multi grain shake (more of a breakfast drink), the sweet potato latte, and yuja-cha, Korean citron tea.
Our progressive dinner was an amazing evening out. We tried new foods and restaurants, and can't wait to go back for more meals!
How to help fight hunger during your progressive dinner
Not only is a progressive dinner a fun date night with your spouse or a unique way to get together with friends, you can also help fight hunger by dining out with the AARP Credit Card from Chase.
That's right! By charging your meal, you can help Chase donate $0.10 to the AARP Foundation for every restaurant purchase – up to a total of $1 million in 2017.
You see, Chase and the AARP Foundation are working together to fight hunger by taking steps to feed those who are hungry now, while also developing long-term, sustainable solutions that proactively address the root causes of hunger among those 50 and older. That's really important; because over 10 million Americans aged 50+ are affected by hunger.
By using the AARP Credit Card from Chase, not only would you be helping Chase reach their $1 million goal in 2017 to help end hunger when you're going out for your progressive dinner, you'll also get unlimited cash back rewards.
The AARP Credit Card from Chase gives you 3% Cash Back rewards on restaurants and gas. It also gives you 1% Cash Back rewards on all other purchases. There's no annual fee and you get $100 Bonus Cash Back after you spend $500 on purchases in the first three months from account opening.
Your cash back rewards are given either as a statement credit or a direct deposit into a savings or checking account. You can also redeem your rewards for gift cards and travel. All my credit cards are cash back but they only give me statement credit. While that's nice, I like the direct deposit feature of the AARP Credit Card from Chase since you can use your cash back rewards for something special like a vacation trip – or another progressive dinner date night!
I am participating in a VN campaign. This is a sponsored post by AARP Credit Card from Chase. The content and opinions expressed below are my own. I am in no way affiliated with AARP Credit Card from Chase and do not earn a commission or percent of sales.