Last Updated on October 12, 2021 by Anne-Marie
The first part in a series about my recent seizure, finding the meningioma, and my brain tumor surgery.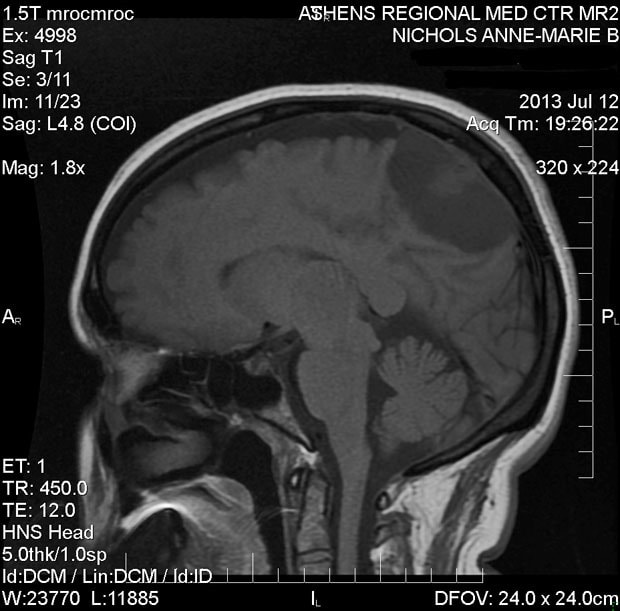 Above is a picture of my meningioma before they removed it. I've enhanced the contrast and shading so you can see it better. Before you freak out – like I did when I first saw it – let me explain what you're seeing. As my husband told me as the neurosurgeon explained to him, that is NOT a half an orange sized tumor pressing down on my brain. Instead, think of my meningioma as a 5 cm sized pancake that was growing between my skull and brain and wrapped around the meninges, or the outside cover of my brain. It seems this oatmeal like growth was beginning to thicken, which was causing my seizures. And like many meningioma patients, I've named my tumor. I call it The Pancake.
Before I tell you my story, I want to explain more about meningiomas. Many people have them and don't know about them until they get a CT scan or MRI of the head for other reasons, like severe headaches or a concussion. They're usually found in women over the age of 40 and may be progesterone and estrogen related, since many women find out about having a meningioma after having a baby. (My last baby was over 10 years ago, so for all I know this could have been in my head since then.) They're usually benign (not cancerous) and may be hereditary - a friend told me about a family she knows that all have them.
For more in depth explanations see Facts about Meningiomas from Brigham and Women's Hospital.
My seizures
Back in April, I awoke with a horrible cramp in my right leg, after which I temporarily lost all power in the right leg. It went away and I went back to bed. I was on a blogging trip to Seattle to visit Microsoft and thought I had too much to drink (in reality three alcoholic drinks over a six hour period) and maybe a little too much gluten while I was at AllRecipes.com and The Palace Ballroom. When I had problems typing the next day, I though I was hung over! I had the same thing happened to me at the beginning of June. I went back to bed and didn't have any issues typing the next day.
Then on Friday, July 12th I had a similar experience to the one in April. However, it was in the middle of the day while I was working at my desk. I got the cramp and went over to the little refrigerator in the room next to my office to get some water. I collapsed to the floor and called the kids over just to be with me until I regained strength in my leg. I drank the water and went back to my desk. This is when I knew something was wrong. I started to type and my right hand kept hitting four or five keys at a time. I couldn't control it. Then I went to reach for my mouse. Even though I knew it was right in front of me, I kept reaching behind me. When I did this three times, I knew something was seriously wrong.
I went upstairs (no problems walking)  and told my mother-in-law (who luckily for me had just come in from Colorado the day before) that I was going to call 911 because I thought maybe I had a stroke. Since she's from out of town, I didn't think she could drive me to the ER let alone get home from the hospital on her own. In fact, even though I've lived in Athens for over a year, I'm not exactly sure where the ER is.
NOTE TO READERS: If you think you're having a serious medical problem like a stroke or seizure, you should have the ambulance come and get you even if you have a ride to the ER. You'll probably need medical attention right away. Whatever you do, DON'T drive yourself to the ER.
I called 911 and requested an ambulance. I quickly went to my bedroom to grab my purse, my cellphone and charger, and an extra pair of underpants (you never know if you'll have an accident and need to change). I also used the toilet. I thought about grabbing my retainer, but didn't.
NOTE TO READERS: Make sure to bring your ID and insurance card to the hospital. If you think you'll need to take a taxi home, bring a credit card or some money. Otherwise, leave your wallet at home. Also, if you're taking any medications, bring them with you!
The ambulance guys came and got me. I told my mother-in-law to stay with the kids. There was no point in all three of them coming with me. (I'm glad they didn't as you'll soon see.) As I was leaving, one of my neighbors saw what was going on and went to the house to check in with my mother-in-law. This was a good thing, as my husband, Paul, was out of town. (Of course, he was.)
On the way out, the ambulance guys asked me to pick a hospital. We have two very good ones in Athens, Georgia – St. Mary's and Athens Regional. I picked Athens Regional Medical Center because I figured as a regional hospital it would be better than a private one. Luck of the draw really. In fact, Athens Regional is one of eight Level II hospitals in Georgia. It's also a trauma hospital (where all the accidents are taken to) and ranked eighth best hospital in Georgia. I assume it's because we're a university town.
NOTE TO READERS: If you have several hospitals in town, do a little research so you know which one you'd prefer to be taken to in case of emergency.
At the hospital
While I was in the ambulance and the ER, my vitals looked great. Everyone was listening to my story, but they seem a little puzzled by it. Then while I was in the ER, I felt the leg cramp coming on. I alerted everyone – and then I don't remember anything for nearly 24 hours. I had a classic grand mal seizure. You know the kind where you bite your tongue and lip, which I did, and either thrash around and/or go stiff. That's when things got very, very serious.
From the bills I've received and from what others have told me I had a lung x-ray (not sure why), a CT scan, and a MRI. I was also undressed, wiped down with body wipes for MRSA prevention, gowned, and had two IV lines put in. (Glad I didn't remember that, especially because my undies were inside out. I never fix inside out panties, because I believe it's good luck. I guess it worked! )
I was also put on steroids and seizure meds. The CT scan showed that I had a left parietal meningioma, which is why my right calf and my right side's motor skills were affected. The MRI was taken to give the neurosurgeon more information and eventually for them to download into the robotic device that did some of the surgery.
Here's another picture from the top of The Pancake. Again, I've played with the contrast and shading so you can see it better.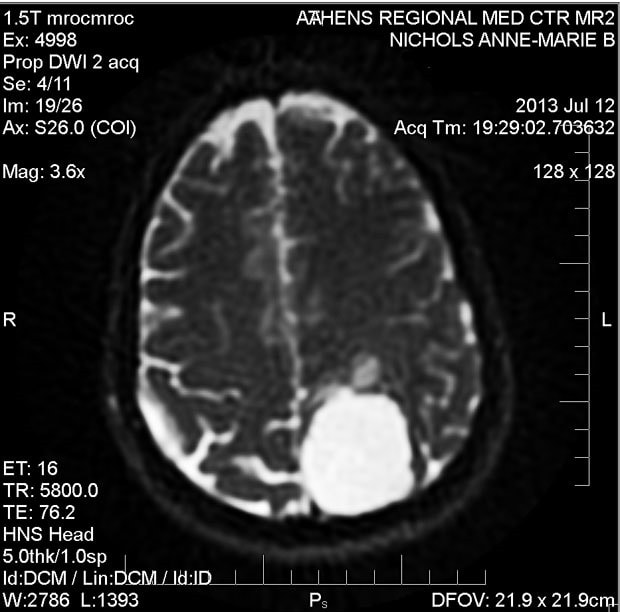 I believe I was lucid at this time as I was able to tell the hospital how to get ahold of Paul. Since he was in the Colorado mountains, he had no cellphone coverage. Paul was up there surprising his friend, Jimmy, during a 50th birthday party for him at our favorite campgrounds at the Colorado State Park at Stagecoach Lake in Steamboat Springs. I did manage to tell them it was Stagecoach Lake and not Steamboat Lake, which I always get confused about. The hospital got ahold of the state forest rangers. The ranger met Paul at the dock, since he and Jimmy were on the lake, and told him to call Athens Regional because "your wife is sick."  Luckily, Paul and Jimmy are good friends with marina owner, Tommy, who let him use his land line - the only one at the campground.
Paul immediately called the hospital. They told him that I had a brain tumor, that they were operating on Saturday, and that he needed to get home right away. He then called Frontier Airlines, and explained the situation. They were of no help as they couldn't get him back to Georgia until Monday. He then got on Tommy's computer, and booked an inexpensive one way ticket via AirTrans. (He may have called them before to see if he could get a flight the next day. Like a lot of things during this time, I don't remember the details.) Jimmy drove him back to his house, and then to Denver International Airport the next morning for Paul's 6 am flight. He was back in Atlanta around noon, and got to the hospital by 1:30 pm on Saturday.
The whole time all Paul could think about was that I had cancer and what he would need to do to be a single dad, like sell his motorcycles because responsible single parents don't ride Harleys. He figured he'd be able to find the bills (I take care of the books at home) and my life insurance policy by digging around my office, too. Poor guy, I'm sorry that I had to put him through such hell.
I think he also called his mom, to let her know what was going on, as well as my mom who called my sister in Stockholm. I'm not sure how my kids found out, but I think they may have texted me asking when I was coming home, and I texted them back about it. (I can see the texts, but don't remember texting them.) At some point I emailed my son to let him know what kind of things for his dad to bring to the hospital, like my retainer and more underwear!
My surgery
The first memory I had when I "came to" after my ER seizure, was meeting my anesthesiologist, whose name unfortunately I can't remember (UPDATE: Dr. Kelley). I think I was in the ICU at this point. He explained that he was going to totally put me out during the surgery. I told him I'm no stranger to surgery, having been put out during several procedures like a tonsillectomy and knee and shoulder surgeries. He also explained that they were waiting for my husband to arrive. He seemed like a very nice guy and not concerned at all about the surgery.
Then my neurosurgeon, Dr. Bryan Barnes, came in with a big smile on his face. I immediately took a shine to him. He told me I had a 5 cm meningioma, a kind of tumor or cyst that's usually not cancerous, that was sitting on the outside of my brain. He explained that they would shave my head, cut into my scalp and create a flap, then remove part of my skull.  They they would remove the tumor, and replace the piece of skull with a titanium plate (I'm now slightly Borg-ish and impervious to aliens per that one Stephen King novel). Then they'd place the flap of scalp back on my head. He said the surgery was very straightforward and that he did these sorts of surgeries all the time. He didn't seem concerned at all about it either.
People ask me if I was scared. Maybe it was the drugs I was on. Possibly it's because I'm no stranger to surgery. Or maybe it's because I don't see the point in worrying about things I don't have control over. Instead, I truly believed that we'd get though this and if problems occurred, we'd figure it out (we as in my family and me). I certainly didn't feel I was going to die on the operating table or be debilitated in any way. Maybe I should have been a little more scared, signed a power of attorney for my husband to have, and told him where all the computer and account passwords were. But I didn't. I was no more scared about this than when I gave birth to Lucie or had my shoulder operated on – no big whoop. I knew I would be put out, I knew they had to remove The Pancake, and I knew the recovery would mean grogginess from the drugs and pain from the operation, but that was it.
Even when they had to delay the operation until Sunday (I must have gotten bumped due to another emergency surgery the doctors had to perform) I wasn't worried a bit. I think that became Paul's job, unfortunately, and maybe the kids'. I talked with them when I was back home. They told me they were scared, but Nathan told his dad that he knew I'd be fine.
To be continued
Since this post is already terribly long, I'm going to sign off here. I'll follow up with a post about how wonderful everyone was at Athens Regional and my post-op recovery. I also want to touch on the power of being open with your friends and community about your health emergencies and how important it is to ask for help.