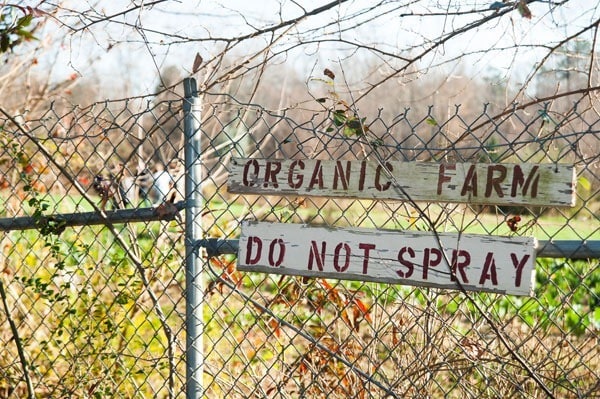 Last month, I attended the Buick Encore Lifestyle Event in Atlanta as the "plus one" of my friend, Eileen Calandro, the Chief Mom Connector of Mom Central. She was invited to test drive the new Buick Encore before it hits dealerships in February, 2013.
I was looking forward to spending time with Eileen while driving a luxurious crossover around the Atlanta metro area including a stop at a local Toys "R" Us to shop for the Toys for Tots program. However, I was just about out of my mind that we would meet celebrity chef and Top Chef Season 10 judge, Hugh Acheson at his restaurant, Empire State South, and tour the Love is Love urban farm. Have fork will travel!
Love is Love Farm at Gaia Gardens
Driving through suburban Decatur, Georgia, you'd never know the Love is Love Farm at Gaia Gardens is there. Yet over 15 years ago, the housing development East Lake Commons was built to include a working, organic farm. The farm grows a surprisingly wide diversity of crops, enough to accommodate a Community Supported Agriculture (CSA) program.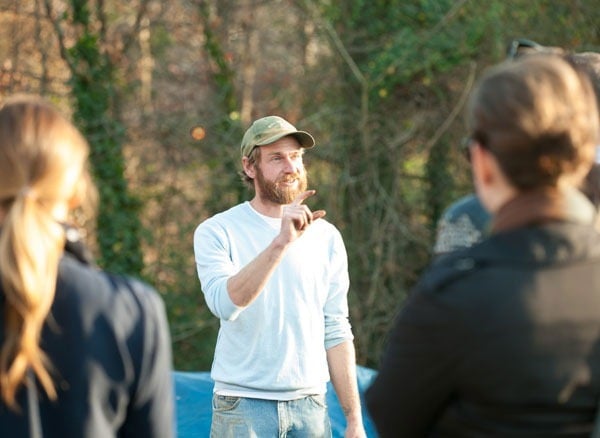 Our Buick Encore Lifestyle group met with farmer, Joe Reynolds, who showed us around while explaining how the farm manages planting, irrigation, composting, and crop rotation. Joe also told us that the Love is Love farm has a close relationship with many Atlanta restaurants that provide the vegetable scraps for their impressive composting piles. In turn, the farm sells them organic, hyper-local produce, big bags of which we loaded into our Buick Encores to be cooked up for our dinner at Empire State South.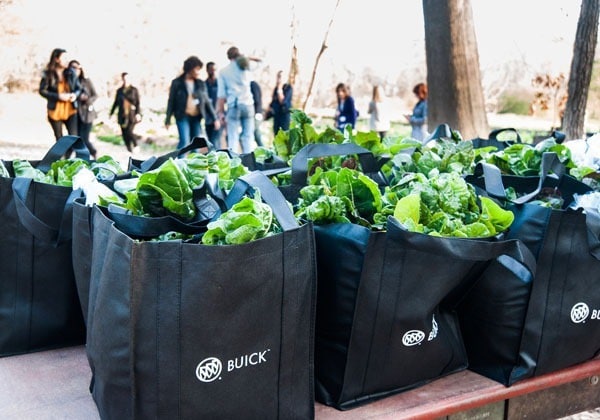 The farm tour was fascinating and I loved Joe's passion for local, sustainable organic farming. It made me wish I lived closer so I could take advantage of their CSA.
Dinner at Empire State South
After a quick stop back at Twelve Atlantic Station at our gorgeous suite (complete with a full kitchen), Eileen and I were driven in one of the Buick Encores to Empire State South for dinner. Our group hit the bar for cocktails, appetizers and charcuterie. I had two unique cocktails, Orchard Punch, a bourbon drink, and Death on the Moon, made with absinthe. The charcuterie was marvelous, and I'd order it again as a meal, along with a glass of red wine.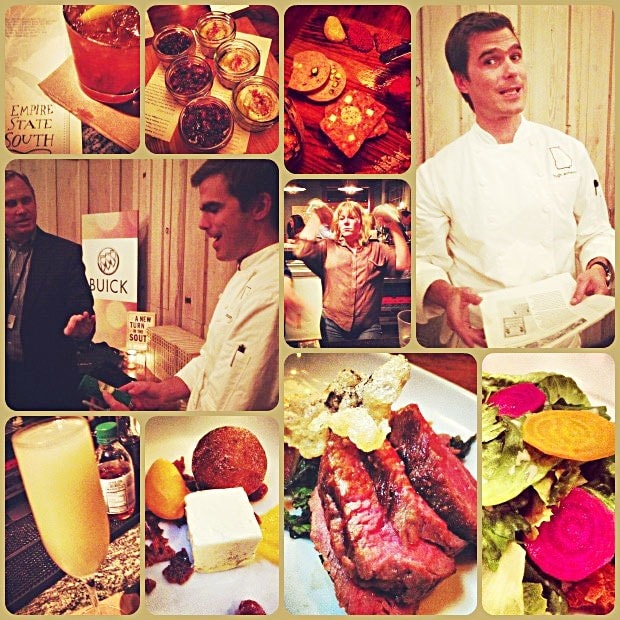 Then it was off to a private dining room for a cooking demonstration from Hugh Acheson! He was as funny, personable and down to earth as he appears on Top Chef. He told us a story about appearing on a food panel with Paula Dean. While he likes Paula a lot, he doesn't agree with her that Southern cooking means fried foods and tons of butter and sugar. Instead, his philosophy is cooking with traditional foods grown in the South, in a modern, sophisticated way.
While he demonstrated his Turnips and Their Greens Risotto (recipe included below), Hugh told us about the Southern goodness of Carolina Gold rice and making your own chicken stock in the slow cooker. (Loved that tip!) We sampled the risotto along with our dinner.
First course was Local Lettuces with roasted Brussels leaves, beets, pickled carrots, ESS fromage blanc, and served with a crisp sourdough. Second course was a choice of Roasted Georgia Trout, Chicken Roulade, or Prime Ribeye. (I had the rib eye, which was served rare with celery root and bread gratin, roasted kale with shiitakes, and a shoyu vinaigrette.) For dessert, we had Meyer Lemon Parfait clementine, bergamot brioche, candied cranberry, and sweet potato sorbet.
Eileen and I agreed it was a fabulous meal. I can't wait to go back to Empire State South with my husband!
Yield: 4 SERVINGS
Turnips and Their Greens Risotto Recipe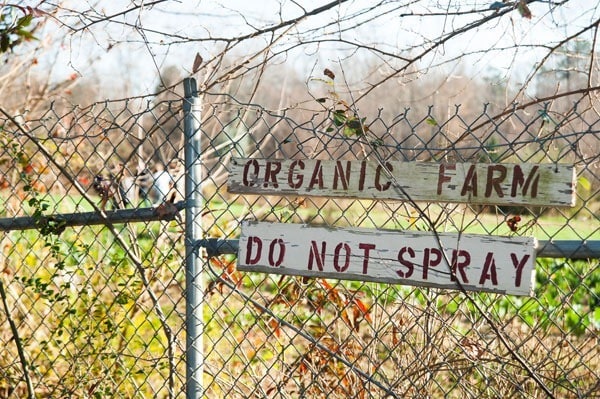 Total Time
1 hour
15 minutes
Ingredients
3 small hakurei turnips
2 tablespoons olive oil
1/2 cup minced yellow onion
1 cup Caroline Gold Middland's broken kernel rice
4 cups homemade chicken stock
2 cups finely chopped turnip greens
1/2 cup finely grated (rasp) Parmagiano
2 tablespoons unsalted butter
1 tablespoon finely cut bias-cut onion top for garnish
Instructions
Very thinly slice the turnips. Drizzle with olive oil and sea salt and set aside. These will finish the risotto.
Warm your chicken stock in a pot and place a ladle in it. Keep this on the back of the stove. Place a good pot on the stove over medium to medium-high heat and add the remaining olive oil. Add the minced onion bulb and cook, stirring with a wooden spoon until the onion is translucent but not charred at all, about five minutes.
Add the rice and lightly glaze the rice. From the moment the rice goes in, the is about 17 minutes to completion, so keep an eye on the clock. You should be stirring a lot but no need to stir all the time.
Start adding the stock, about a cup at a time and stir and cook until the stock is absorbed. Then add more. Repeat. After a while, you will see this luxurious, starchy liquid surround those little rice kernels. This is good. After about 15 minutes taste your rice. it should have a slight crunchiness to it but you have to soothsay what it will taste like after two to three more minutes as it sits in the bowl before consumption.
Let's finish this up. Add the butter and the parmesan - and stir well to fold those beautiful finishes into the risotto. Then add the turnip greens to wilt them into the risotto. It's done. When it gets in that bowl it will set up well. Spoon into shallow bowls and garnish with the raw turnips and some more Parmagiano.
EAT.
Nutrition Information:
Yield:
4
Serving Size:
1
Amount Per Serving:
Calories:

296
Total Fat:

16g
Saturated Fat:

5g
Trans Fat:

0g
Unsaturated Fat:

10g
Cholesterol:

22mg
Sodium:

381mg
Carbohydrates:

31g
Fiber:

5g
Sugar:

8g
Protein:

9g
Nutritional information is automatically calculated per the ingredients list. Serving size may not be accurate. Please double-check with your preferred nutritional app for the most accurate information.
______________________________
Disclosure: I was invited to an all expenses paid editor's trip by Buick. I also received a signed copy of Hugh Acheson's cookbook, A New Turn in the South, and some promotional items. All photos except for the Empire State South collage were provided by Buick. All experiences and opinions are my own.