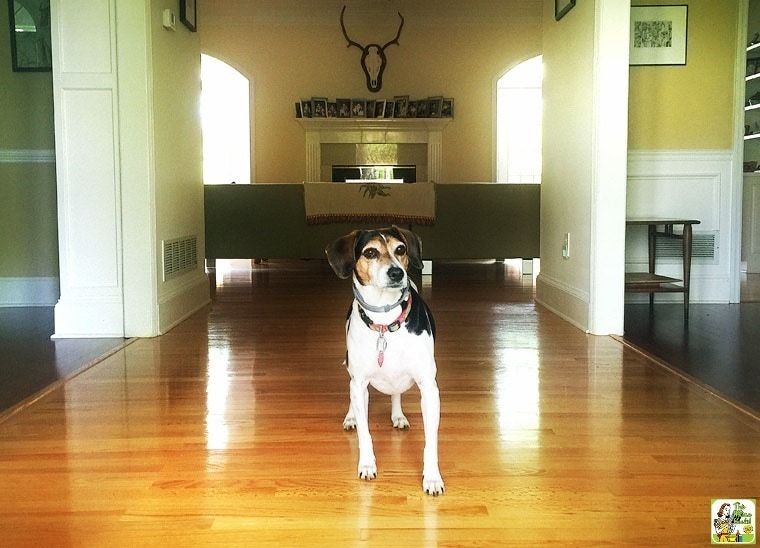 While I'm glad spring is here, I'm not happy about the mess it brings – hardwood floors covered in pollen, dirt and leaves. So when I was offered a chance to do a Bona hardwood floor cleaner review and a Bona hardwood floor mop review I was thrilled.
I was looking for a product that would help me clean up the mess every time I take out my dog, Nellie. Not only do we track in dirt and leaves, but a yellow coating of pollen that makes my family's eczema and hay fever worse.
I was sent a Bona hardwood floor cleaner kit. It contained Bona PowerPlus Hardwood Floor Deep Cleaner and Bona PowerPlus Deep Clean Pads to try out.
Before I just used a vacuum cleaner to get up the dirt and wasn't thrilled with the results.
I could always feel the grit on the floor when I walked through the house barefoot and knew the vacuum cleaner wasn't getting everything.
I had I read the Bona floor cleaner reviews on Amazon. Same with Bona hardwood floor mop reviews, which were especially good. It was time I found if using Bona products were the best way clean hardwood floors at my house!
What you need to know about Bona hardwood floor care products
The Bona PowerPlus line of hardwood floor care products includes Bona PowerPlus Hardwood Floor Deep Cleaner and Bona PowerPlus Deep Clean Pads.
Bona PowerPlus Hardwood Floor Deep Cleaner is Bona's most powerful and best hardwood floor cleaner yet. This line of Bona hardwood floor cleaners are specifically formulated for hardwood floors.
Its hardwood floor safe surfactant loosens tough, heavy dirt build-up. Then peroxide penetrates for a deep clean with the oxygenated bubbling lifting away surface debris.
Bona PowerPlus Hardwood Floor Deep Cleaner is also GREENGUARD certified, which means it has low emissions of volatile organic compounds (VOCs) into indoor air.
I like that since I have an asthmatic daughter and am concerned about her breathing in something that could trigger an episode.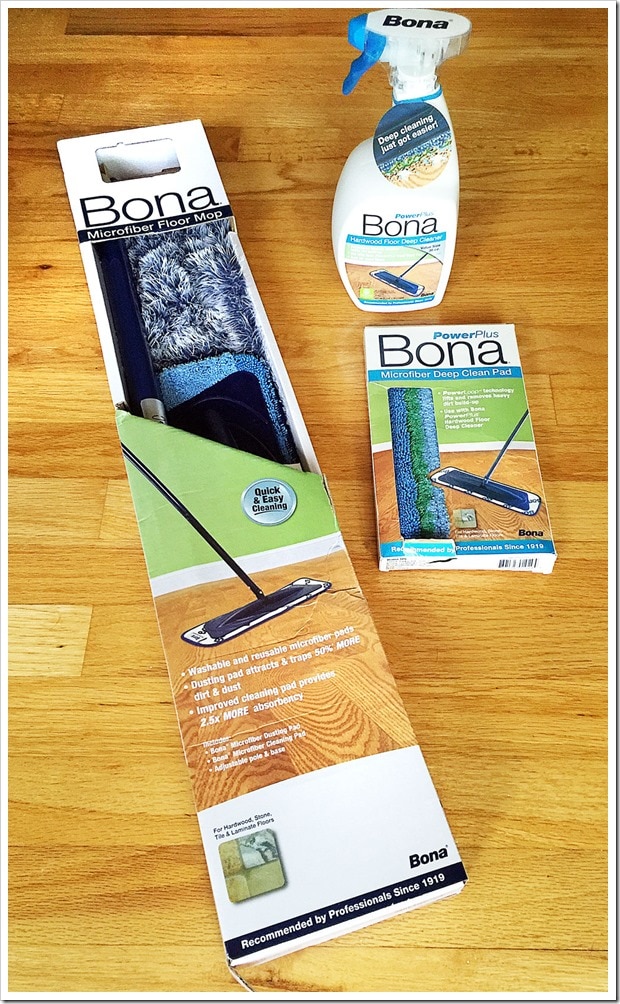 Bona PowerPlus Deep Clean Pads gently break apart and loosen tough dirt via the twisted nylon scrubbers while the dual zone pad absorbs and traps dirt. Bona floor cleaning pads have twice the absorbency of other microfiber pads.
Bona microfiber pads are a big money saver if you use a disposable wet sheet system to clean your hardwood floors. The Bona floor cleaner pads are machine washable, so after you clean your floors with Bona hardwood floor cleaners, just toss the pad in the washing machine.
Where buy Bona hardwood floor cleaner and supplies
How to spring clean with Bona hardwood floor cleaner – a Bona floor cleaner review
I found Bona PowerPlus Hardwood Floor Deep Clean very easy to use. First, you vacuum or dust mop your hardwood floors to get up big debris, like leaves or grit.
Then you spray the Bona hardwood floor cleaner over the immediate area you want to clean. Afterwards, you use use Bona floor cleaning pads, which are attached to a Bona Hardwood Floor Mop, to clean your hardwood floor.
I decided to tackle the entry way into my house first, knowing that this is where the pollen and dirt was the worst. I could see how dusty it was in certain light, too, since it's been nearly two weeks since that area has been cleaned.
After doing a quick vacuum, I sprayed the area with the Bona hardwood floor cleaner and went over it twice with the Bona microfiber pads and mop.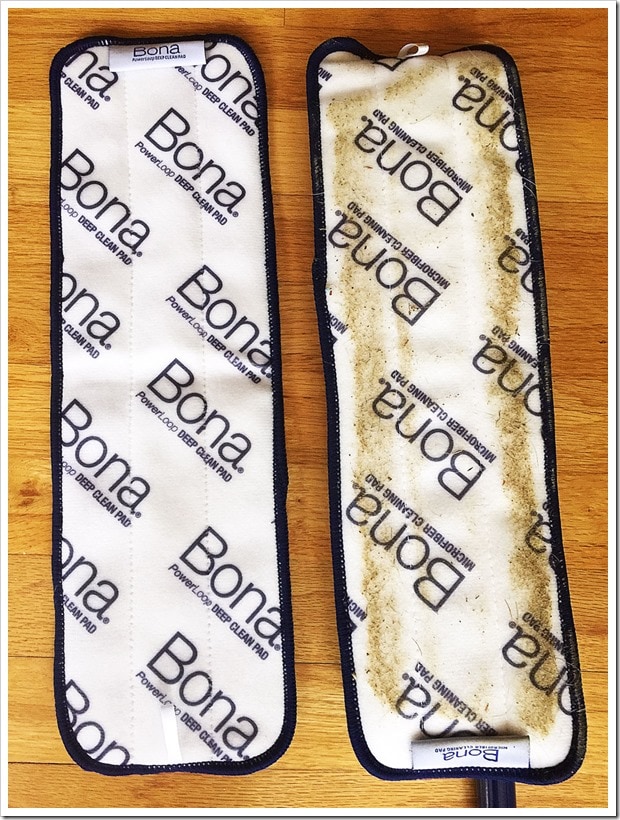 As you can see from the clean Bona floor pad versus the dirty one, not only is the entryway dirty, but it has a yellow tinge from all the pollen that the vacuum didn't pick up.
Bona PowerPlus Hardwood Floor Deep Clean is gentle enough hardwood floor cleaner to use weekly. So I'll be using it frequently. Great job Bona!
Originally published on April 19, 2016. Updated with new pictures and information.