Last Updated on October 5, 2021 by Anne-Marie
Once you discover how easy this recipe for homemade keto taco seasoning mix is to make, you'll never buy another taco seasoning packet ever.
This low-carb taco seasoning mix is much better for you than those pricey taco seasoning packets, too.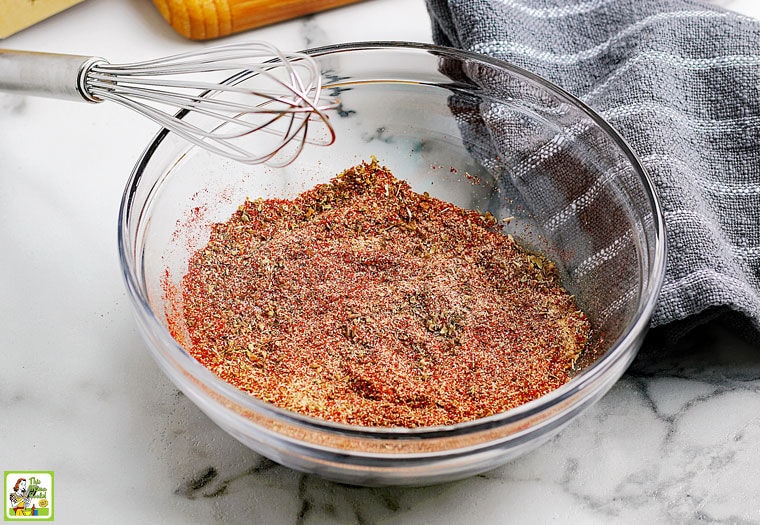 Why make homemade keto taco seasoning mix?
If you're on a keto diet, this homemade taco seasoning recipe is the way to go.
You see, store-bought taco seasoning brands are full of dairy, flour, sweeteners. They also contain MSG, silicon dioxide (an anti-caking agent), and maltodextrin (like corn starch).
These fillers bulk up the carb count.
This taco seasoning mix recipe is naturally dairy-free and gluten-free, and delicious.
You'll love this mix recipe when making keto tacos, burritos, or other Mexican dishes for Taco Tuesday or Cinco de Mayo parties.
Add 2 tablespoons of keto taco seasoning mix to a pound of ground beef, turkey, or chicken.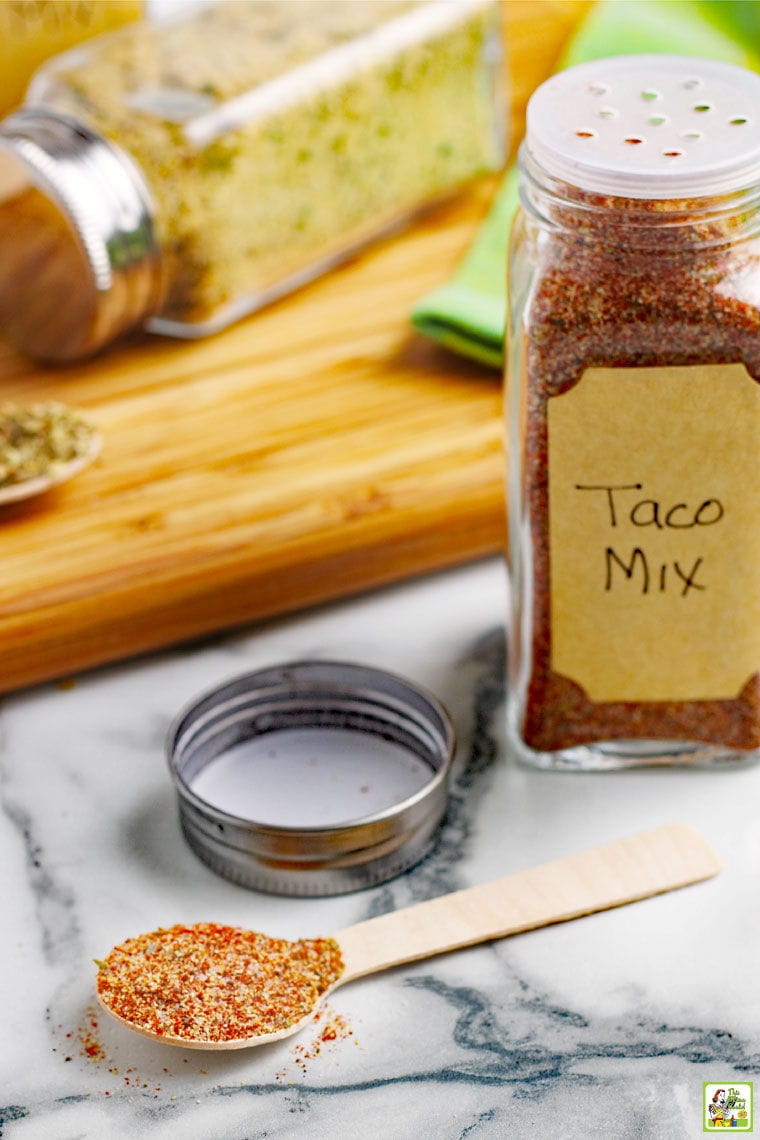 Ingredients
Just simple ingredients. It's an easy-to-make spice blend.
chili powder
dried oregano
ground cumin
garlic powder
onion powder
paprika
sea salt
black pepper
red pepper flakes
How to make this low carb taco mix
1. Combine all the ingredients in a small bowl.
2. Stir until thoroughly combined and there are no lumps or clumping.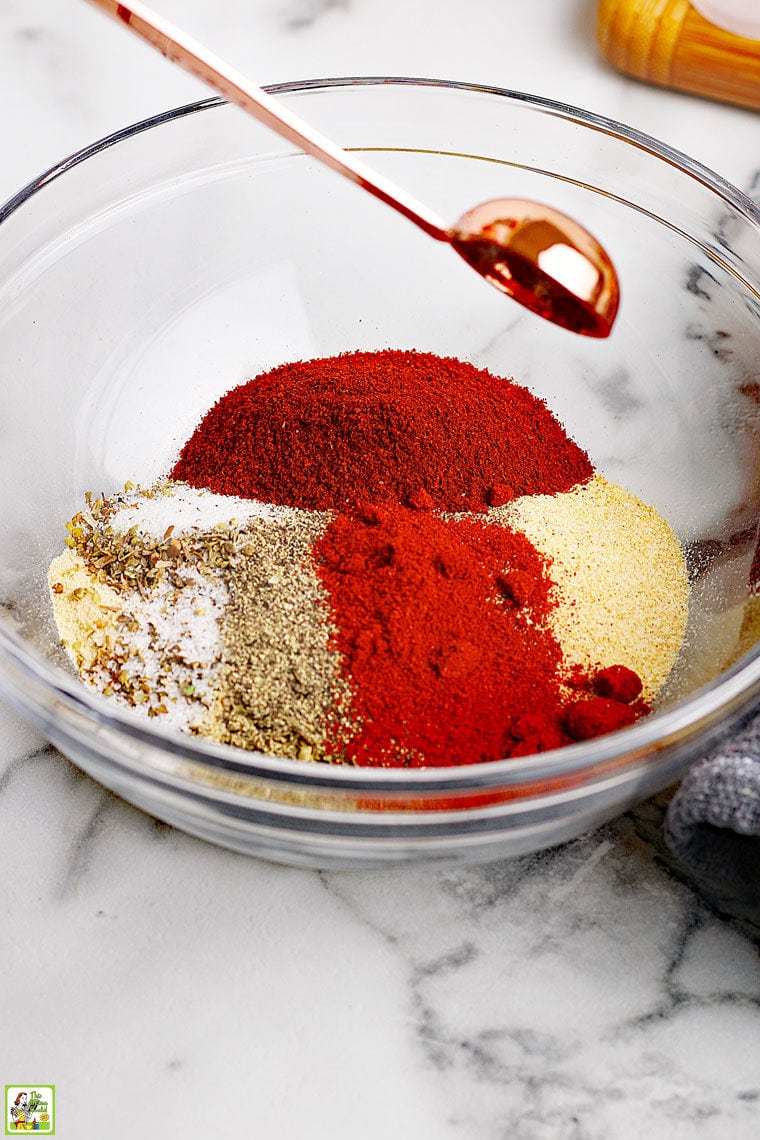 FAQ
How to store
Store leftover mix in an airtight container.
If you make a large batch, use a mason jar. Keep in a cool, dry place.
Don't freeze the taco seasoning. This adds moisture to taco seasoning mixes causing it to clump and harden.
Variations
You can customize the homemade taco seasoning ingredients to your personal taste.
You may prefer a mild taco seasoning blend, something spicier, or making it with more garlic or onion powder. This is a terrific way to use up whatever you have in your spice cabinet.
● If you like a smoky flavor, substitute smoked paprika for regular paprika (also called sweet paprika).
● If you have to avoid salt, you can make a low or no salt version by reducing or eliminating the salt.
● If you want a spicier low-carb taco seasoning recipe, add cayenne pepper or more red pepper flakes.
Recipes
Here are some of my Mexican food recipes that use this low carb taco seasoning mix:
Remember 2 tablespoons of homemade taco seasoning mix per pound of meat.
If you're doing a plant-based diet, use extra-firm tofu instead of ground meat to keep the carbs relatively low.
Cauliflower is also a tasty taco meat replacement.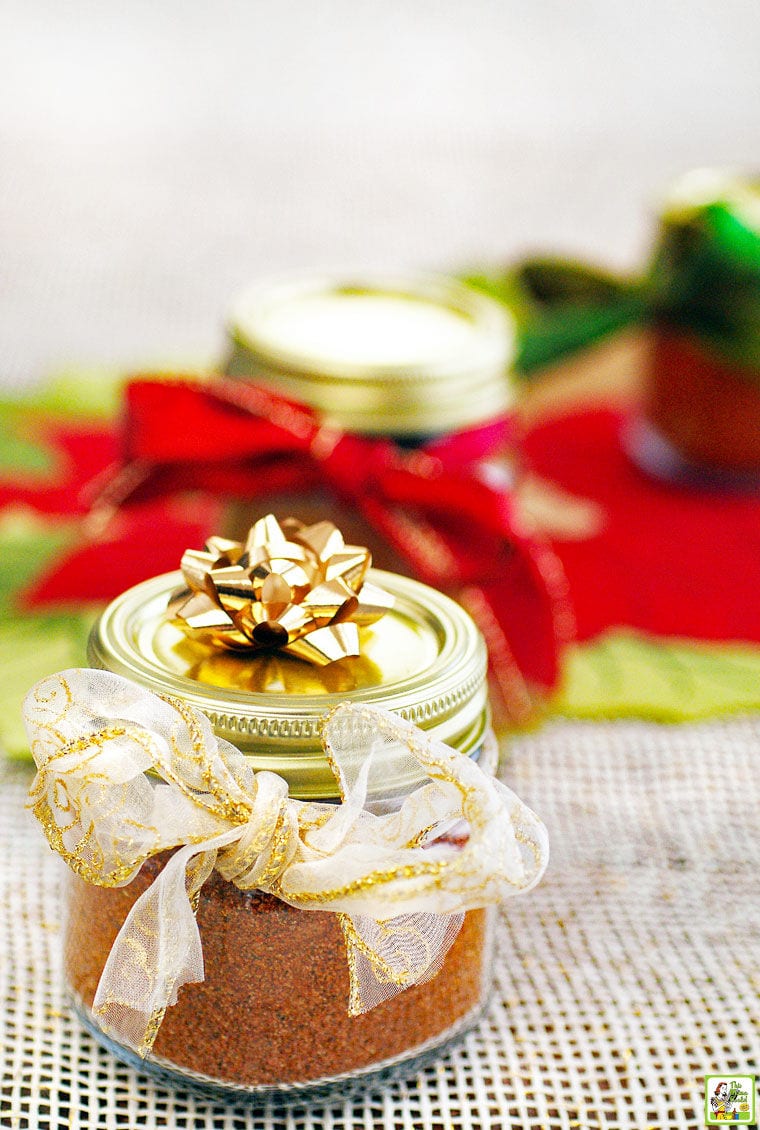 Makes a terrific homemade gift!
Need a last-minute gift for a teacher or coworker? You can make a batch of homemade taco seasoning in no time at all!
I use half-pint (1 cup) wide-mouth Mason jars for my homemade taco spice blend presents.
Put the seasoning in the jars (a Ball Collapsible Funnel makes it even easier), and decorate the jars with ribbons, labels, recipe cards, etc.
The kids can help measure spices, cut and tie ribbon, and so on.
Including a recipe card for your favorite burritos or tacos recipes is a lovely touch, too.

How to make a big batch of homemade mix
I like to make a big batch of homemade taco seasoning mix. So I buy the big canisters of spices at my favorite warehouse store. Super affordable!
If you don't have a warehouse membership, check out the Hispanic aisle at Walmart or your local stores. The Badia brand of spices is excellent and inexpensive.
Here's the ingredient list for a larger batch.
3/4 cup dried oregano
3/4 cup ground cumin
1/3 cup + 1 tablespoon garlic powder
1/3 cup + 1 tablespoon onion powder
1/3 cup + 1 tablespoon paprika
1/3 cup + 1 tablespoon sea salt
1/3 cup + 1 tablespoon ground black pepper
1 tablespoon + 1 teaspoon red pepper flakes
(This makes almost 6 cups of mix or about 48 servings of 2 tablespoons each.)
I store the mix in a couple of large canning jars. (You can transfer some of the spice mix to smaller shakers if you want.)
To avoid clumping and caking, store the spices in a glass jar away from heat, light, and moisture. Then add some dried beans, which helps absorbs extra moisture.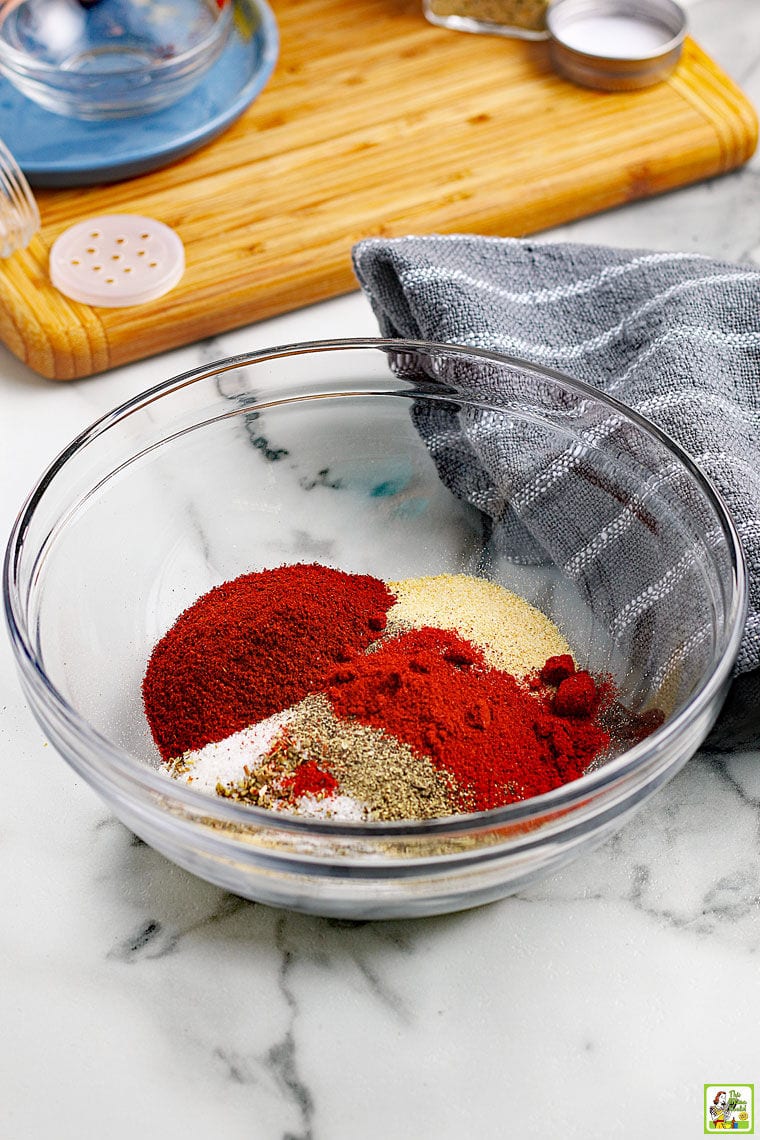 Is taco seasoning low carb and keto?
Store-bought taco seasoning packets are loaded up with sugar and starch. This increases the number of carbs per serving.
Ingredients such as cornstarch and sugar should be avoided when following a ketogenic diet.
Using this type of seasoning in large amounts could potentially cause problems with ketosis.
How many carbs are in homemade keto taco seasoning?
Two tablespoons of homemade keto taco seasoning mix have 8g carbs. When used to cook taco meat, this amount of carbs is distributed throughout a pound of cooked ground meat.
Since 1 pound of ground meat has zero carbs and two tablespoons has 8 carbs, a quarter-pound serving of cooked taco meat has 2g net carbs.
Now compare that when using two popular packets of taco seasoning, McCormick and Old El Paso.
Both brands' nutrition labels list 3g carbs per serving and 6 servings per 1-ounce packet. That's 18 grams of carbohydrates per packet.
However, since you use one packet for cooking 1 pound of ground beef, the same quarter-pound serving has 4.5 carbs. No beuno!
If your goal is to keep to a low-carb diet, stay away from those commercial taco seasonings packets!
Yield: 3 SERVINGS
Homemade Keto Taco Seasoning Mix (Low Carb)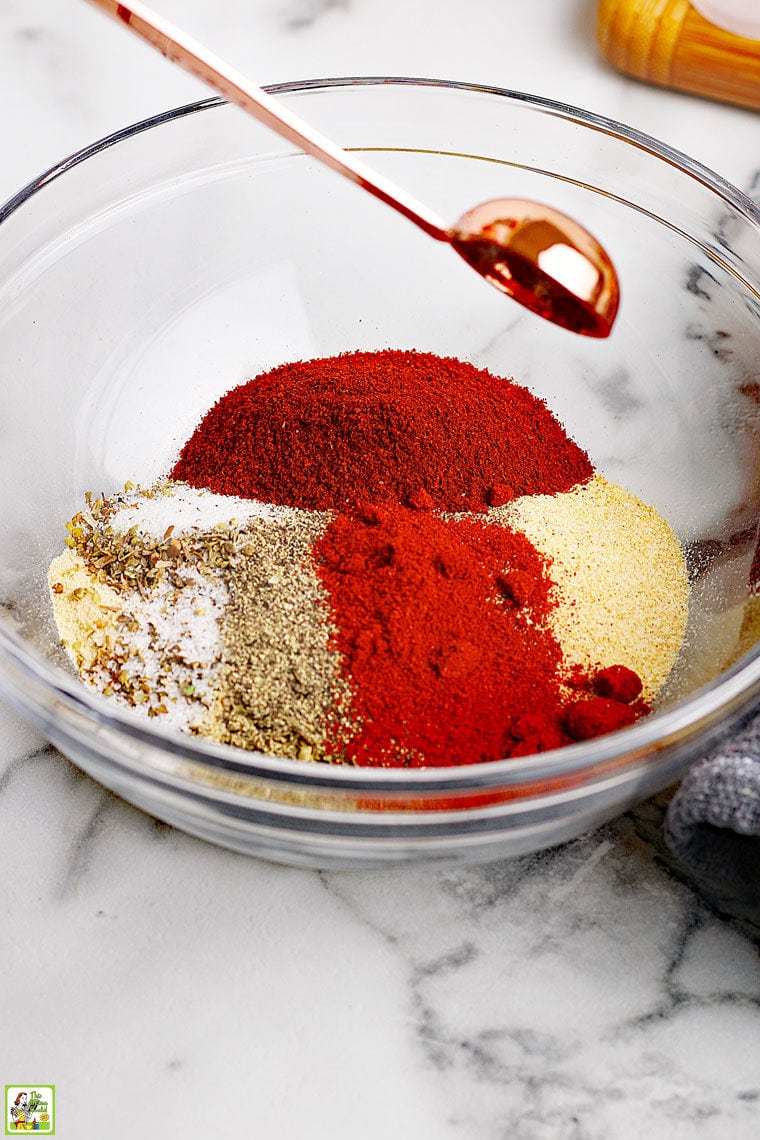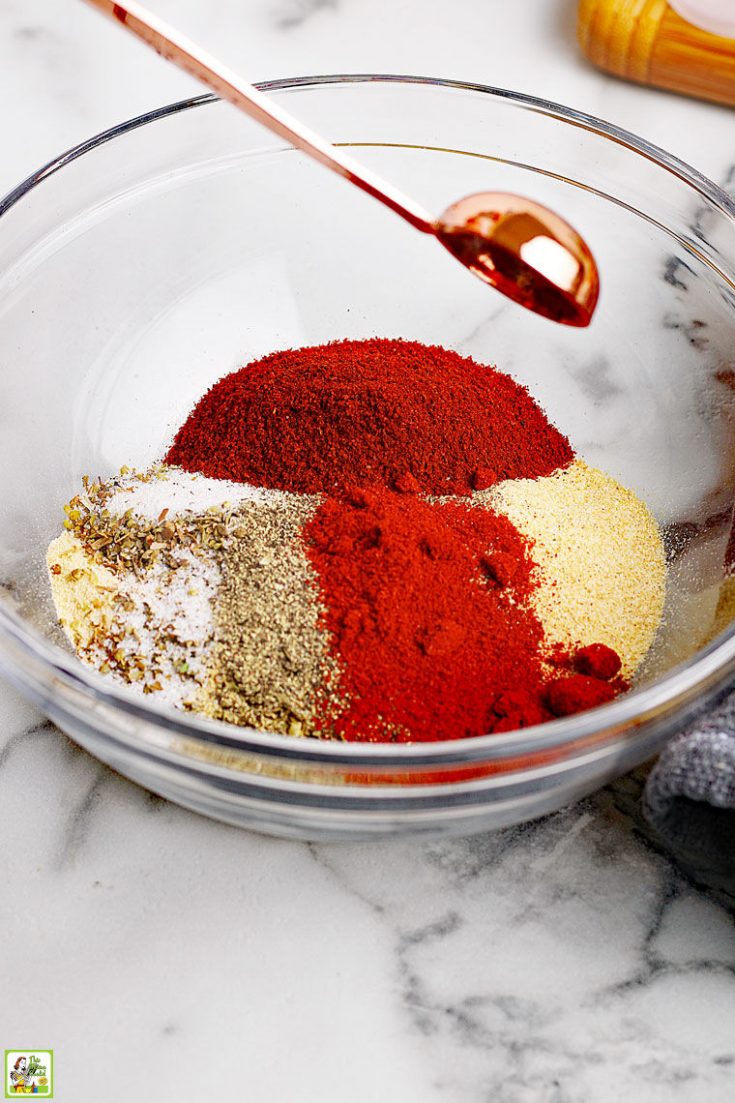 Homemade taco seasoning mix is inexpensive to make. This homemade taco seasoning mix recipe can be customized to your taste.
Ingredients
2 tablespoons chili powder
2 teaspoons dried oregano
2 teaspoons ground cumin
2 teaspoons garlic powder
2 teaspoon onion powder
1 teaspoon paprika
2 teaspoons sea salt
1 teaspoon black pepper
pinch red pepper flakes
Instructions
Combine all ingredients in a small bowl. Stir until thoroughly combined and there are no lumps or clumping.
Store in an airtight container.
Notes
For cooking, use 2 tablespoons of taco seasoning for 1 pound of ground meat.
Nutrition Information:
Yield:
3
Serving Size:
2 tablespoons
Amount Per Serving:
Calories:

39
Total Fat:

1g
Saturated Fat:

0g
Trans Fat:

0g
Unsaturated Fat:

1g
Cholesterol:

0mg
Sodium:

1569mg
Carbohydrates:

8g
Fiber:

3g
Sugar:

1g
Protein:

2g
Nutritional information is automatically calculated per the ingredients list. Serving size may not be accurate. Please double-check with your preferred nutritional app for the most accurate information.