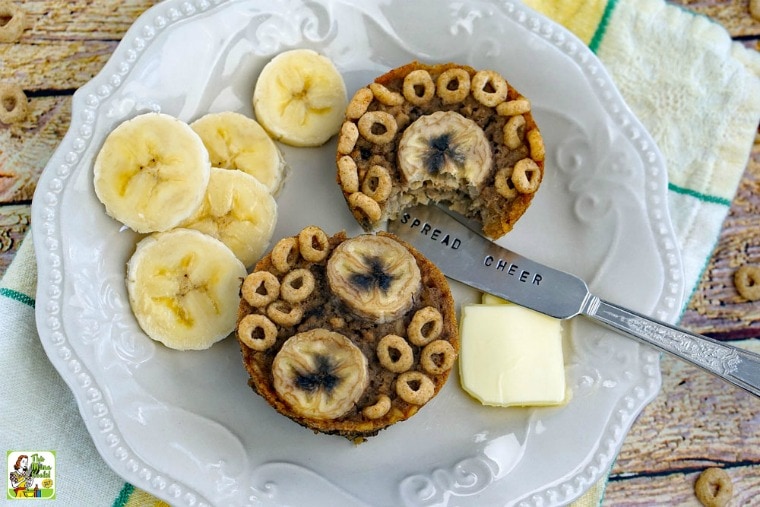 You'll fall in love with my Gluten Free Banana Oatmeal Muffins with Banana Nut Cheerios. Make up a batch for visiting guests during the holidays. They're perfect for breakfast, brunch or an afternoon snack with a cup of tea or coffee.
Not only are these good-for-your banana oatmeal muffins easy to make, but they're gluten free since they're made from oatmeal and gluten free Banana Nut Cheerios.
Sweetened with mashed bananas and monk fruit sweetener, they are a guilt-free breakfast or snack you can feel good about serving to family and friends.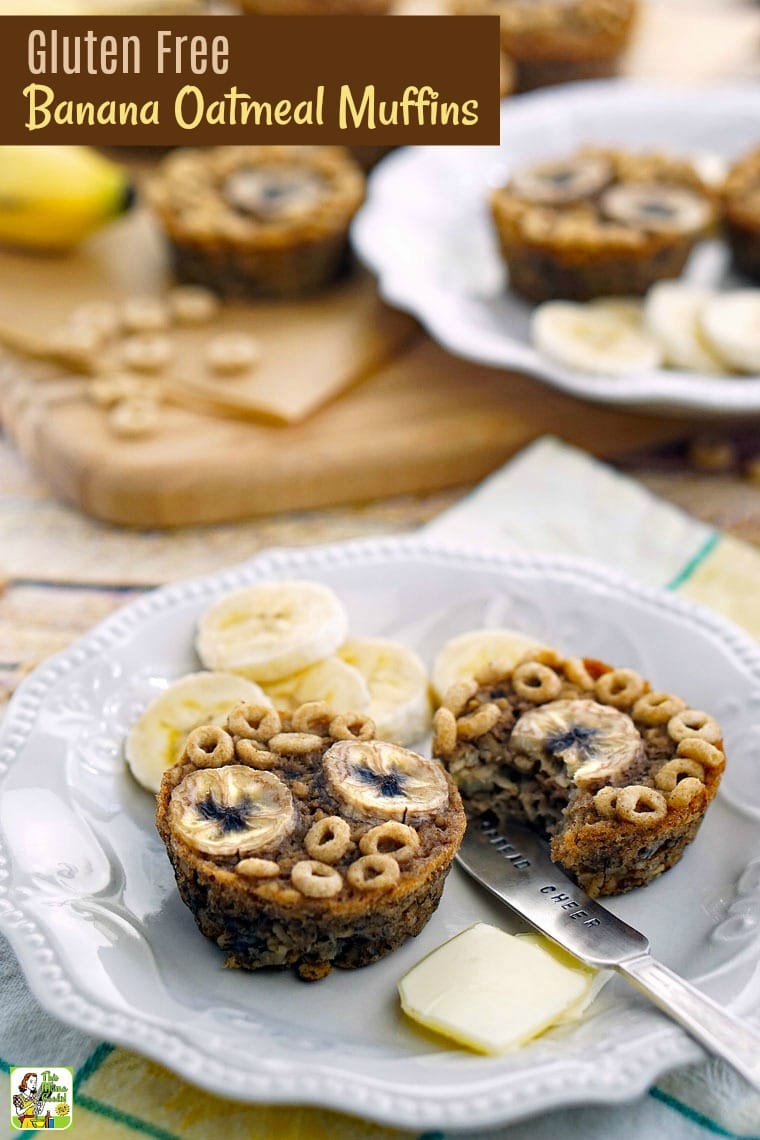 Making Gluten Free Banana Oatmeal Muffins everyone will love
Gluten Free Banana Oatmeal Muffins make a wholesome breakfast or an all-around delicious treat that's easy to bake-and-take during the busy holiday season. They also work well for everyday lunches, after-school sports practices, teacher appreciation events, and workplace potlucks.
These hand-held beauties are dairy free and gluten free, which many people with food allergies will appreciate. (However, there are nuts and eggs in the recipe, so give everyone a heads up.)
For people without food allergies, they'll never guess this muffin recipe is gluten free since it's so flavorful and moist. Must be those Banana Nut Cheerios and mashed bananas!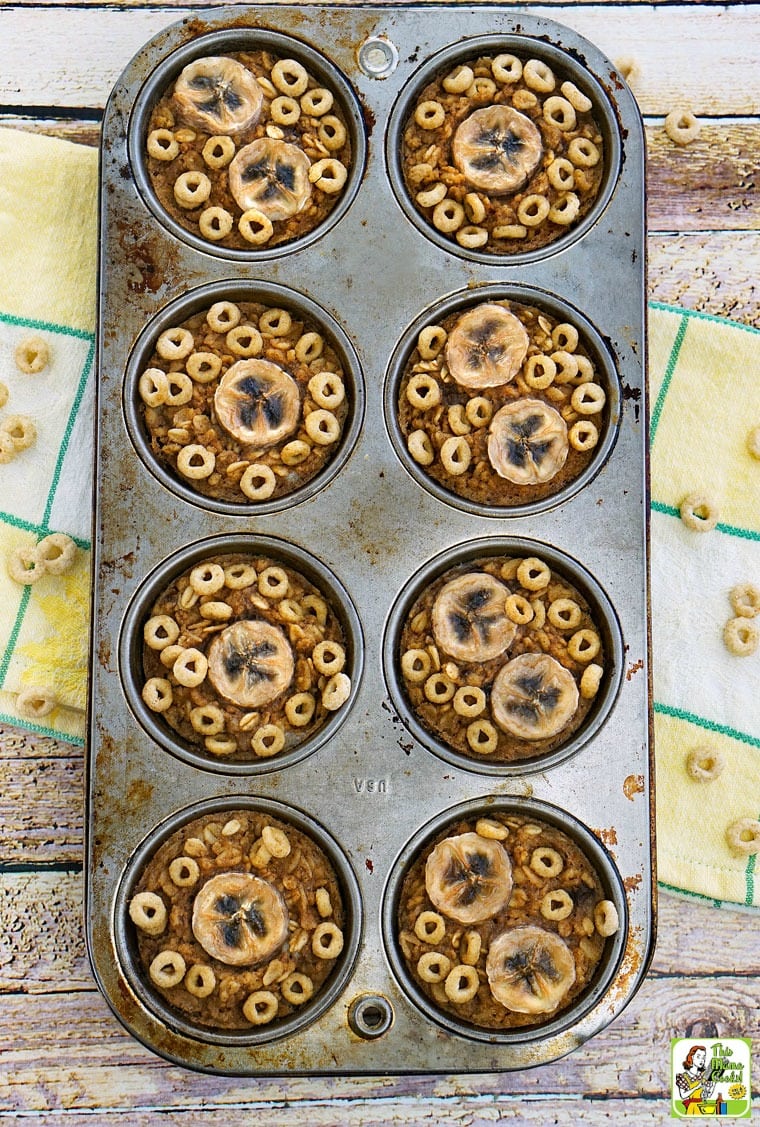 This Mama's Tips for making Gluten Free Banana Oatmeal Muffins
With the busy holidays, don't get caught empty handed for a last minute get togethers. Make a big batch of these easy oatmeal muffins and freeze half for later. You can defrost the muffins in the refrigerator or on the countertop.
If you're gluten free (or making these Gluten Free Banana Oatmeal Muffins for a GF friend), make sure the rolled oats you're using are certified to be gluten free on the package label.
I made my banana oatmeal muffins recipe with monk fruit sweetener, a natural no calorie sweetener. You can use any no calorie sweetener you like to bake with – all should work well.
I used pumpkin pie spice, but you can use the same amount of cinnamon instead.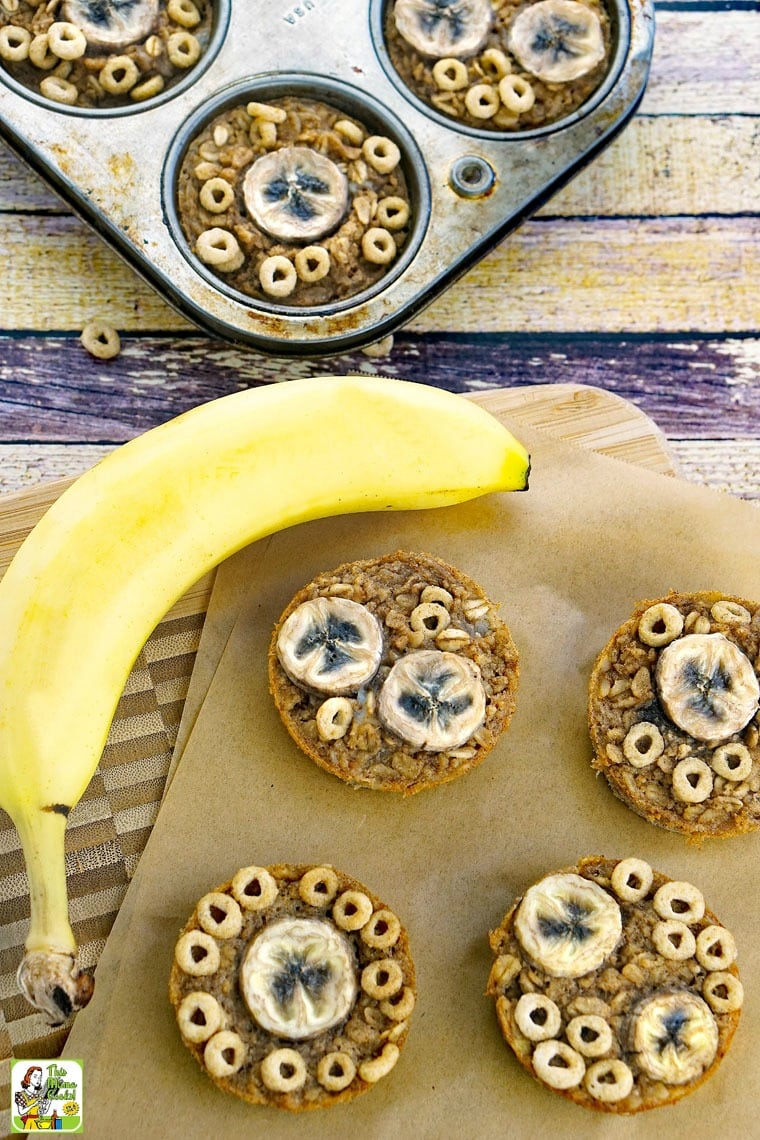 So, what's a medium banana? According to the USDA, medium bananas are 7 to 7 7/8 inches in length and equal to 3/4 cup of fruit. Large bananas are 8 to 8 7/8 inches long and equal to 1 cup of fruit. Small bananas are 6 inches long and equal to 1/2 cup of fruit. So, for this recipe, you need 1 1/2 cup of mashed bananas.
If you wish, you can use another non-dairy milk or low-fat milk if you're not dairy free.
Also, if you're short on time, decorate the tops of the Gluten Free Banana Oatmeal Muffins with extra banana slices or a sprinkling of Banana Nut Cheerios.
Make sure to refrigerate any uneaten muffins. They should last up to a week in the refrigerator.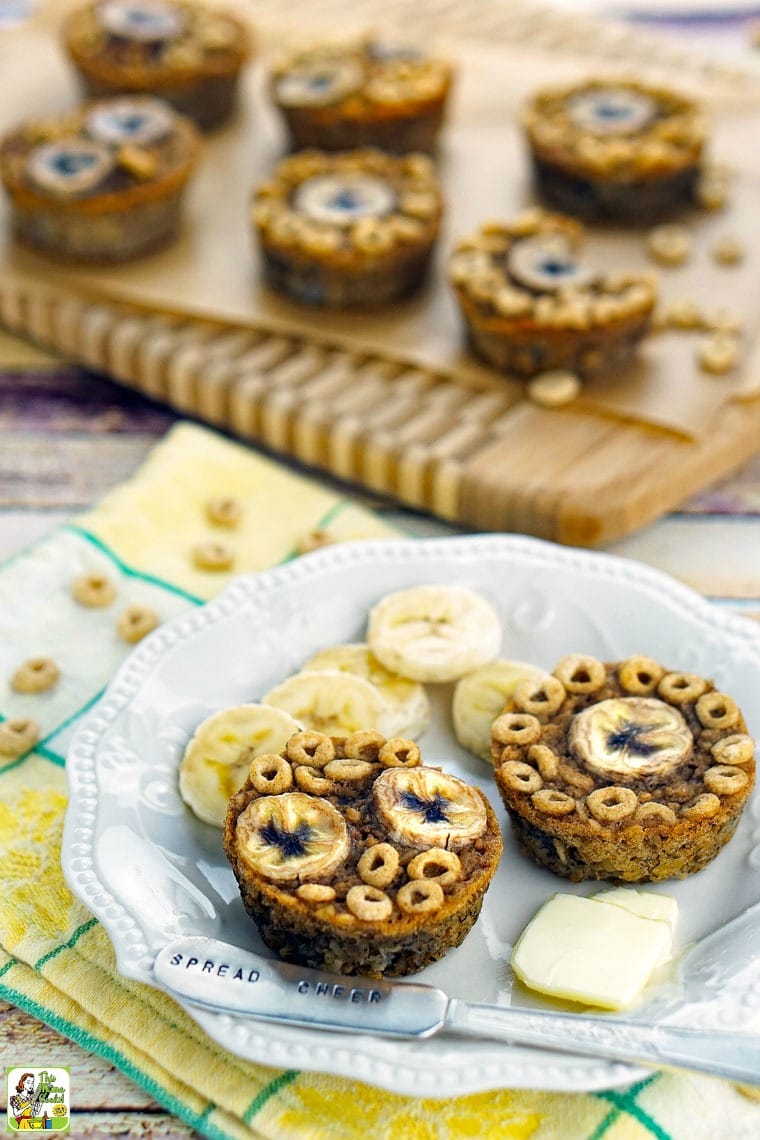 Make these Gluten Free Banana Oatmeal Muffins with Banana Nut Cheerios
Starting mid-November to December, be on the lookout for limited edition Banana Nut Cheerios in the cereal aisle of your favorite grocery store.
Gluten Free Banana Nut Cheerios are made with 100% whole grain oats and they contain no artificial flavors or colors from artificial sources. This new cereal features banana puree and winter spices like cinnamon and pecans.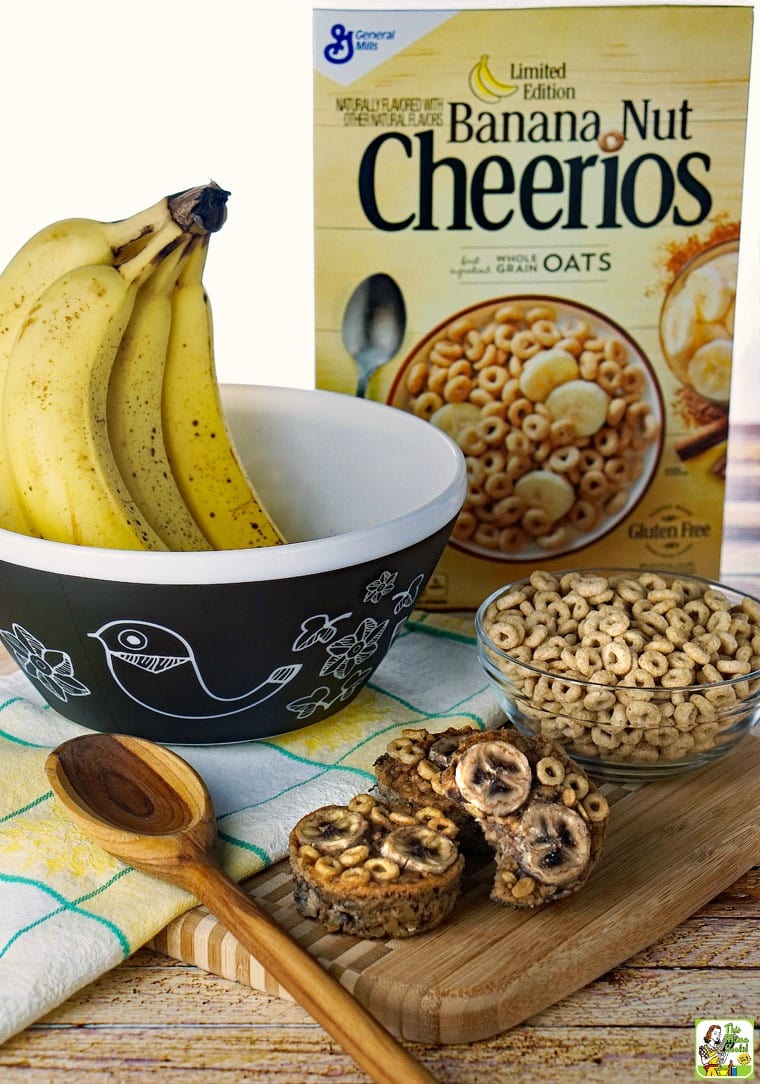 Remember, they're here just for a short while, so if you love the taste of banana flavored Cheerios, stock up!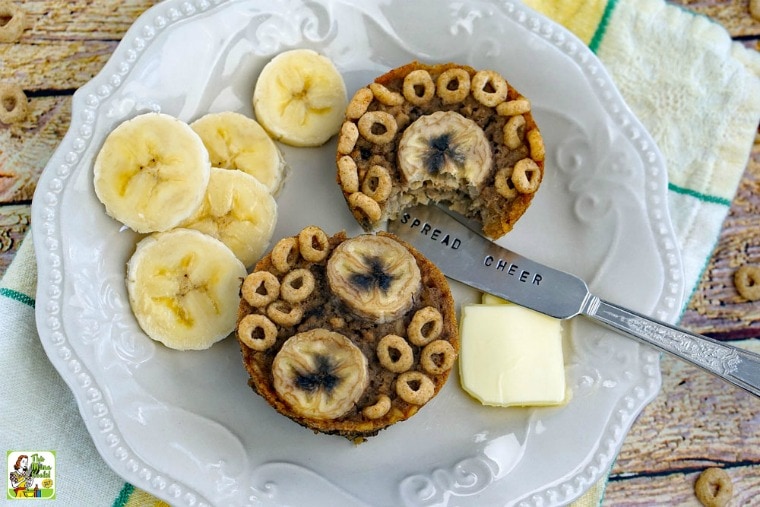 Gluten Free Banana Oatmeal Muffins
Ingredients
Cooking spray

1 cup

roughly crushed Banana Nut Cheerios

1 cup

rolled oats (gluten free)

1/4 cup

monk fruit sweetener

1 teaspoon

baking powder

1 teaspoon

pumpkin pie spice

2

medium bananas, mashed

1 cup

unsweetened coconut milk

2 tablespoons

canola oil

1

large egg

1 teaspoon

vanilla

Banana slices and Banana Nut Cheerios for decorating muffin tops
Directions
Position oven rack in the center of your oven. Preheat oven to 350 degrees F.
Lightly coat muffin pan with cooking spray and set aside.
Pour a rounded cup of whole Banana Nut Cheerios into a ziplock baggie. Press the air out and zip shut. Take a rolling pin and roughly crush the Cheerios. (You don't need the Cheerios to be completely pulverized into a fine powder.)
Place crushed Cheerios, rolled oats, sweetener, baking powder, and pumpkin pie spice into a large bowl. Stir together until well combined.
In a small bowl, mash the bananas. Add the coconut milk, egg, and vanilla. Stir well.
Add the banana mixture to the cereal mixture and blend well.
Using a 1/4 measuring cup, divide the mixture evenly among the muffin cups.
Place the muffin pan in the oven. Bake until done, about 25 minutes.
Wait until the muffins have completely cooled before running a knife around the edges and removing them from the pan.