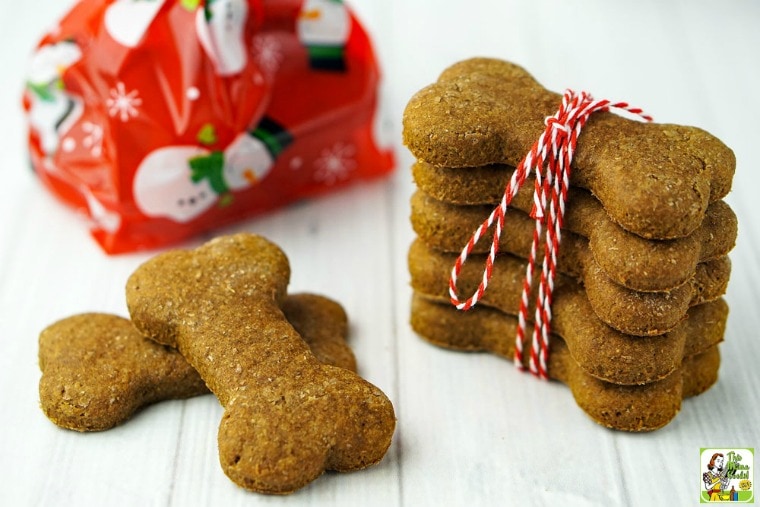 Making these easy homemade dog treats this holiday season is a great way to get the whole family involved in holiday baking.
Plus, they're a lovely homemade holiday gift for anyone you know who has a dog – teachers, coworkers, relatives, and friends. And of course, your dog will thank every time you give her a homemade dog treat!
What I especially like about dog treat recipes is that you can work around any food allergies your dog or kids may have. That's why I made this easy homemade dog treat with sunflower butter instead of peanut butter.
My daughter, Lucie, has a nut allergy, so we don't let our dog have any treats made with peanut butter. That's because my daughter shouldn't touch anything made with peanuts.
You see, since our dog, Nellie, loves licking people, if she licked Lucie after snacking on a dog treat made with peanut butter, Lucie would probably break out in hives. Not something I want to happen during the busy holiday season!
However, if there aren't any peanut allergies in your family, go ahead and make up a batch of homemade dog treats with your favorite natural peanut butter brand.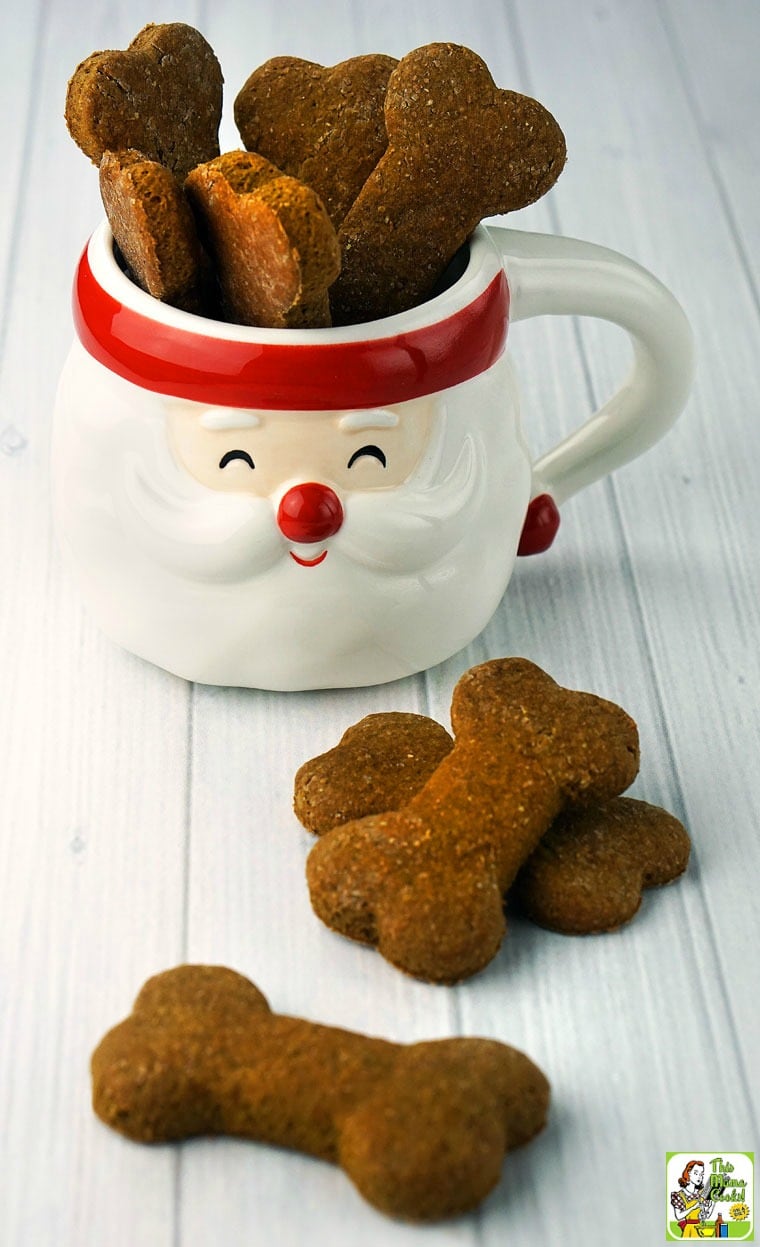 How to make dog treats your doggo will beg for!
Before making these easy homemade dog treats, I checked to make sure that all the ingredients are OK for most dogs to have. However, make sure you check the ingredients list to make sure your four-legged friend isn't allergic to a specific ingredient.
Sunflower butter is OK for dogs to have – and my dog Nellie is CRAZY about it. (The only nut butter dogs should stay away from is any with macadamia nuts.) However, check the label of the sunflower butter brand you buy to make sure everything else in it is OK for your dog.
I also wanted to keep this healthy dog treat recipe dairy free, so I used coconut milk instead of cow's milk. Use full fat (not lite) if you're using canned coconut milk. Make sure the coconut milk is unsweetened, if you buy it by the carton.
Many people use molasses in homemade dog treats recipes, since it's a dog-safe sweetener. You can use real maple syrup, which is also a dog-safe sweetener.
You can also use gluten free flour instead of whole wheat flour. I like Bob's Red Mill Gluten Free 1-to-1 Baking Flour since you can substitute it 1-to-1 for wheat flour.
To cut the treats, I used a dog bone shaped cookie cutter from a Dog, Bone and Paw Print Cookie Cutter Set.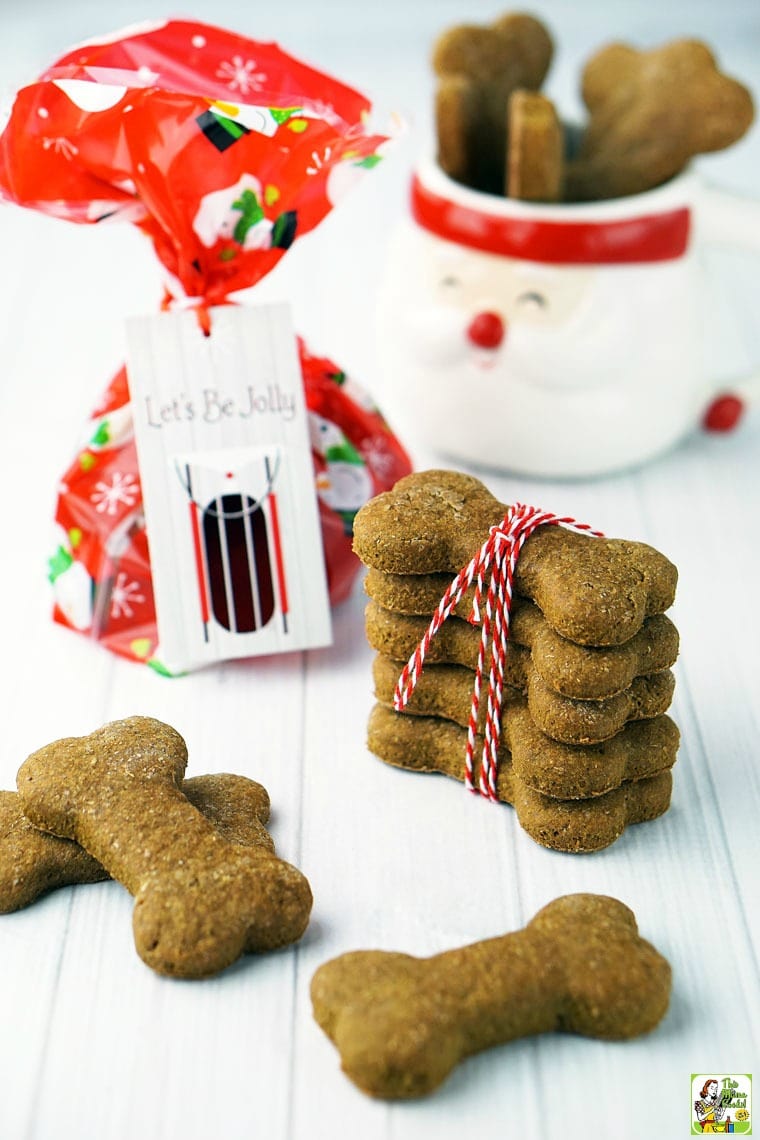 Gift wrapping ideas for your easy homemade dog treats
I packaged my easy homemade dog treats several ways. I put some in a Santa mug, so while doggie is having her treat, mom or dad can have a nice cup of tea. I also put these healthy dog treats in a cute holiday cellophane bag with a holiday gift tag – all store bought.
Packaging and decorating the easy homemade dog treats gifts is another activity you can get the kids involved in without spending too much money. For example, if you have a supply of large canning jars, have the kids carefully place a handful or two of the treats in a jar.
Or you can use plastic cold cut tubs or just a plain ziplock bag. Decorate the homemade doggie gift package with a bow, holiday stickers, or ribbon, and a homemade gift tag.
Don't forget to include ingredient info on the tag so everyone knows this homemade dog treats recipe is dog and allergy friendly.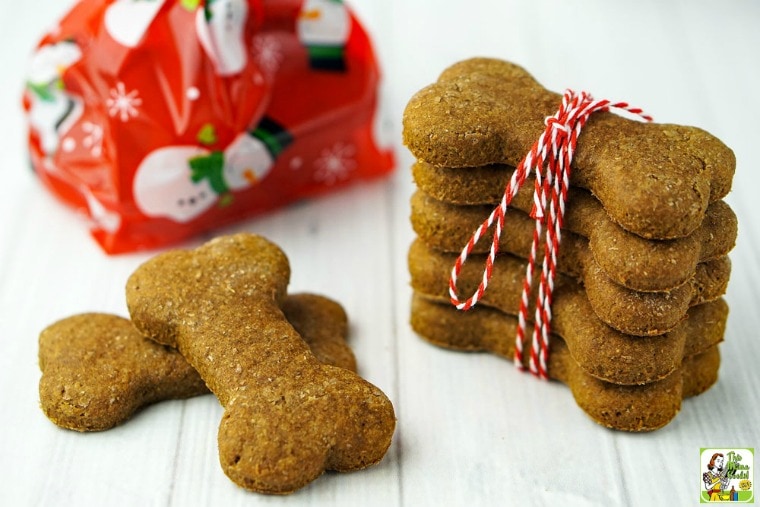 Ingredients
2 cups

whole wheat or gluten free flour (plus more for dusting)

1 tablespoon

baking soda

1 cup

sunflower butter (room temperature)

1 cup

coconut milk (full fat, unsweetened)

1 tablespoon

molasses
Directions
Preheat the oven to 375 degrees F. Line cookie sheets with a silicon mat or parchment paper.
In a medium bowl, stir together whole wheat flour and baking soda until thoroughly combined. Set aside.
In a large bowl, mix together sunflower butter, coconut milk and molasses. Add the flour mixture and stir until thoroughly combined into a dough.
Turn out dog treat dough onto a lightly floured surface and knead until smooth.
Coat your rolling pin with whole wheat flour and roll out to 1/4 inch thickness.
Cut rolled dough with dog boned shaped cookie cutters. Place 2 inches apart onto the prepared cookie sheets.
Bake in preheated oven for 10-20 minutes until lightly brown. (Check treats after 10 minutes and 15 minutes to make sure they don't get over cooked. Cooking time will depend on size and thickness of your dog treat.)
Remove cookie sheets from oven and let cool for 5 minutes. Then place dog treats to cool on wire racks.
Store your homemade dog treats in an airtight container and place them in the refrigerator or freezer. If frozen, allow the treat to thaw for 10 – 20 minutes prior to serving to your dog. Treats can last for up to 2 months in the refrigerator and 6 months in the freezer.
Servings
:
Makes 40 dog treats using a 3" bone-shaped cookie cutter
Serving size:

1 dog treat
Originally published on November 14, 2016. Updated with new pictures and information.