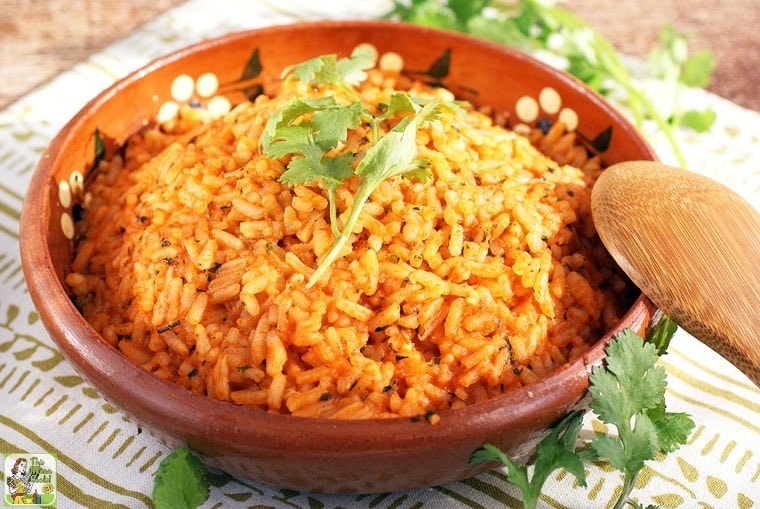 Do you want to make an easy Mexican rice recipe for taco night just like restaurants serve?
You probably think an authentic Mexican rice takes an hour to cook and involves exotic ingredients from your local carniceria.
Not to worry. It doesn't!
Actually, to make this easy 10 minute Mexican rice dish, the only special ingredients you need are Minute Instant Rice and fresh cilantro. (And the cilantro is optional.)
The rest of the ingredients for this quick and easy Mexican rice recipe are probably in your pantry or spice rack!
It's the perfect rice for tacos recipe, when you're making other types of Mexican food, or if you're grilling fish or chicken and need an easy side dish.
You'll never use those prepackaged mixes again. This homemade Mexican rice is just the best!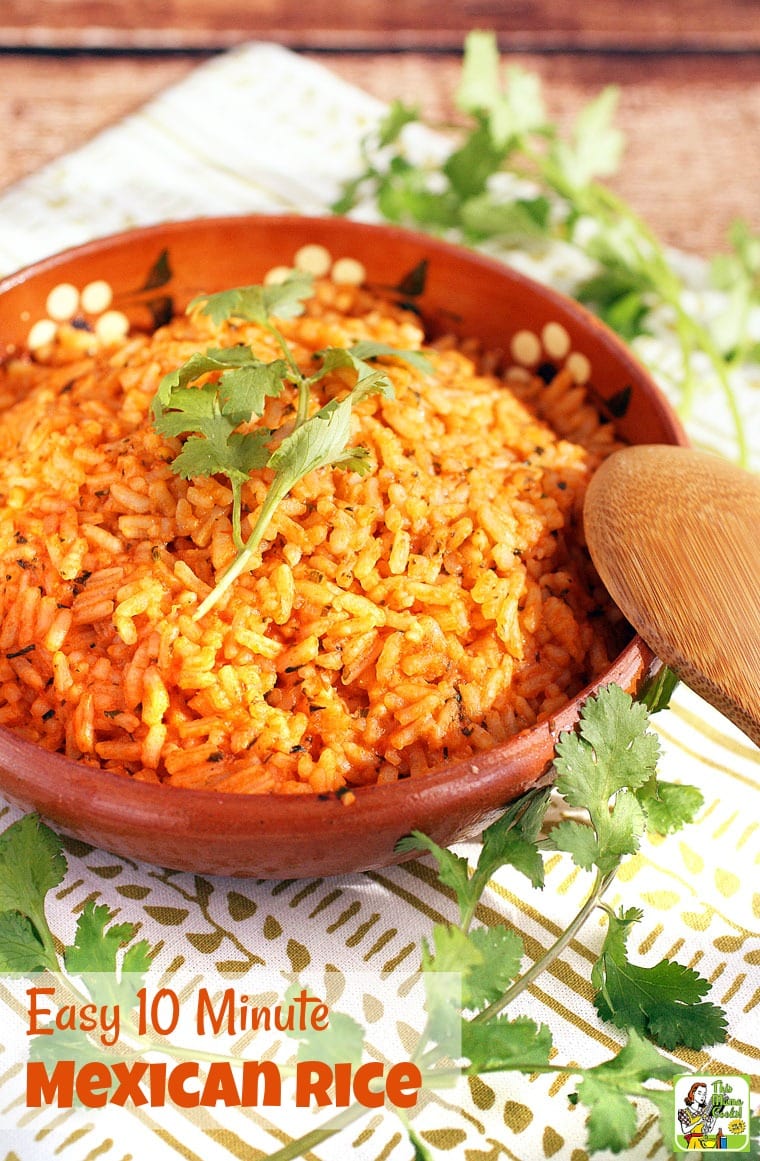 What is authentic Mexican rice?
What you may call authentic Mexican rice is also called Spanish rice or arroz rojo (literally red rice).
Even though it's sometimes called Spanish rice, it's not Spanish in origin.
It's a Mexican food side dish made by sautéing white rice in a skillet until it turns a golden brown. Then water or broth is added along with tomatoes or tomato sauce.
Sometimes garlic and onions are used as well as seasonings like chili pepper and cumin.
To me, the sign of a good Mexican restaurant is if they make a flavorful Mexican rice dish. You'll see that this recipe is exactly like the kind you get at your favorite restaurant or take out place without leaving home!
Some restaurants like to put peas and onions in their Mexican rice recipe, too. (You can certainly add peas and onions to your easy Mexican Rice recipe if you wish!)
This homemade Mexican rice also contains cilantro. If you don't like cilantro, you don't have to use it.
More ways to use easy Mexican rice
I love serving Mexican rice on the side with carne asada, Ahi Tuna Tacos, or Slow Cooker Spicy Pulled Pork Tacos.
However, this easy Mexican rice recipe isn't just a side dish. You can make any dish a the star of the meal by adding Mexican rice:
● in burritos with refried beans, pulled chicken, or strips of carne asada, add Mexican rice right in the burrito.
● in rice bowls with taco meat (seasoned with homemade taco seasoning), rotisserie chicken, or pulled pork use Mexican rice instead of long grain rice.
● in a soup with chicken and vegetables like shredded lettuce and cabbage, add the Mexican rice right in the bowl.
● in a one pot Mexican-flavored stir fry with leftover rotisserie chicken and frozen pepper strips, use Mexican rice instead of white rice.
● in a Mexican rice casserole recipe.
● with crockpot tacos for Taco Night! I love putting Mexican rice right in the tacos, not just on the side.
Perfect for potlucks: I also like doubling or tripling this Mexican rice recipe to bring to potlucks.
I cook up a big batch then place the homemade Mexican rice in my crock-pot to keep warm.
(Don't forget to use a slow cooker liner for easy cleanup!)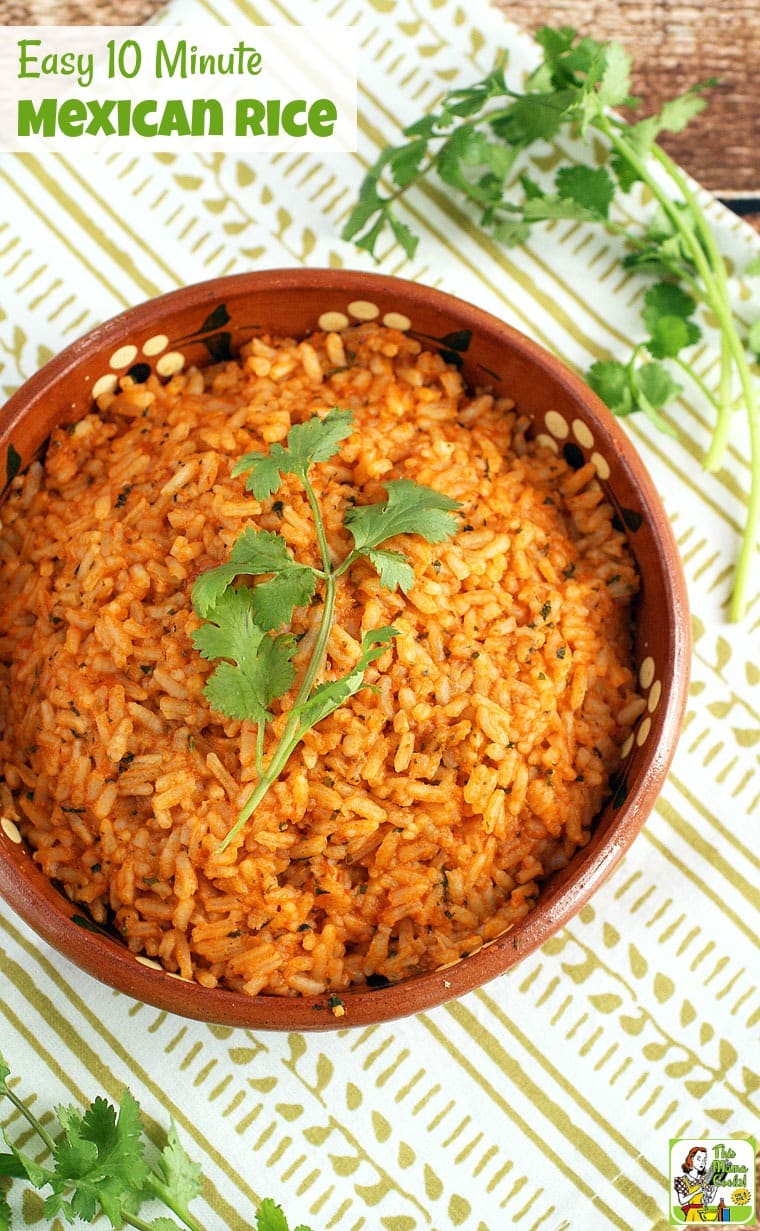 Tips for cooking up restaurant style Mexican rice
Go vegetarian: You can make this easy Mexican rice recipe vegetarian by using a vegetable broth instead of chicken stock or broth.
Gluten free? If you're gluten free or cooking for GF guests, make sure that the vegetable or chicken stock or broth you're using is gluten free.
Many of the big commercial brands have gone gluten free or have more "natural versions" of broth or stock available at the grocery store. So no need to go to the health food store now!
This rice dish is also a naturally dairy free recipe.
Can you use brown rice? While this best Mexican rice recipe is traditionally made with white rice – and this recipe uses instant white rice – you can use instant brown rice when you make this recipe, too.
The cooking times may change (consult the directions on the box). Also, the taste and color will be different, but still delicious!
Cilantro? No bueno! If you're serving this quick and easy Mexican rice recipe for guests, you may want to ask if everyone likes cilantro. So many people don't!
It's OK if you leave cilantro out this recipe if you or your guests don't like it. Add 1/2 teaspoon onion powder instead if you want extra flavor.
Turn up the heat: Love spicy food? Don't forget to serve your favorite Mexican hot sauce with the rice. My son loves adding hot sauce to his!
Some of my readers have added salsa to this dish when they made this Mexican rice recipe, too.
Can you use long grain white rice? If you don't have instant rice, you can try to make Mexican rice with long grain white rice.
You'll just have to adjust cooking times per the instructions on the long grain white rice box.
You can use the same amount of spices and tomato sauce when you make Mexican rice. You will have to adjust the amount of broth, though.
I haven't tried it, so you'll have to experiment. Good luck!
Love Mexican food? Here are a few Mexican recipes you'll adore:
If you love making Mexican food at home, try these dishes:
● Pumpkin Smoothie for Dia de los Muertos – Day of Dead
● Slow Cooker Spicy Pulled Pork Tacos are perfect for Taco Tuesdays or any time you want to make a Mexican food taco bar
● Best Carne Asada Marinade is awesome for grilling. It can also be made in the crock-pot
● Layered Mexican Christmas Eve Salad can be made in a trifle bowl during the holidays
● Easy Breakfast Chilaquiles are made in a skillet for easy cleanup
● Crock-Pot Mexican Shredded Chicken with Black Beans & Corn is made with pineapple – so good!
● Quick Horchata is made with rice milk
● Chopped & Layered Taco Salad is one of my kids' favorite recipes
Cook up more easy rice dishes
Besides homemade Mexican rice, here are some more easy rice dishes you'll love making for your family and friends:
This Wild Mushroom Risotto makes a delicious side dish.
Cook up this Instant Pot Chicken and Rice Recipe on a busy weeknight when you don't have too much time.
Make some Chicken and Sausage Gumbo for Mardi Gras!
This Zesty Slow Cooker Porcupine Meatballs Recipe is made with rice and ground beef.
Mexican Picadillo is served on long grain white rice.
Yield: 8 SERVINGS
Easy Mexican Rice Recipe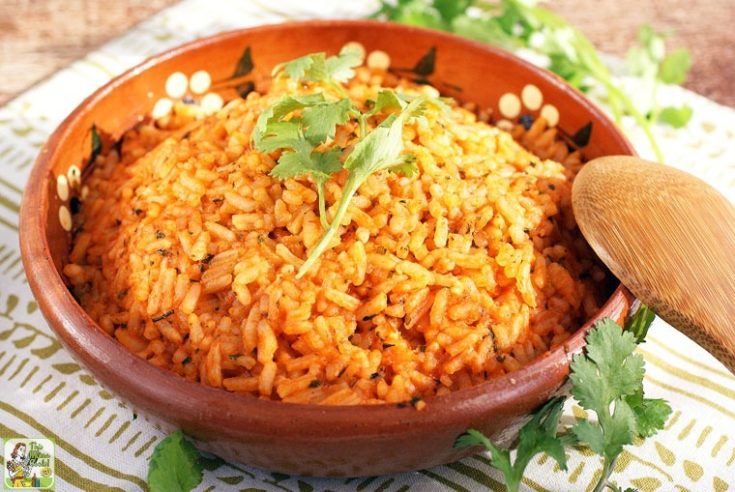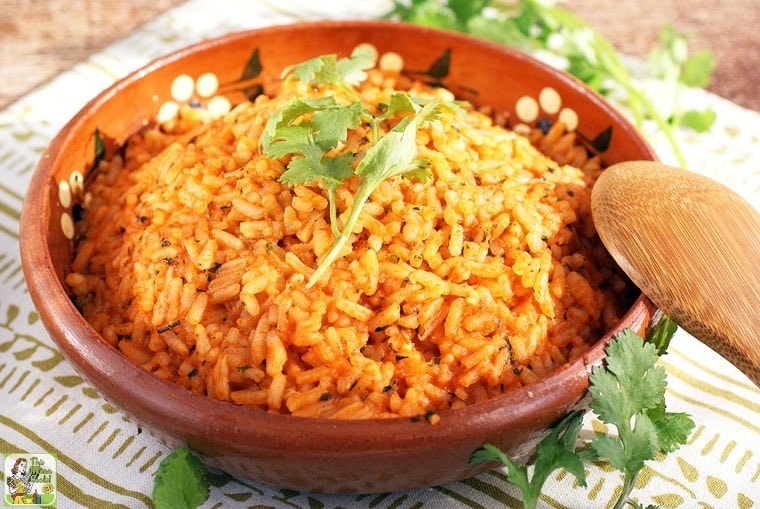 You won't believe that this easy Mexican rice recipe takes only 10 minutes. An authentic Mexican rice recipe for burritos or tacos.
Ingredients
2 tablespoons olive oil
1 teaspoon garlic powder
1 teaspoon ground cumin
1 teaspoon sea salt
2 tablespoons finely chopped fresh cilantro
1 cup tomato sauce
2 cups chicken or vegetable broth
2 cups uncooked instant white rice
Instructions
In a large saucepan, heat olive oil over medium heat. Add garlic powder, cumin, salt, and cilantro. Stir constantly, cook until spices become aromatic – about 1 minute.
Add tomato sauce and broth. Turn up the heat to medium-high and bring to boil.
Add rice. Bring back to boil. Cover Mexican rice and turn off the heat. Let stand 5 minutes or until tomato and chicken broth is absorbed. If the rice seems wet, place back on the stove and cook Mexican rice over medium heat, stirring constantly.
Nutrition Information:
Yield:
8
Serving Size:
1/2 cup
Amount Per Serving:
Calories:

167
Total Fat:

8g
Saturated Fat:

2g
Trans Fat:

0g
Unsaturated Fat:

6g
Cholesterol:

32mg
Sodium:

518mg
Carbohydrates:

13g
Fiber:

1g
Sugar:

1g
Protein:

10g
Nutritional information is automatically calculated per the ingredients list. Serving size may not be accurate. Please double-check with your preferred nutritional app for the most accurate information.
Originally published December 16, 2014 and February 29, 2016. Updated with new pictures and information.