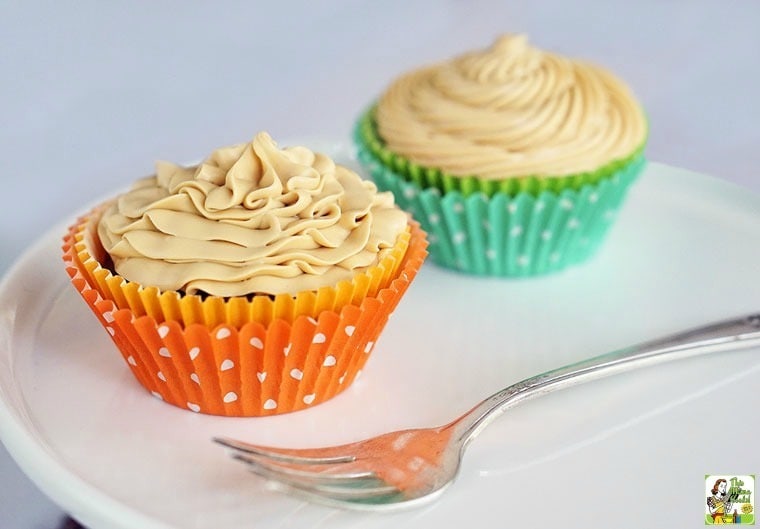 You'll love these Gluten Free Brownie Cupcakes with Dulce de Leche Frosting even if you're not gluten free. They're easy enough for anyone to make – and delicious for all to enjoy.
That's because these easy gluten free brownies are made from gluten free Pillsbury brownie mix. And the dulce de leche frosting is made from vanilla Pillsbury frosting.
All you need are a couple of extra ingredients to add to these gluten free cupcakes and you have fancy bakery style cupcakes!
These espresso fudge cupcakes are ideal for school bake sales and lunch box treats. I also like baking brownie cupcakes for cookouts and potlucks as they're self-serve. There's no need to hunt around for a knife for cutting the brownies! (Doesn't it drive you crazy when someone scratches up your non-stick baking pan with a butcher knife?)
Once your guests taste these Gluten Free Brownie Cupcakes with Dulce de Leche Frosting, people won't believe these they're gluten free let alone not made from scratch!

What you need to make Gluten Free Brownie Cupcakes
Like my Gluten Free Surprise Inside Jelly Bean Cake, you don't need anything weird or "health foodie" for this brownies cupcake recipe. Most supplies can be bought at your local supermarket, crafts store, or online for straight to your door convenience!
To make brownie mix cupcakes, you'll need Pillsbury Gluten Free Premium Chocolate Fudge Brownie Mix with Chocolate Chips. I love that it already has chocolate chips in the mix so you don't have to add any yourself. This makes the Gluten Free Brownie Cupcakes even yummier!
Pillsbury Gluten Free Chocolate Fudge Premium Brownie Mix with Chocolate Chips, 15.5 oz
Instant espresso powder can be found in the coffee aisle. I love Café Bustelo Espresso Style Instant Coffee and always have a jar in my pantry to add a few teaspoons to a smoothie for a quick morning pick me up!
Make sure to use either Pillsbury Funfetti Vanilla Flavored Frosting or Pillsbury Creamy Supreme Vanilla Frosting. Both are gluten free like all of Pillsbury's frostings and taste great. (I don't like using Pillsbury's Whipped Supreme Vanilla Frosting as it's very thin and doesn't pipe well). I always like to keep a few extra cans in my pantry so I can bake and decorate cupcakes anytime I want, too, since it goes with anything you're baking up.
To jazz up the frosting, I used some dulce de leche syrup. One of my favorite flavors is dulce de leche, which is caramelized sweetened condensed milk. You can find all sorts of recipes online to make your own, but using store bought syrup makes this gluten free brownie cupcakes recipe even easier.

Baking up your brownie cupcakes recipe
Part of the fun of making brownie cupcake recipes, is using pretty cupcake liners. Match them to your party theme or to your team colors.
Another option is colorful silicon baking cups, which are more eco-friendly since you can wash them out and reuse them. I use them in my Picadillo Hash Brown Muffin Cups and Easy Frozen Greek Yogurt Bites, too.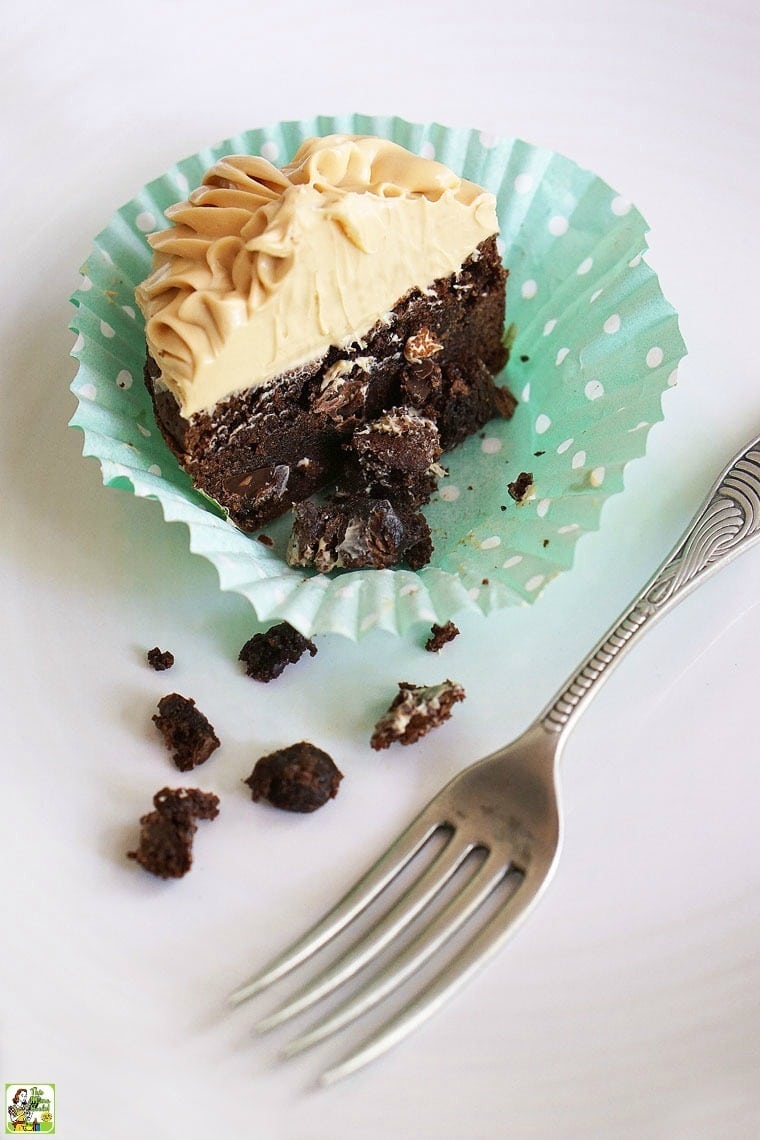 This Mama's tips for making gluten free brownie cupcakes
Want to dial up the coffee flavor and caffeine even more? Use strong coffee instead of water in these brownie mix cupcakes!
Looking for more brownie cupcake recipes? Try instant chai mix instead of instant espresso powder.
Don't like the dark brownie cupcakes showing through your cupcake liner? Bake them in a one cupcake liner or a plain white cupcake liner. Then after your easy brownie cupcakes cool, place them in a second pretty cupcake liner before frosting. That way the outer liner is fresh looking and perfect for bake sales or serving to guests at your cookout.
Double check your dulce de leche syrup label for gluten. Don't ever assume!
If you want to pipe your frosting on top of these gluten free brownie cupcakes, make sure to refrigerate it at least 30 minutes after mixing in the dulce de leche syrup. This way the frosting will stiffen up a bit and will be easier to handle. I used a large Wilton 2D and 2C tips to pipe the frosting.
Wilton 418-1704 Icing Tip Set, X-Large
If you buy Pillsbury Funfetti Vanilla Flavored Frosting instead of Pillsbury Creamy Supreme Vanilla Frosting (either will work) save the sprinkles for another baking recipe. Or put them ice cream sundaes!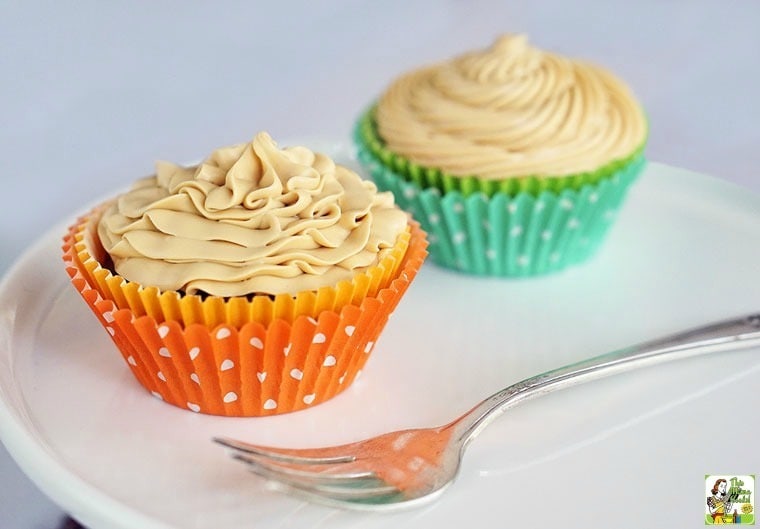 Gluten Free Brownie Cupcakes with Dulce de Leche Frosting
Directions
Set oven to 350 degrees F.
Line muffin tin with paper baking cup liners to make 8 regular-size cupcakes.
Combine brownie mix, espresso powder, oil, water, and egg in a large bowl. Stir 50 strokes with a spoon.
Fill each muffin cup 2/3 full with brownie mix.
Bake at 350 degrees F for 25 minutes or until toothpick inserted in the center comes out clean. Cool brownie cupcakes in pans 10 minutes. Then transfer cupcakes to a cooling rack to cool for 30 minutes.
While the brownie cupcakes are cooking, spoon the frosting into a medium sized bowl. Add the dulce de leche syrup. Stir with a rubber spatula until the syrup is thoroughly mixed into the frosting.
Spoon frosting back into the original container. Place lid back on. Refrigerate until brownie cupcakes have cooled.
Transfer the frosting to frosting piping bag fitted with large star tip. Pipe the frosting in a circular pattern on tops of cupcakes. Or you can frost cupcakes with an offset spatula instead.
Store cupcakes at room temperature or in the refrigerator before serving.
Servings
:
8 brownie cupcakes
Serving size:

1 brownie cupcake
Originally published on April 21, 2016. Updated with new pictures and information.