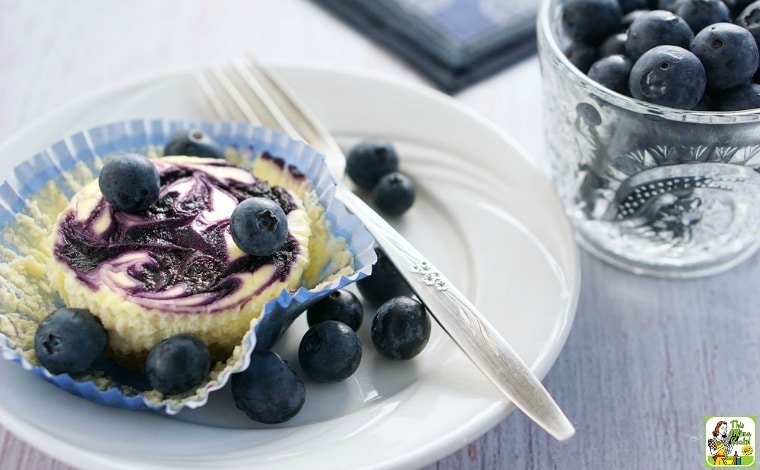 Looking for an easy gluten free cheesecake recipe that you can bring to a backyard barbecue or summer picnic? Then you've got to make these Gluten Free Mini Blueberry Swirl Cheesecakes!
I love this mini blueberry cheesecake recipe since it's easier to make than a regular cheesecake. This easy mini blueberry cheesecake recipe is guilt free since it's made with non-fat Greek yogurt, low fat Neufchatel cream cheese, and monk fruit powder instead of sugar!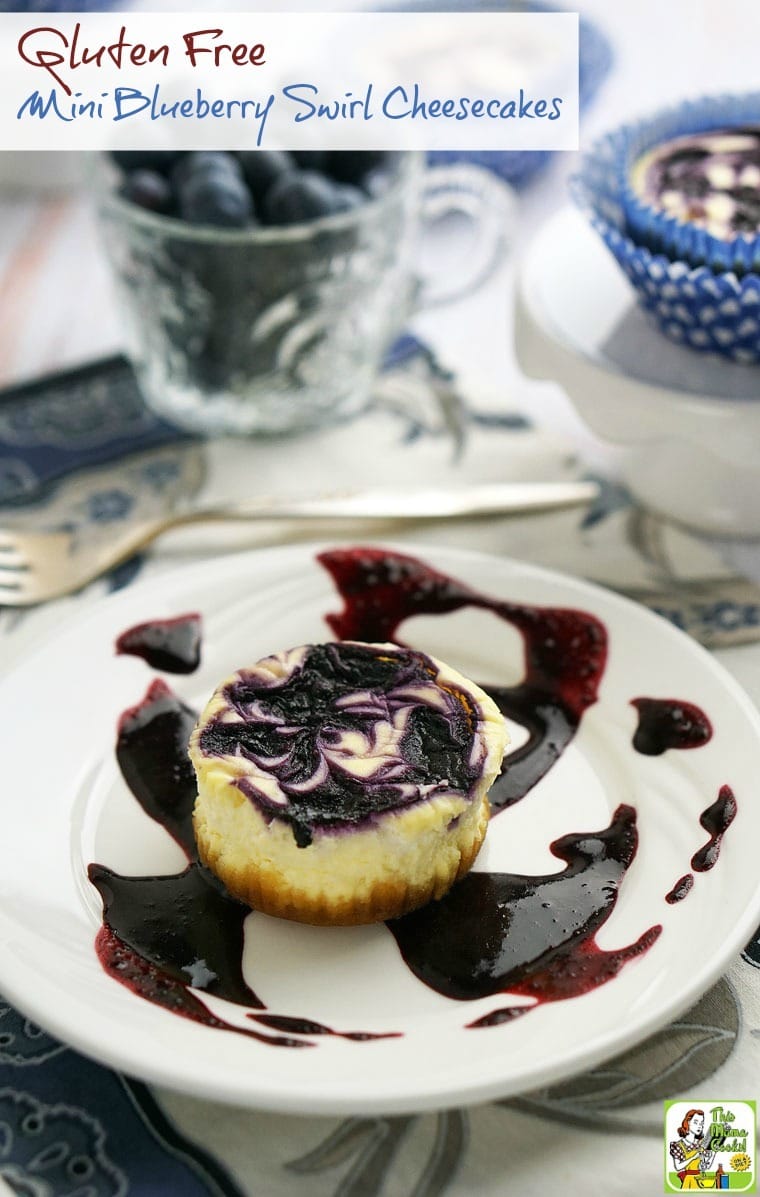 This mini blueberry swirl cheesecake recipe is perfect for summer entertaining!
What I love about these mini blueberry cheesecake cupcakes is that they're custom made for parties. Instead of trying to slice up a cheesecake for your guests, everyone can help themselves to a few blueberry cheesecake cupcakes. Plus, If you're bringing these mini cheesecakes cupcakes to a party, they're so much easier to transport than a big ol' cheesecake!
For fun, you can coordinate the colors of the cupcake liners with your party colors. (I like keeping the liners on and adding an extra one since the inner liner will darken from the batter and cooking.) If you're making your mini blueberry swirl cheesecakes for a Labor Day picnic, use red, white and blue cupcake liners. (You can find cupcake liners online or at your favorite party or craft store.)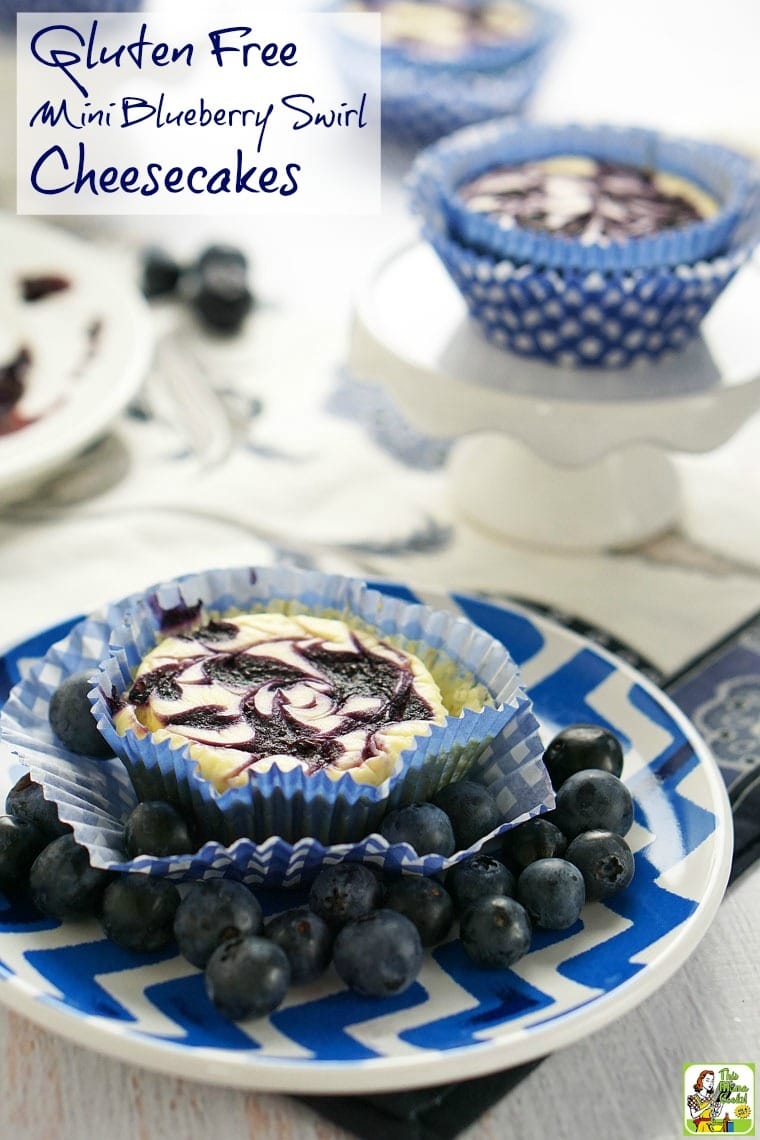 A better for you fresh blueberry cheesecake recipe
For your guests on gluten free diets, the bottom layer is made with gluten free animal crackers. Your non-gluten free guests won't care as these mini blueberry swirl cheesecakes are delicious!
For those guests watching their waistlines, make sure to serve this fresh blueberry cheesecake recipe with lots of extra blueberries. They can load up on the healthy fruit and have a perfect treat-sized portion of mini blueberry swirl cheesecake. Yum!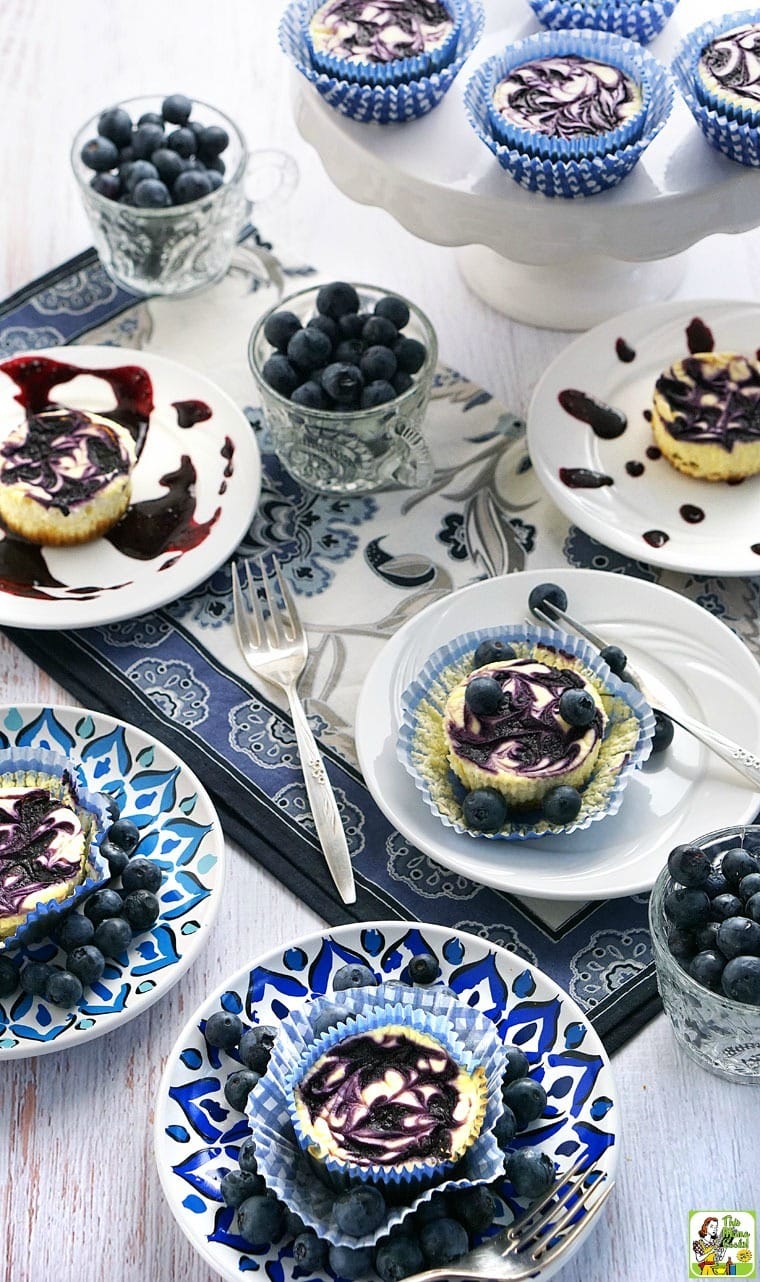 This Mama's tips for Gluten Free Mini Blueberry Swirl Cheesecakes
You can make the crumbs and refine the blueberry curd in either a high speed blender or a food processor.
Drizzle leftover blueberry curd on a plate for a fantastic restaurant style dessert mini cheesecake presentation. Add leftover crust crumbs, if you like. Don't forget some fresh blueberries on the side, too!
After straining the blueberry curd, keep the blueberry skins for smoothies or to put on your breakfast yogurt. The skins are full of fiber and just as sweet and delicious as the blueberry curd – mmmm!
I used monk fruit powder as my non-calorie sweetener, since it's from a natural source. You can use any non-calorie sweetener you like in this fresh blueberry cheesecake recipe. If you're not concerned about calories, regular sugar can be used as well.
If you can't use corn products in your diet, use rice starch instead of cornstarch. You can find it online and at Asian markets.
Hol Grain Gravy Thickener, 6 Ounce
I wasn't brave enough to try a non-dairy version of this mini blueberry swirl cheesecake recipe using a vegan cream cheese and non-dairy soy or coconut yogurt. (I love cream cheese, but can't eat too much of it without a tummy ache.) If you try some non-dairy substitutes, let me know.
You can use any type of crumbly gluten free cookie you prefer for the bottom layer, such a gluten free ginger snaps or sugar cookies. I used gluten free animals crackers because my grocery store has a store brand that's inexpensive and tasty.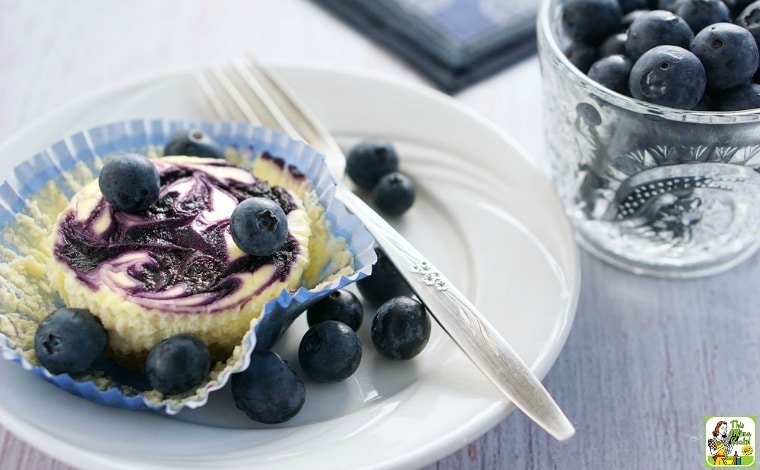 Gluten Free Mini Blueberry Swirl Cheesecakes
Ingredients
For the blueberry curd:
1 1/2 cups

blueberries (fresh, not frozen) plus extra for garnish

1/4 cup

monk fruit powder

1 tablespoon

lemon juice

2 teaspoons

cornstarch

1 tablespoon

cold water
For the gluten free crust:
1 cup

gluten free cookie crumbs

1/4 cup

monk fruit powder

1/4 cup

butter or buttery spread, melted
For the cheesecake filling:
3 packages (8 ounces each)

Neufchatel cream cheese, softened

1 cup

monk fruit powder

3/4 cup

non-fat Greek yogurt

2 tablespoons

gluten free all-purpose flour

1 teaspoon

gluten free vanilla extract

4

eggs, lightly beaten
Directions
For the blueberry curd:
Combine the blueberries, monk fruit powder, and lemon juice in a small saucepan. Cook over medium heat for 5 minutes, stirring frequently, until the blueberries soften. Use the back of your spoon to pop the blueberries.
Combine the cornstarch and water in a small bowl. Stir until smooth. Add to the blueberry mixture and bring to a boil. Stir mixture for 2 minutes until thickened.
Remove saucepan from heat. Cool to room temperature.
Transfer blueberry mixture to a blender or food processor. Cover and process until smooth.
Strain blueberry mixture into a small bowl. Set aside.
For the gluten free crust:
In a blender or food processor, pulse handfuls of gluten free cookies until you have 1 cup of fine crumbs.
Add monk fruit powder to the crumbs. Pulse to mix.
In a microwavable bowl, melt the butter. Add the cookie crumb mixture to the bowl. Mix until thoroughly combined.
Line muffin pans with 24 cupcake liners. Spoon a rounded tablespoon of cookie crumb mixture into each. Press crumb layer down with your fingers.
For the cheesecake filling:
Heat oven to 350 degrees F.
In a large bowl, beat cream cheese and monk fruit powder on medium until smooth.
Beat in Greek yogurt, gluten free flour, and vanilla.
On low speed add eggs. Beat until just combined.
Pour the cheesecake batter into the cupcake molds until they're about 80% full.
Drizzle 1/2 teaspoon of the blueberry curd on to each cupcake. Swirl around with a toothpick.
Bake mini cheesecakes in center of oven for 25 minutes. Insert a toothpick into the center of a cheesecake. If it comes out sticky, it's not done. If it comes out clean or a bit crumbly, then it's done.
Remove mini cheesecakes from oven and let cool for 45 minutes before removing the cupcake liners.
Refrigerate mini cheesecakes for 2 hours before serving.
Total Time:
1 Hour 20 Minutes
Servings
:
22-24 mini cheesecake cupcakes
Serving size:

2 mini cheesecake cupcakes
Originally published on June 15, 2016. Updated with new information.