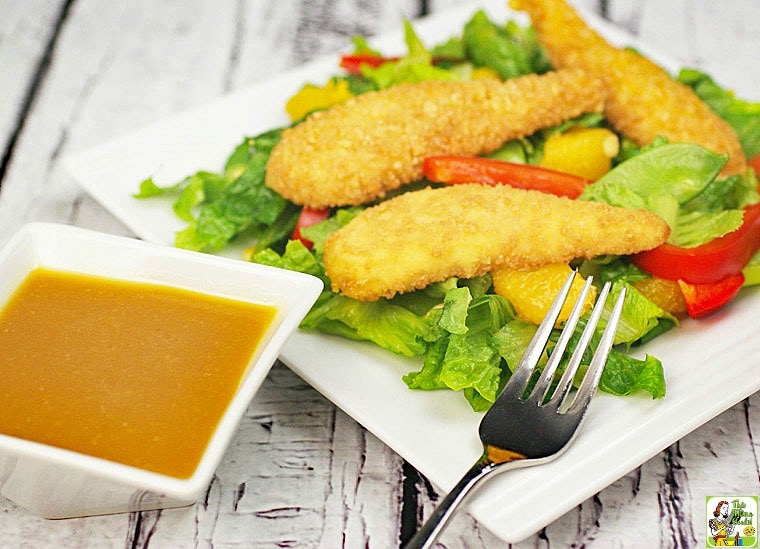 You'll love this Easy Asian Chicken Salad recipe, if you like ordering Chinese chicken salads at your favorite restaurant.
Before I was on a gluten free diet, I ordered them all the time. There was nothing better than the combination of tender chicken, tangy orange and ginger dressing, and the crunchy salad, vegetables and fried wontons!
However, Asian chicken salad recipes are a big no-no if you're gluten free.
First, no fried wontons since they're made of wheat. Sometimes the chicken is breaded.
The orange and ginger dressing usually contains soy sauce, which also has wheat in it.
Impossible!
The solution was to make a healthy Asian chicken salad at home. But how could I do that without grilling chicken breasts, especially on those nights when I was too busy – or it was too hot – to cook?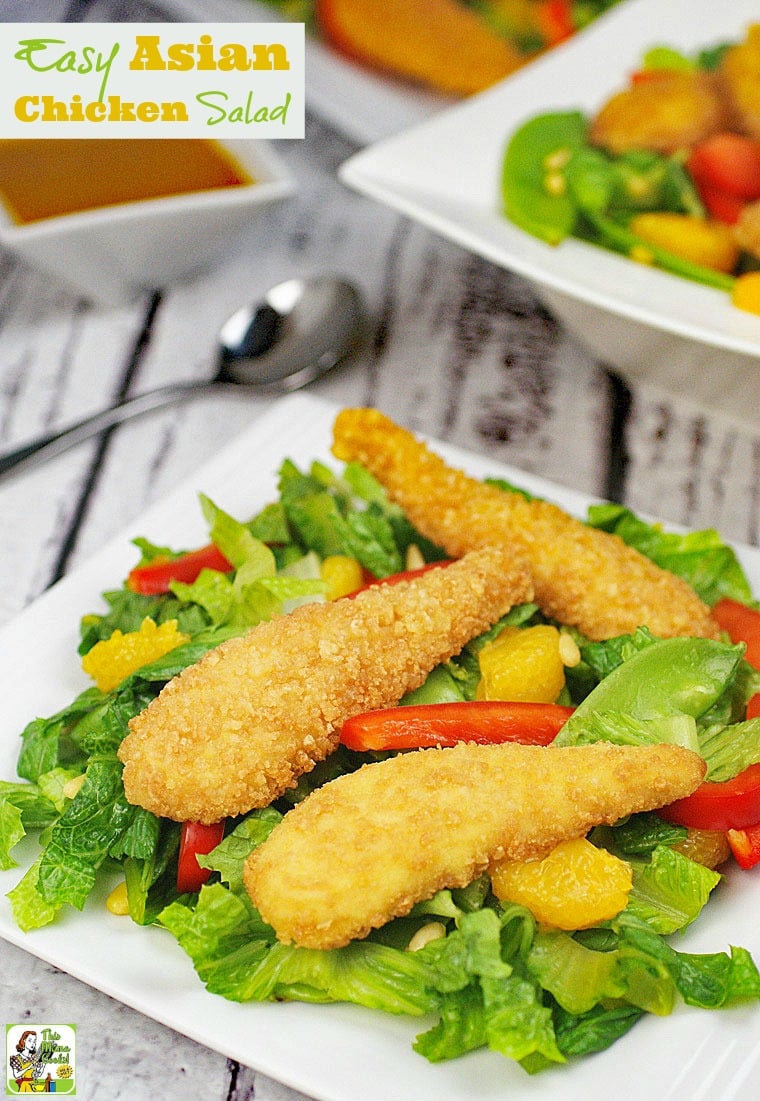 How to make a gluten free Asian Chicken Salad
My desire not to cook up chicken breasts for a healthy Asian chicken salad led me to the freezer section where I found Perdue Simply Smart Gluten Free Breaded Chicken Breast Tenders.
They're fully cooked, so all you have to do to defrost them is to heat them for a little over a minute in your microwave.
Even my daughter, who's not gluten free, thinks they're yummy. (You can find where they're sold here.)
I've combined the gluten free chicken breast tenders with a quick and easy chopped Chinese chicken salad and a gluten free Asian chicken salad dressing in the recipe below.
The combination makes a delicious and easy weeknight dinner.
You can also use the Asian Chicken Salad Dressing as a dipping sauce if you think your kids won't like this easy recipe for Easy Asian Chicken Salad.
They can have the chicken tenders with some mandarin oranges on the side instead!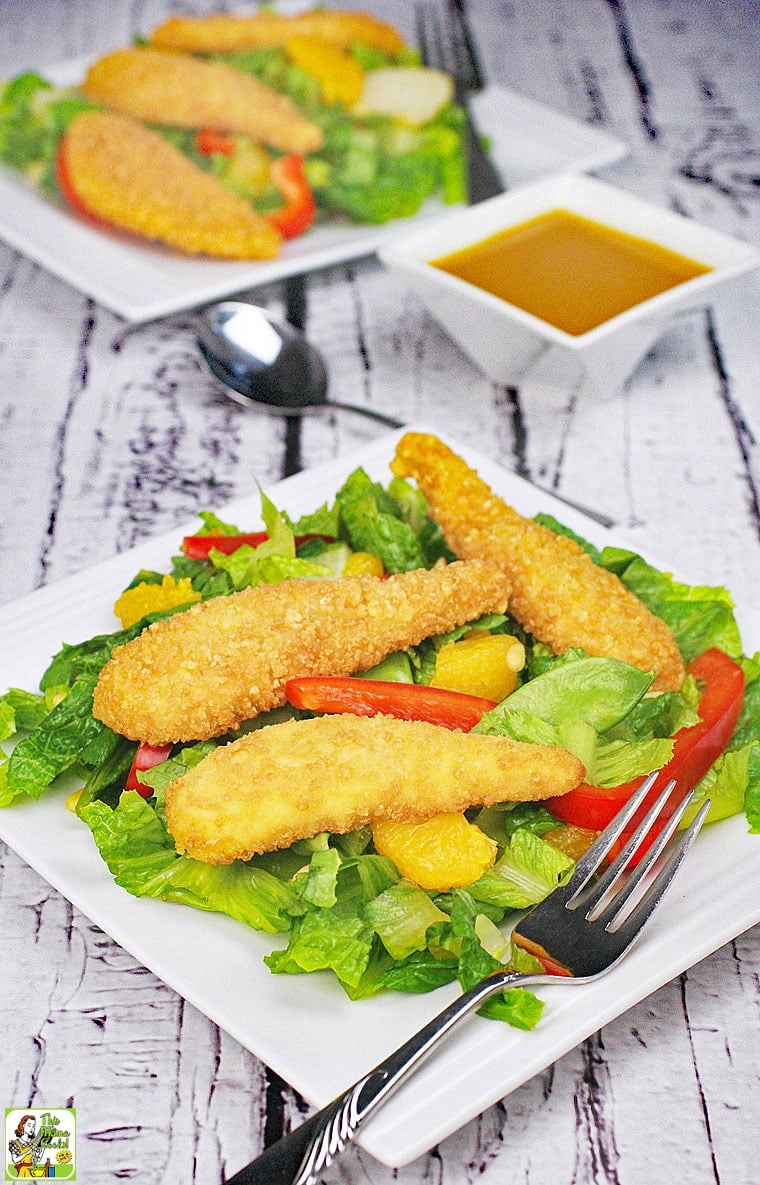 This Mama's tips for making Asian chicken salad dressing
You can find white miso online, at Asian markets, and at your favorite health food store. I've even seen it sold in the Asian section of my grocery store, so it's not as unusual an ingredient as you think.
To keep this easy Asian chicken salad recipe gluten free, you must use a gluten free soy sauce or a tamari sauce.
I prefer using tamari sauce since many of the gluten free soy sauces I see sold in stores are made with sketchy fillers and dyes.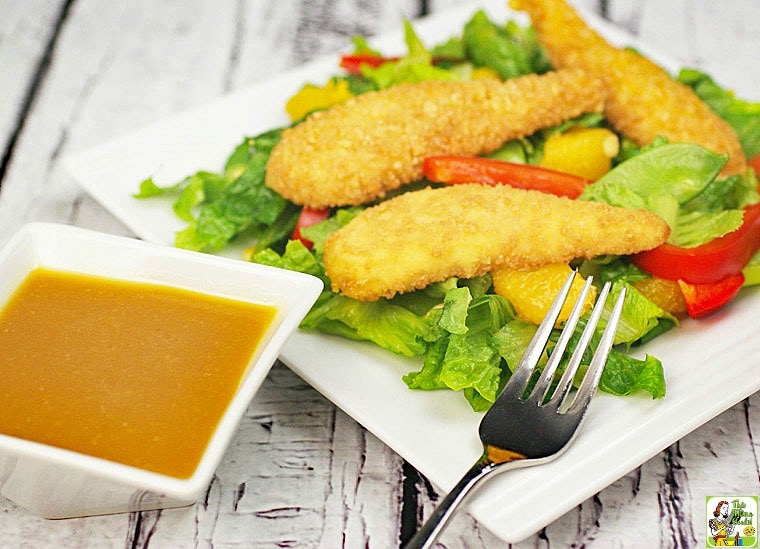 Easy Asian Chicken Salad Recipe
Ingredients
For Easy Asian Chicken Salad Dressing
1 cup

orange juice

1/2 cup

rice vinegar

1/4 cup

white miso

2 tablespoons

sesame oil

2 tablespoons

agave nectar or honey

2 tablespoons

tamari sauce> or gluten free soy sauce

1 teaspoon

grated fresh ginger
Easy Asian Chicken Salad
1 bag

Perdue Simply Smart Gluten Free Breaded Chicken Breast Tenders

3 stalks

romaine lettuce, chopped

1 cup

snow peas

1

red pepper, seeded and cut into thin strips

1 (15 ounce) can

mandarin oranges (no sugar added), drained

1 (8 ounce) can

sliced water chestnuts, drained

1/3 cup

pine nuts
Directions
For Asian Chicken Salad Dressing
Combine ingredients in a small sauce pan over medium high heat. Bring to a boil stirring occasionally.
Lower heat and simmer for 10 minutes stirring occasionally. Use back of spoon to break up miso and ginger.
Strain sauce through a fine mesh sieve to remove any solids. Let cool in refrigerator.
Easy Asian Chicken Salad
Heat Perdue Simply Smart Gluten Free Breaded Chicken Breast Tenders according to directions on bag.
Combine lettuce, snow peas, red pepper, mandarin oranges, water chestnuts and pine nuts in a large bowl and toss.
Serve salad in bowls with 3-4 chicken breast tenders. Serve Asian Chicken Salad Dressing on the side.
Servings
:
Serves 4. Makes 1 1/2 cups of dressing.
Serving size:

1/4 of recipe
Originally published on Sep 14, 2015. Updated with new pictures and information.