If you're looking for one pot chicken recipes, you have to try my mother's recipe for chicken Normandy. I call it Chicken Normandy à la Marie-Celine. (Her French name is Marie-Celine. When she came to America in 1960, she changed it to Marilyne.)
My French mother is a fabulous cook. One of her French dishes that I requested as much as her beef bourguignon and chocolate mousse was her chicken Normandy recipe.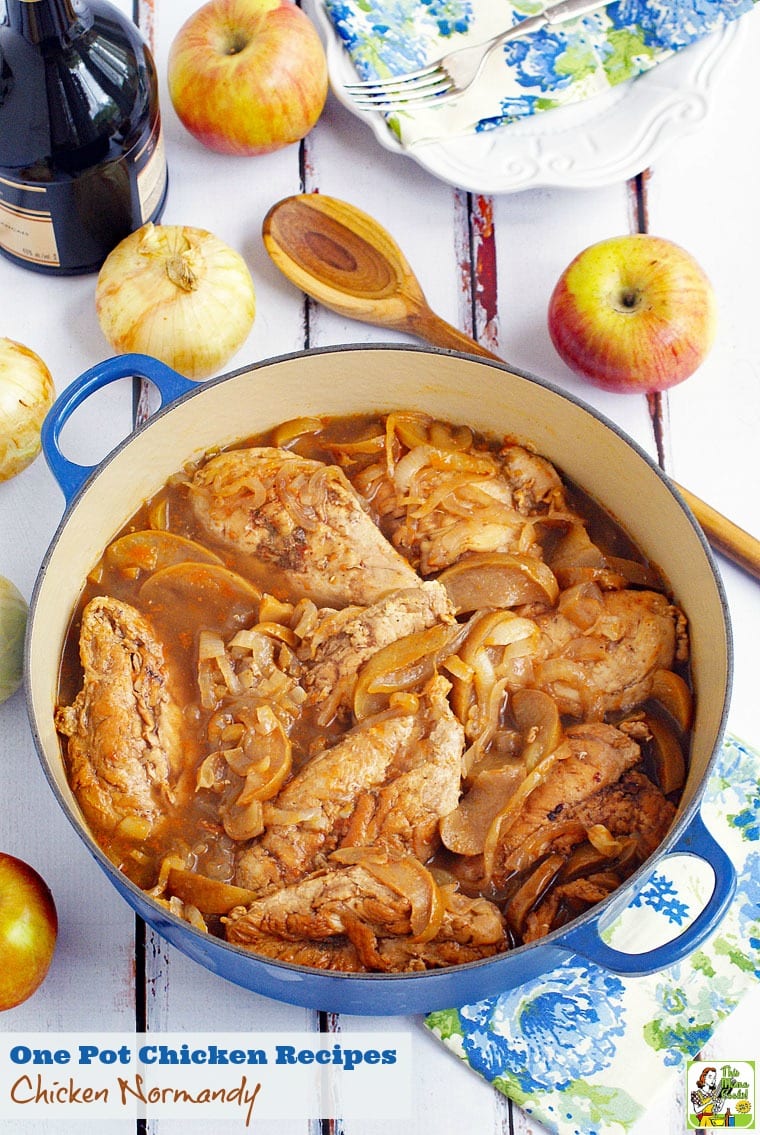 Chicken Normandy traditionally uses apples, brandy and a cream sauce. It's named for the Normandy region of France, where chicken Normandy apples are grown and brandy is made.
My mom always made a healthed up the traditional chicken Normandy recipe as my dad avoided cream sauces due to a sensitive tummy.
I've gone one step further by substituting a buttery spread instead of butter, since I avoid whey.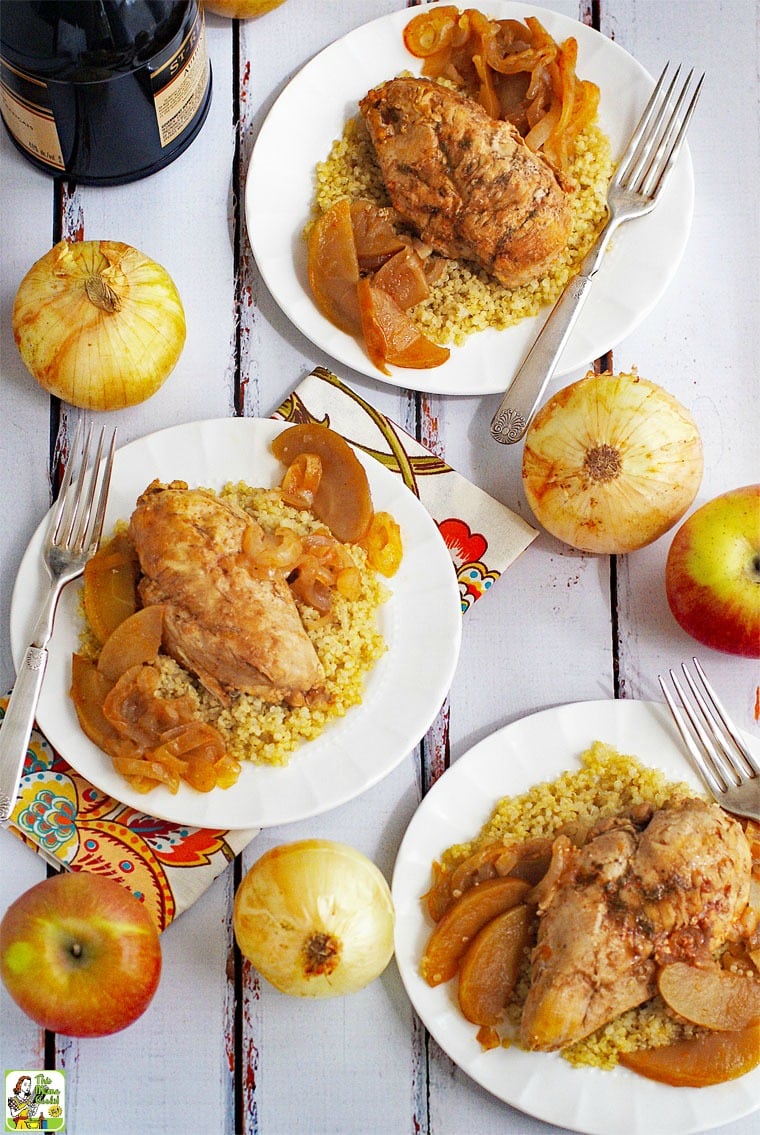 Making Chicken Normandy recipes even healthier
My mom always used chicken thighs with the bones in and the skin on. It was always a chore to peel off the skin when eating. And us kids found it kind of yucky to deal with the bones.
Instead, I decided to use chicken breasts in my Chicken Normandy à la Marie-Celine instead of thighs. I feel that cooking skinless chicken is healthier as it cuts back on fat and calories. Plus, it takes less time!
However, chicken breasts can sometimes be dry and tasteless. So don't cut back on the smoked paprika, poultry seasoning, or the brandy!
For this one pot chicken dish, I used the traditional brandy since it adds a wonderfully unique flavor to the dish. However, if you want to avoid alcohol, you can use apple cider instead.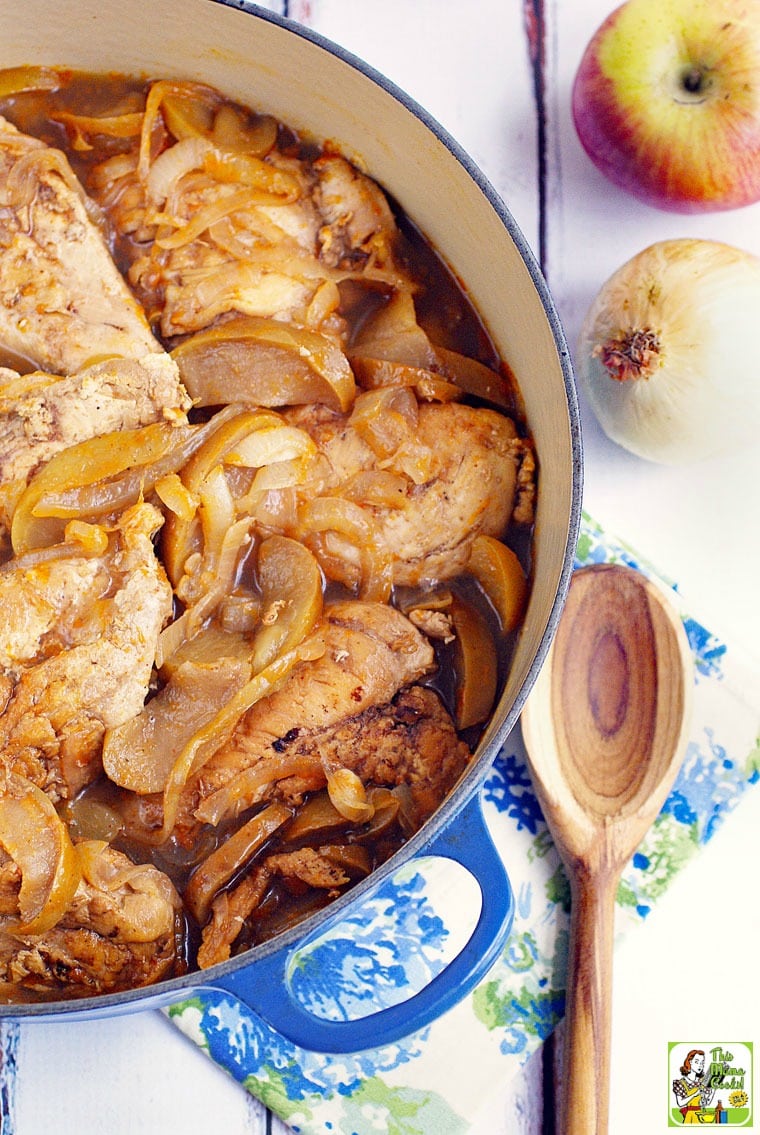 This Mama's tips for making Chicken Normandy a la Marie-Celine
This is a true one pot chicken dish if you have a 9-quart Le Creuset Round French (Dutch) Oven or a large oven safe pot.
If you don't have as large a Dutch oven for your one pot chicken recipe, you have a few options:
You can divide the recipe in half and cook it in two 4 1/2-quart Dutch ovens. Adjust cooking time accordingly.
Or you can cook up the chicken in a skillet, scrape off any of the brown bits and put the chicken, onions, apples, seasoning and brandy in casserole dishes. (Divide the seasoning and brandy depending on how many casserole dishes you're using.) Cover the casseroles with foil and cook. Adjust cooking time accordingly.
Cook up the Chicken Normandy in a heavy, oven safe soup kettle. Make sure the lid of the soup kettle is oven safe, too. If it isn't, you can cover the pot with a couple of layers of heavy aluminum foil instead. Serve the chicken at the table in a couple of large decorative bowls, if you wish.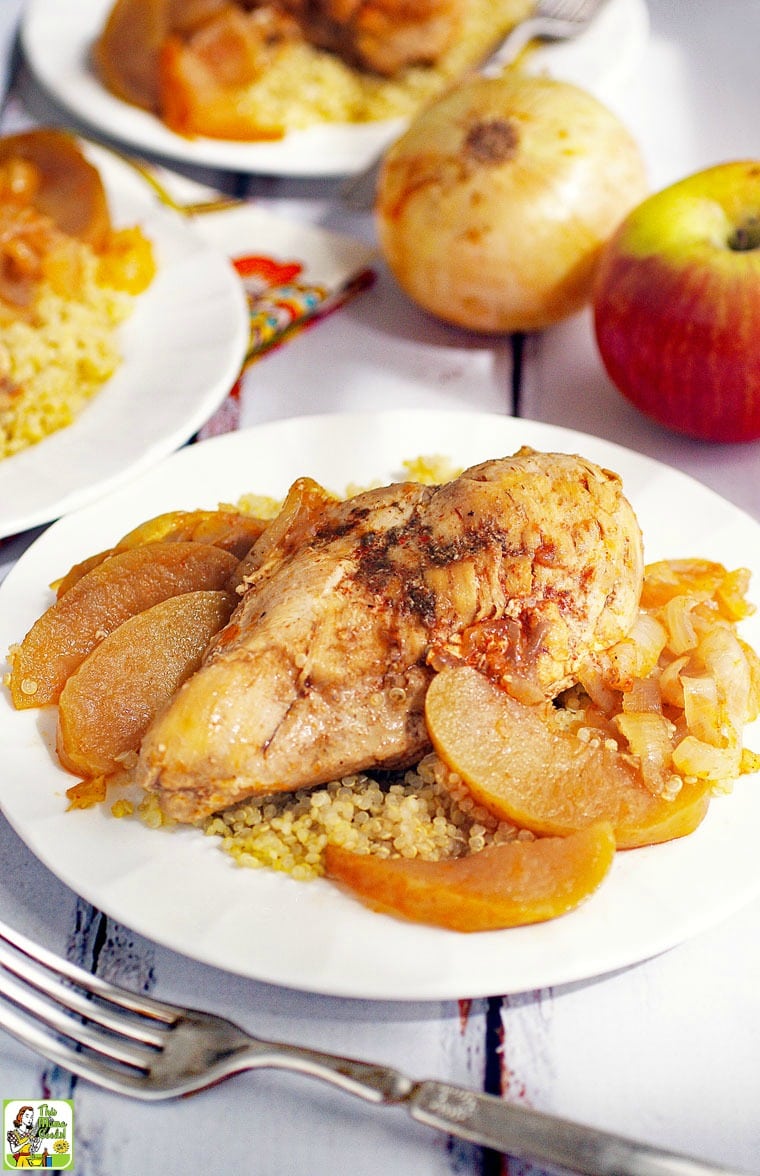 Serving tips for one pot chicken recipes
This recipe for chicken Normandy is naturally gluten free and dairy free. To keep it so, serve it on rice, quinoa, or wild rice, which are all gluten free grains. You could even serve it on gluten free noodles!
If you're serving Chicken Normandy à la Marie-Celine on rice, make sure to get your rice going in your rice cooker before starting your one pot chicken dish.
Don't have a rice cooker? WHAT!?! You MUST get one. Such a time saver and your rice comes out perfectly every time. I have a Zojirushi fuzzy logic rice cooker – works magnificently.
Chicken Normandy à la Marie-Celine
Ingredients
4 pounds

boneless skinless chicken breast portions

1/2 cup

buttery spread, divided

1 teaspoon

poultry seasoning

1 teaspoon

smoked paprika

1 teaspoon

sea salt

1/2 teaspoon

pepper

6

medium Fuji apples, cored and thinly sliced

4

medium onions, peeled and thinly sliced

1 cup

brandy or apple cider
Directions
Preheat oven to 350 degrees F.
Heat a 9-quart Dutch oven on high until hot. Melt half the buttery spread. Add half the chicken breasts to the Dutch oven and quickly cook until the each side begins to brown, approximately 4 to 5 minutes. Remove cooked chicken from skillet and place on a plate. Add rest of buttery spread to the Dutch oven and repeat with remaining chicken breasts. (If you're using a smaller Dutch oven or skillet, you'll have to do this in smaller batches.)
Turn off heat and place all cooked chicken breasts back at the bottom of the Dutch oven. Arrange so all the pieces fit evenly and don't overlap, if possible. If there are any juices plate, pour over the chicken.
Sprinkle poultry seasoning, paprika, salt and pepper evenly over chicken. Add a layer of half the apples, then a layer of half the onions. Repeat with a layer of the remaining apples and then the remaining onions.
Pour brandy evenly over the apples and onion layers.
Cover pot and place in oven for one hour or until apples are soft.
Serve on noodles, rice, couscous, or quinoa.
Total Time:
1 Hour 20 Minutes
Serving size:

1/6 of recipe - 1 (1/2) chicken breast
Originally posted on April 27, 2015. Reposted with new pictures and information.