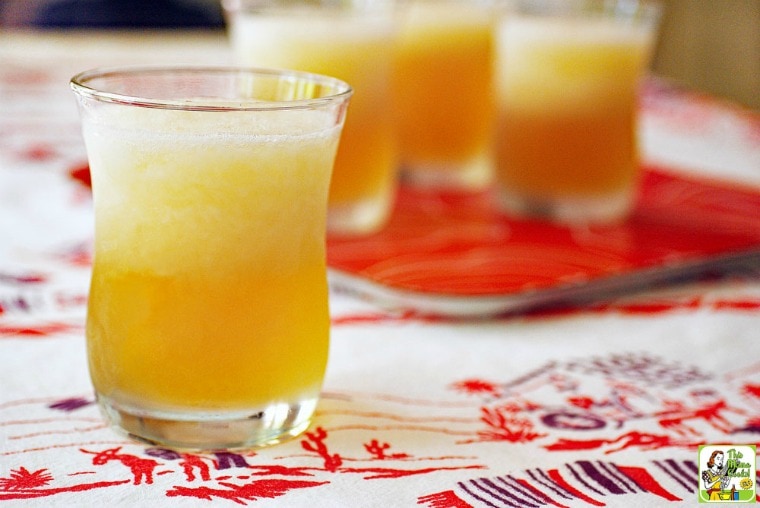 If you're looking for the best ever margarita recipe that's not the typical overly sweet lime flavored concoction, you have to try my Peach & Cherry Beer Margarita recipe.
I love drinking a beer based margarita, especially now that there are so many good gluten free beers out there.
I like Redbridge, a sorghum based beer made by Anheuser Busch, since you can find it at most grocery stores. (Here's a list of gluten free and gluten reduced beers from BestGlutenFreeBeers.com.)
If you're not gluten free, use your favorite light beer instead in this beer margarita recipe.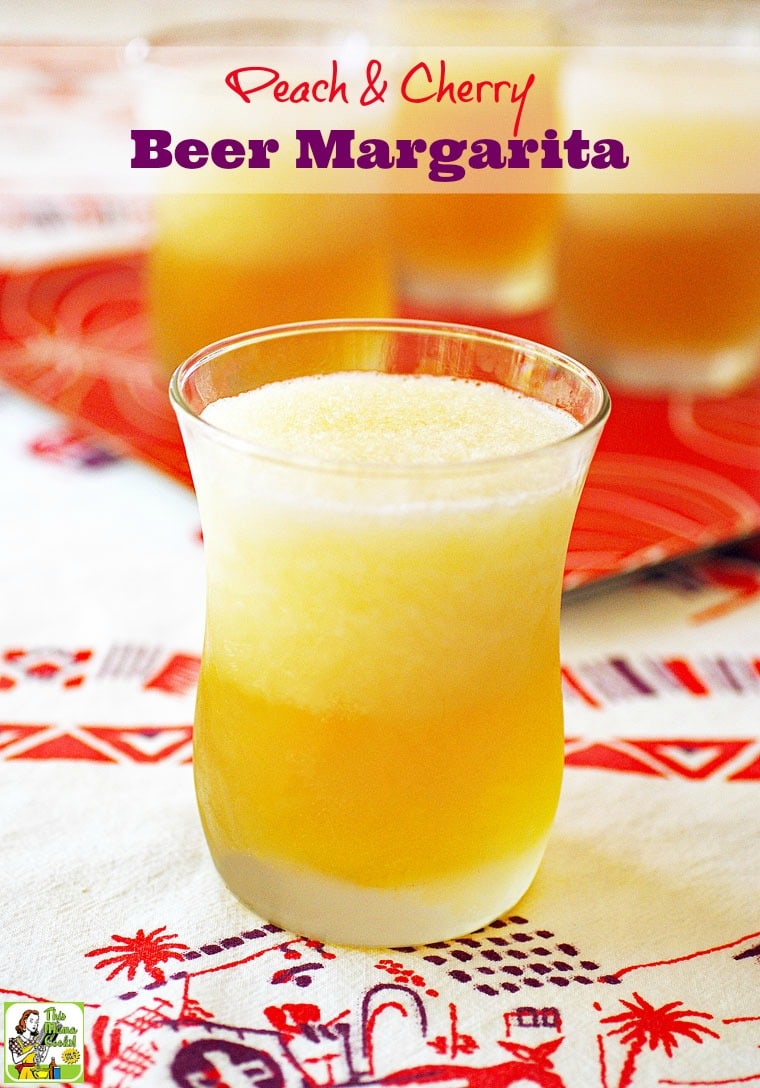 To health up this cherry beer margarita, I used Hansen's Diet Black Cherry Soda to reduce the calories. (Hansen diet sodas are sweetened with sucralose and Acesulfame Potassium.)
If you don't like diet sodas, but like "natural soda" with real ingredients, Black Cherry Blue Sky Soda flavored with cane sugar would be a good alternative.
To make this a healthy frozen peach margarita, I used Welch's 100% Juice White Grape Peach concentrate.
If you've ever read the label on a can of limeade that's used in many margarita recipes, you'll notice it's pure high fructose corn syrup and some lime flavorings. Yuck!
So, I had needed to find something that was 100% juice with nothing added for this best ever margarita recipe.
Get your best ever margarita recipe inspiration from Practical Magic
The brainchild behind this frozen beer margarita recipe was the Food 'N Flix movie blogger recipe challenge. That month's movie selection was Practical Magic and the challenge was hosted by Glennis at Can't Believe We Ate.
For those of you who want to see the movie that sparked my beer based margarita recipe, it's a late-90s romantic comedy starring Sandra Bullock and a red-haired Nicole Kidman as the Owens sisters, Sally and Gillian.
They're raised by two aunts played by Stockard Channing and Dianne Wiest. They're all witches living under a curse. You see, the men they fall in love with are doomed to an early death.
The serious and somewhat nerdy Sally and wild woman Gillian must use their witchy powers to fight the family curse and a swarm of supernatural forces after the accidental death of Gillian's bad-boy boyfriend, played by Goran Visnjic of ER fame.
Aidan Quinn plays an Arizonan policeman who investigates the sisters and ultimately falls in love with Sally.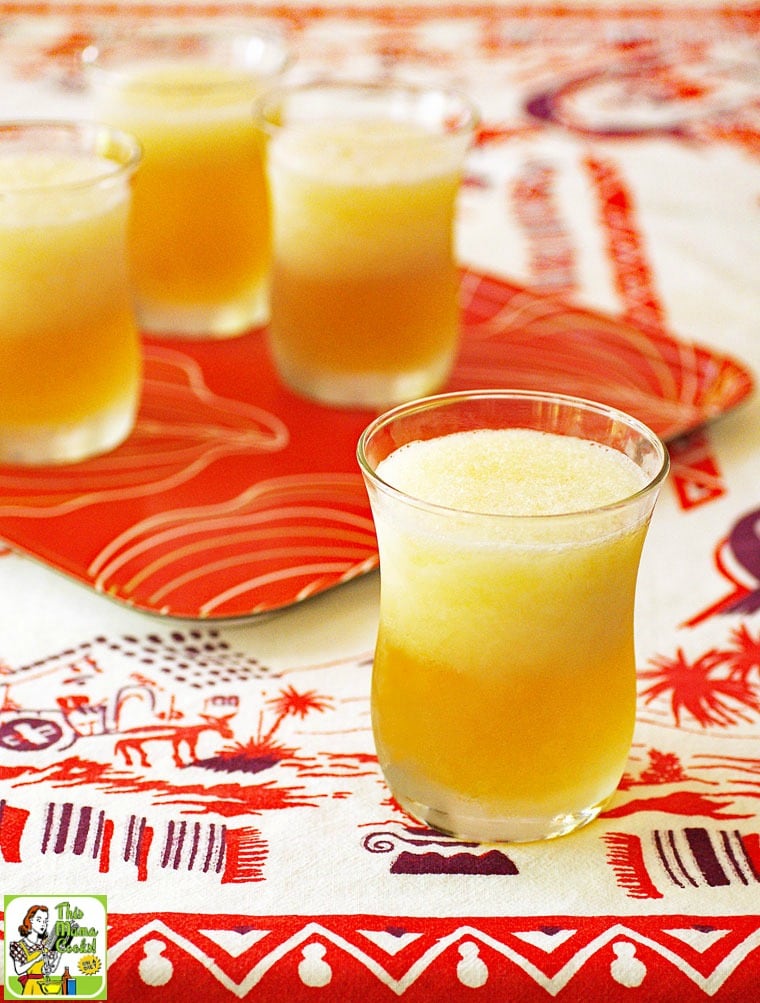 The film is a cute movie as far as romcoms go, and I was super envious of Nicole Kidman's amazing red hair. (Sandra Bullock is gorgeous, as usual, and both male leads were not hard on the eyes.)
I especially liked the ending when the Owens witches go from pariahs to the most popular and beloved family in town.
And the gorgeous Victorian house they all live in? Amazing.
All the actors and actresses are fantastic, and the movie's wonderfully directed by Griffin Dunne. The story's a bit silly at times, but it's still a fun movie to watch with your girlfriends and family. (It's PG-13 for some violence, intense thematic elements, mild profanity, and sensuality.)
For those of you who love Alice Hoffman novels, the movie is based on her 1995 book, Practical Magic.
Gizmodo writes, Practical Magic Is The Perfect Movie, No Matter What Critics Say.
So what does a movie have to do with a beer margarita recipe?
In the movie, one night the entire house of witches (except for the little girls, of course) get lit up on magical midnight margaritas and dance around to the song, "Coconut" by Harry Nilsson.
Inspired by Practical Magic, I brewed up my own skinned up and gluten free version of a best beer margarita.
But I didn't want to make lime margaritas. So when I went shopping for margarita drink recipe supplies, I looked around the store and found peach concentrate and natural cherry soda, and abracadabra came up with my Peach & Cherry Beer Margarita recipe.
However, you can call on your inner witch to brew up variations of this cherry and frozen peach margarita recipe using different 100% juice concentrates and Diet Hansen's sodas.
This frozen beer margarita recipe would make a wonderful Cinco de Mayo party drink, too. Don't forget to serve up your midnight margaritas in a cool margarita glass and pitcher set!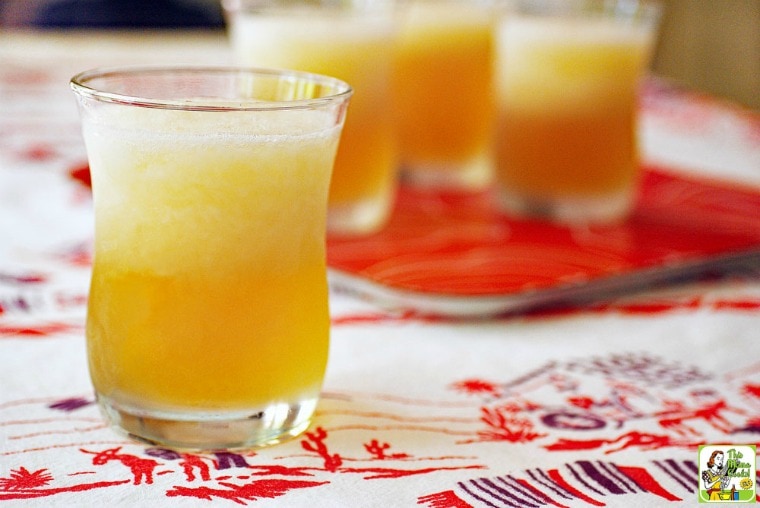 Peach & Cherry Beer Margarita
Ingredients
1 12-ounce cans

Welch's 100% Juice White Grape Peach concentrate

1 12-ounce can

Diet Hansen's Diet Black Cherry soda

12 ounces

gluten free beer

12 ounces

tequila

3 concentrate cans

ice
Directions
Pre-chill your margarita glasses. (Chilling makes a big difference, believe me!)
Combine all ingredients in a large blender.
Place blender lid on firmly and hold it down with your hand. (There's a lot of liquid in this recipe, and your margarita may threaten to overflow a bit!)
Blend the margaritas using the blender's pulse setting to prevent a spillover.
Immediately pour into chilled glasses and serve.
Servings
:
Makes 4 to 6 margaritas
Serving size:

1 margarita
Originally published on April 27, 2013. Republished with new pictures and information.