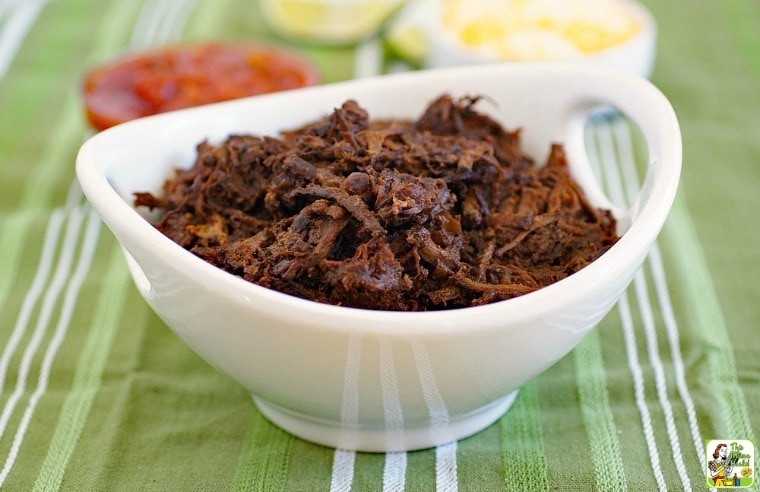 Are you looking for recipes for cooking goat meat? If you are, I came up with this Slow Cooker Goat recipe during a blogger recipe challenge using Jen from Bean Town Baker's recipe for Crockpot Pulled Chicken. However, if goat isn't your thing, you can use it to make slow cooker shredded beef or crock-pot shredded chicken, too.
If you know my recipe for carne asada, I once had a bunch of mountain goat to cook up. Mountain goat is so tough it's practically inedible unless made into sausages or cooked in a crock-pot. I cooked up my slow cooker goat for 20 hours, believe it or not.
Nevertheless, if you're using domestic goat, it's still quite tough. (Here are 10 Goat Cooking Tips.) But you won't need to cook goat in a slow cooker for quite as long – I'm guessing 8-10 hours.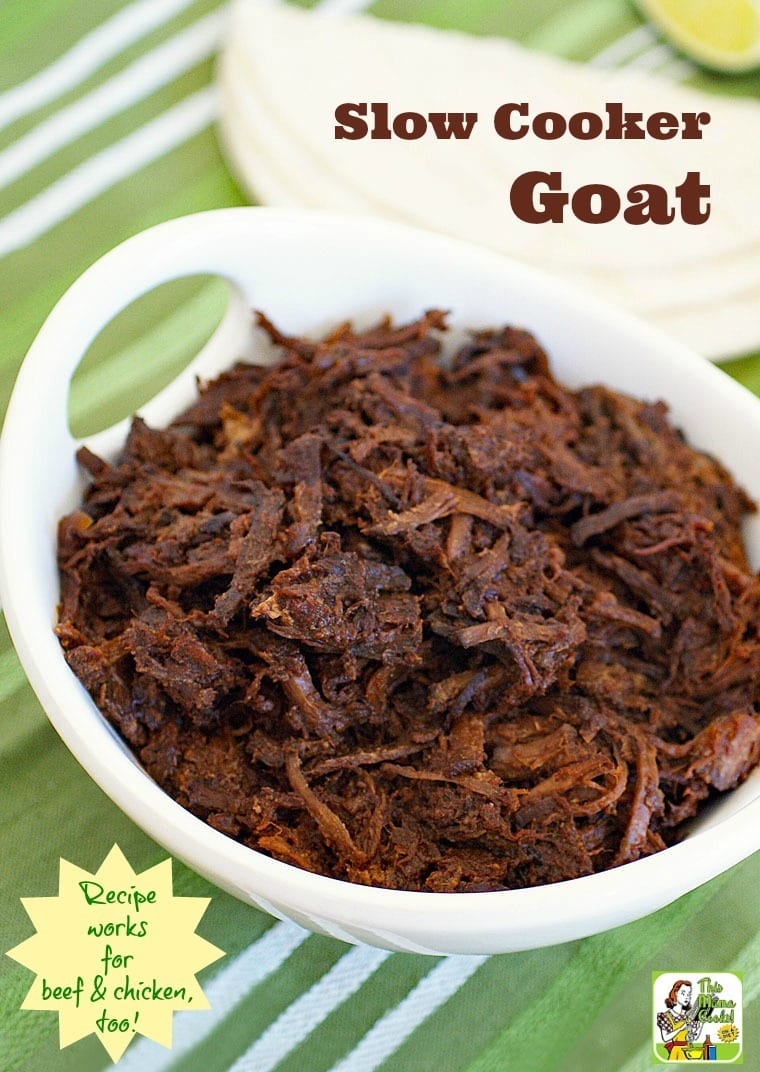 If you're using this goat crock-pot recipe for chicken, slow cook it for five to six hours. For beef, cook in your slow cooker for six to eight hours. You can tell the goat, chicken or beef is done when you can pull it apart with a couple of forks.
If it's dinner time and the meat isn't quite tender enough, you can always chop it up finely with a sharp knife. It'll be cooked through, just not to the "shredding point." Better to feed the troops than have everyone starving until 10 o'clock at night!
This Slow Cooker Goat recipe gives a nice, smoky taste to your meat of choice. That's because of the chiles in adobo, the smoked paprika, and Worcestershire sauce.
San Marcos Chipotle Peppers in Adobo sauce 7 Ounces.
Badia Smoked Paprika 16 oz.
Lea & Perrins Worcestershire Sauce-20 oz, 2 ct
For easy cleanup, use slow cooker liners. They're WONDERFUL. Now that I use them, I no longer have to soak my crock-pot overnight and scrub it using Bar Keepers Friend Cleanser and a scouring pad.
Stock up on slow cooker liners on Amazon at a great price!
How do you serve your Slow Cooker Goat Tacos?
I like serving my Slow Cooker Goat meat shredded and served on warm soft corn tortillas, street taco style. I prepare a bunch of toppings in little bowls set out on the counter buffet style, so everyone can make their own shredded goat meat tacos.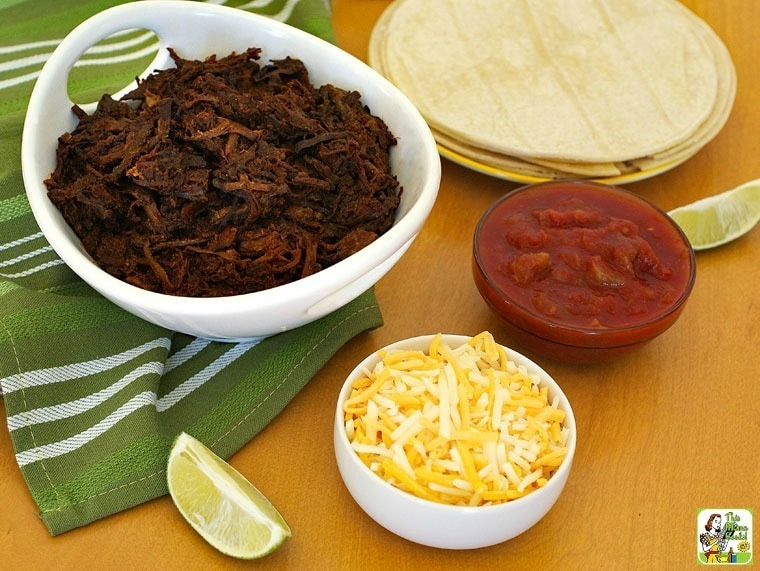 Here are just a few of the toppings we love to have on hand:
I heat my corn tortillas on a griddle pan and then keep them warm in an insulated fabric pouch tortilla warmer. Much better than keeping them warm (and drying them out) in the oven!
Cholula Hot Sauce
Tortilla Warmer 10.5
More ways to serve up Slow Cooker Shredded Goat
Here are some more ways to serve pulled goat besides making pulled goat tacos:
Slow Cooker Goat Taco Bowls. Serve the shredded goat white or brown rice or quinoa with salsa, cheese, cilantro, etc.
Slow Cooker Goat Burritos. Use some of the toppings you use in Slow Cooker Goat Tacos.
Crock-Pot Goat Breakfast Hash. Leftover slow cooker goat can be reheated in a skillet along with onions, and potatoes. Top with some cheese, hot sauce, salsa, and cilantro. Place a sunnyside egg on top. Makes an awesome weekend breakfast or brinner dish!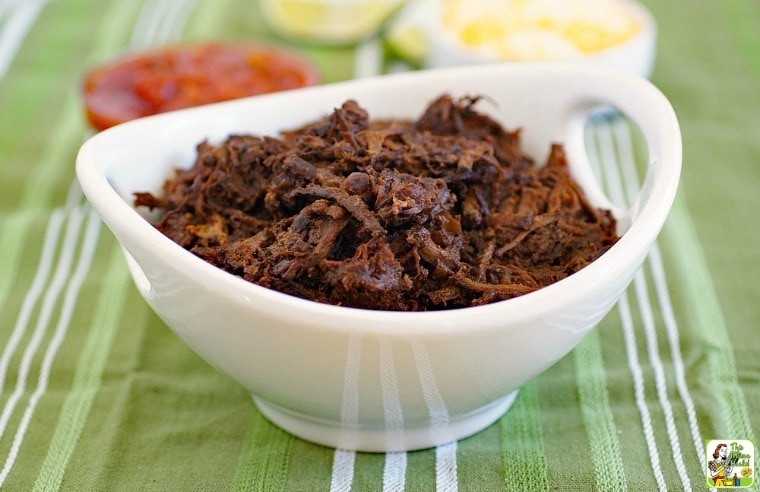 Ingredients
1 14 ounce can

tomato sauce

3

chipotle chiles in adobo, finely minced

1/2 cup

cider vinegar

1/4 cup

agave nectar

1 tablespoon plus 2 teaspoon

smoked or regular paprika

2 tablespoons

Worcestershire sauce

3 teaspoons

dry mustard

1 tablespoon

chili powder

1 teaspoon

salt

3 pounds

goat meat

1

medium onion, chopped

3

cloves garlic, minced
Directions
Stir tomato sauce, chiles, vinegar, agave nectar, paprika, Worcestershire sauce, mustard, chili powder and salt in a 6-quart slow cooker to combine.
Add goat, onion and garlic and stir to cover meat thoroughly.
Put the lid on and cook on low until the goat can be pulled apart – at least overnight if not nearly a full 24 hours. Check often to make sure it's not getting dried out. If the liquid levels are getting low add some water, broth or more tomato sauce.
When done, shred goat with a fork right in the crock. Stir well then serve.
Total Time:
18 Hours 15 Minutes
Serving size:

1/6 to 1/8 of recipe
Originally posted on November 7, 2011. Updated with new pictures and information.