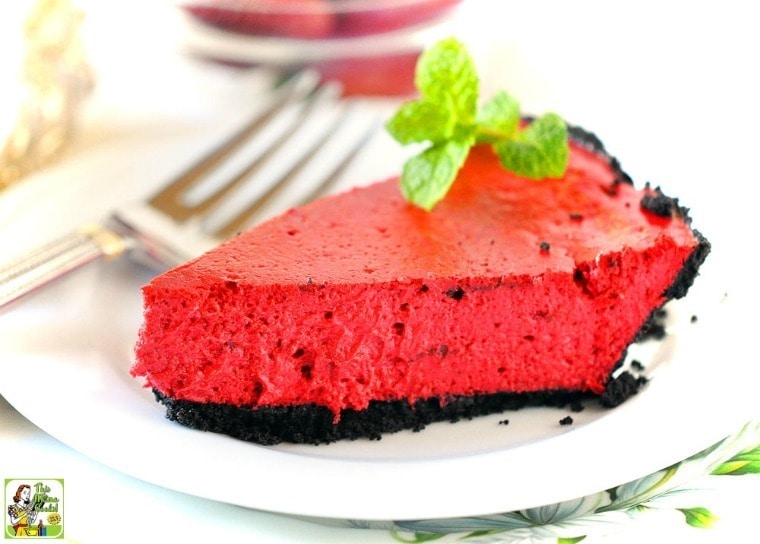 If you're looking for a Valentine's Day dessert recipe, you need to check out this Easy Red Velvet Cheesecake recipe from Holly Clegg.
When Holly  sent this easy red velvet cheesecake recipe, I nearly fell off my chair. I mean, a diabetic friendly red velvet cheesecake that's this gorgeous? She's a miracle worker!
This healthy red velvet cheesecake is perfect for Valentine's Day dinner, to bring to the office to share with coworkers, or just to treat your family.
This easy red velvet cheesecake recipe comes from Holly's terrific Kitchen 101: Secrets to Cooking Confidence. It's a wonderful cookbook for the beginning cook – ideal for engagement showers, graduation gifts, or as a present for someone who wants to start cooking in a healthy way.
Holly Clegg's trim&TERRIFIC KITCHEN 101: Secrets to Cooking Confidence: Cooking Basics Plus 150 Easy Healthy Recipes
You can find more of Holly Clegg's trim& TERRIFIC® recipes at  The Healthy Cooking Blog. Check out Holly's trim & TERRIFIC™ cookbooks on Amazon, too!
Check out more of Holly Clegg's healthy cookbooks on Amazon.com!
Holly Clegg's trim&TERRIFIC EATING WELL TO FIGHT ARTHRITIS
The New Holly Clegg Trim & Terrific Cookbook (Trim and Terrific)
Eating Well Through Cancer: Easy Recipes & Tips to Guide you Through Treatment and Cancer Prevention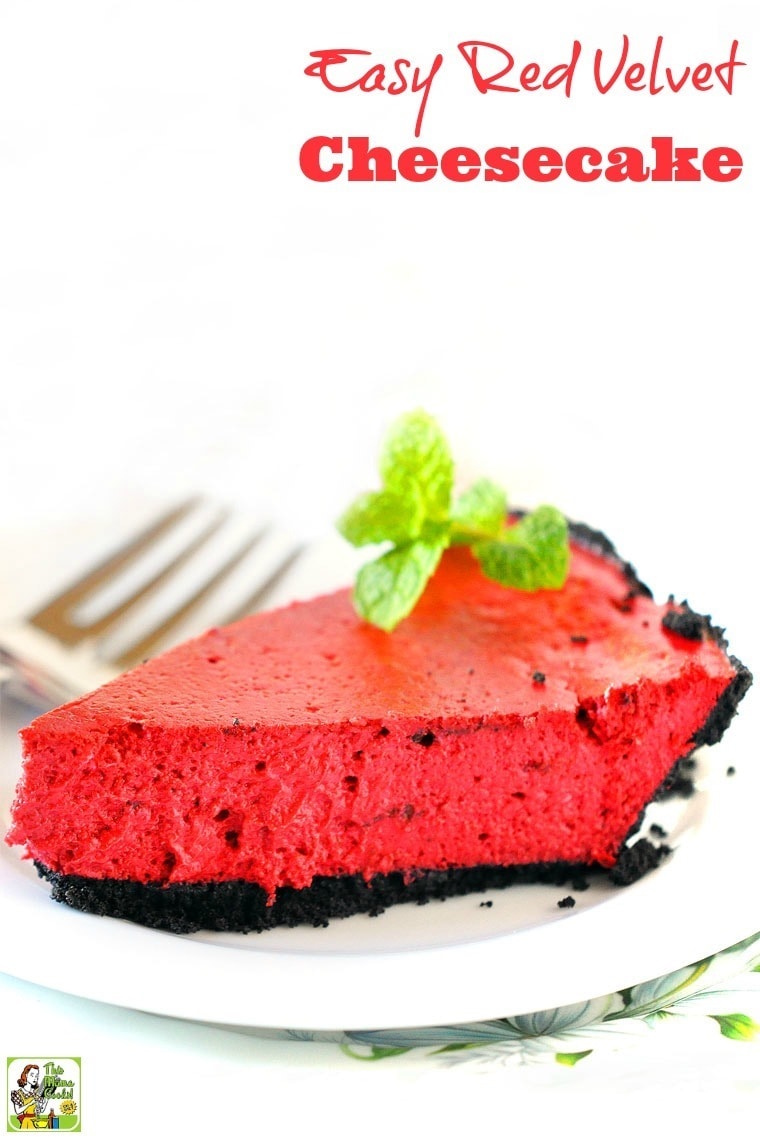 This Mama's tips when making red velvet cheesecake recipes
Make this recipe for red velvet cheesecake even healthier by using a sugar substitute like stevia or monk fruit sweetener.
To make a homemade chocolate crust, combine 1 1/4 cups crushed chocolate cookies, 1 tablespoon sugar, 1/2 teaspoon vanilla extract, and 2 tablespoons melted butter. Press into bottom of spring form pan or a ceramic pie pan and bake 350 degrees F for 10 minutes. If you're gluten free, use gluten free chocolate cookies!
If you don't have time to make a homemade gluten free chocolate crust, I like Mi-Del Gluten Free Chocolate Snaps Pie Crusts.
Mi-Del GF Pie Crust, Choc Snaps, 7.1 Oz (12 Pk)
You can use plain non-fat Greek yogurt instead of sour cream, if you prefer. I find Greek yogurt to be a more wholesome choice for these red velvet cheesecake recipes.
Double to make several Easy Red Velvet Cheesecakes ahead of time and freeze for later. This red velvet cheesecake recipe is ideal for Fourth of July, Memorial Day, and Labor Day picnics, barbecues, and for over the Christmas holidays.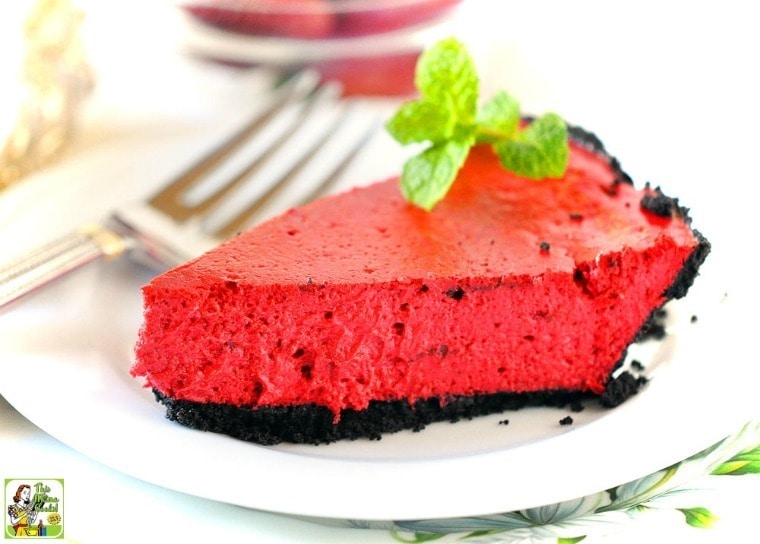 Easy Red Velvet Cheesecake
Ingredients
2 (8-ounce) packages

reduced-fat cream cheese

1 1/4 cups

sugar

2

eggs

1

egg white

1 tablespoon

cornstarch

3 tablespoons

unsweetened cocoa powder

1 cup

nonfat sour cream

1 teaspoon

vanilla extract

1/2 cup

buttermilk

1 teaspoon

vinegar

1 (1-ounce) bottle

red food coloring

2 (9-inch) round

commercially bought chocolate pie crusts (regular or gluten free)
Directions
In mixing bowl, beat cream cheese and sugar until creamy.
Add eggs, egg white, cornstarch, cocoa, sour cream, vanilla, buttermilk, vinegar and red food coloring, mixing well.
Pour into crusts, equally dividing the batter. Bake 35-40 minutes or until center is firm. Turn off oven and remain in oven 30 minutes.
Remove from oven. Cover and refrigerate until well chilled.
Total Time:
1 Hour 40 Minutes
Servings
:
Makes 2 (9-inch round) cheesecakes
Serving size:

16 servings

Calories:

270

Calories from Fat:

109 (39%)

Total Fat:

12g

Saturated fat:

5g

Unsaturated fat:

7g

Sodium:

262mg

Total Carbohydrates:

34g

Sugar:

23g

Fiber:

1g

Protein:

7g

Cholesterol:

46mg
Dietary Exchanges: 2 1/2 other carbohydrate, 2 1/2 fat
Recipe and photo used with permission of the author.
Originally published on Dec 17, 2012. Updated with new photos and information.